Embattled FEMA Chief Brock Long Backs Trump After Puerto Rico Death Toll Denials
Federal Emergency Management Agency (FEMA) chief Brock Long would not back an independent study stating 2,975 people were killed by last year's hurricanes in Puerto Rico.
Speaking on NBC's Meet the Press on Sunday, Long defended the Trump administration's response to 2017's Hurricane Maria, which devastated the island.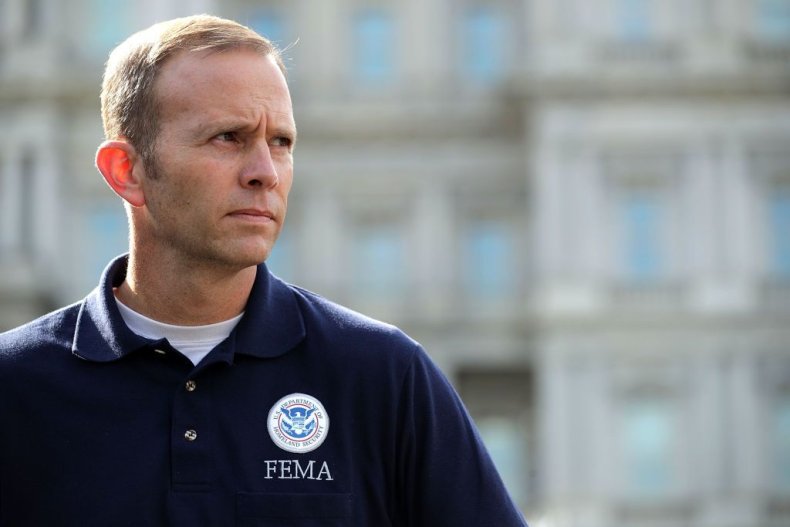 In recent days Trump has attacked an independent study commissioned by the Puerto Rican government, tying thousands of deaths to the storm. The president alleged the figures were the result of a Democrat plot to smear his administration.
The president faced widespread criticism over the claim, including from within his own party.
In the interview, Long claimed that death toll estimates from multiple studies were "all over the place."
"I think the president is being taken out of context there," Long said. "I mean, I talked to the president every day this week, and the secretary of Homeland Security, and we discuss what we're trying to do as a result of last year."
"I don't know why the studies were done," replied Young when asked why whether he backed Trump's claim that the studies were the result of a Democrat plot.
"What we've got to do is figure out why people die from direct deaths, which is the wind, the water and the waves, buildings collapsing," Long said.
"The numbers are all over the place. FEMA doesn't count deaths. And if you take what's going on with Florence, the deaths that are verified by the local county coroners are the ones that we take."
Experts at George Washington University carried out the study commissioned by the Puerto Rican government that has been targeted by Trump. Puerto Rico Governor Ricardo Rosselló has backed the study as "fact" in response to Trump's attack, while the researchers behind it in a statement last week said they stood by the results of their research.
Some studies have placed the death count lower than that claimed in the study, but most place it above the 64 deaths initially estimated after last year's storm.
In the interview, Long remarked that "there is a difference between direct deaths and indirect deaths."
"What happens, even in this event, you might see more deaths indirectly occur as time goes on because people have heart attacks due to stress, they fall off their house trying to fix their roof. They die in car crashes because they went through an intersection where the stoplights weren't working… Spousal abuse goes through the roof. You can't blame spousal abuse after a disaster on anybody," remarked Long.
"The president's very passionate about the work we've done, he's been incredibly supportive of me and the staff."
Long is reportedly under pressure for his job, following an investigation into his alleged misuse of vehicles.