Embattled Russian Skater's Coach Reportedly Has Harsh Teaching Style
A suspected doping case allegedly involving a Russian figure skater at the Beijing 2022 Winter Olympics has brought attention not only to Russia's history of doping but also to figure skating coach Eteri Tutberidze.
The International Olympic Committee (IOC) on Thursday refused to name 15-year-old Kamila Valieva as the doping suspect, and IOC spokesperson Mark Adams only said an "active legal case" was responsible for the cancellation of a February 8 medal ceremony for the figure skating team event, which Valieva and her teammates had won the day before.
The Russian newspaper RBC reported Valieva tested positive for trimetazidine, a medication prescribed for heart conditions and vertigo that is banned by the World Anti-Doping Agency because it increases blood flow efficiency and builds endurance.
Valieva has not been officially outed as having tested positive for a banned substance, nor has Tutberidze been attached to any credible reports suggesting she gave performance enhancers to athletes. Nevertheless, the added attention on Tutberidze could bring about more scrutiny on her harsh, some say cruel, training methods.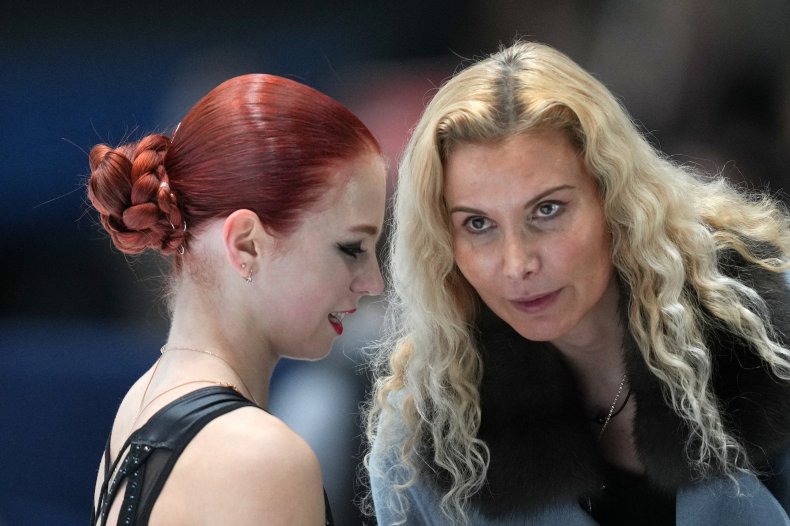 Tutberidze, 47, was a figure skater in her youth, though her dreams of competitive accomplishments on the ice were derailed by an injury. She then took to ice dancing, and she was a touring member of the Russian Ice Ballet visiting Oklahoma City on April 19, 1995, when the Alfred P. Murrah Federal Building across the street from where she was staying was bombed by Timothy McVeigh. Her name is even imprinted on a memorial for survivors of the attack made from pieces of granite from the building.
Tutberidze went on to make a name for herself in her native Russia as a champion builder. She is given a great deal of credit for the successes of Olympic medal winners such as Yulia Lipnitskaya, Evgenia Medvedeva and Alina Zagitova.
As a coach, Tutberidze also has a reputation for working with young athletes and pushing them to the extreme. She is known for putting skaters through vigorous, repetitive practices that take heavy physical tolls, as well as for monitoring athletes' weights.
Zagitova and Medvedeva both retired young due to injuries. Lipnitskaya, a 15-year-old star at the Sochi 2014 Winter Olympics ended her career at age 17 and later openly discussed her battles with anorexia.
After the Pyeongchang 2018 Winter Games, Zagitova spoke of the food restrictions while training under Tutberidze in an interview with Russian Glamour. She claimed that during the Olympics, she was "not drinking water at all. That is, we just rinsed our mouths and spit it all out."
Some doping rumors have floated around Tutberidze, especially in 2019 when a young skater named Anastasia Shabotova said during an Instagram Live Q&A that all of Tutberidze's skaters were using performance-enhancing drugs. The head of the Russian anti-doping agency swiftly spoke out against Shabotova, who did not train under Tutberidze. Shabotova later switched allegiances and is currently competing on Ukraine's team in Beijing.
For now, rumors are all that hang on Tutberidze and Valieva. The IOC has also not named ROC as alleged cheaters, though public opinion likely tilts toward suspicion given Russian Olympians are competing under the ROC banner as punishment for past state-sponsored use of banned substances.
Russian figure skating federation spokeswoman Olga Ermolina has emphasized Valieva has not been suspended, and the young star has since been present during practices. The world may also never know for certain if she was caught doping. Since she is under 16 years of age, the World Anti-Doping Agency classifies her as a "protected person," which means she could be exempt from public disclosure regulations.