Emergency Room Nurse Distributes Handmade Surgical Caps to Colleagues in Texas Hospital
Newsweek's "Heroes of the Pandemic" series features everyday heroes showing service, sacrifice or kindness in the time of COVID-19.
Emergency room nurse Coco Balalau clocked 84 hours last week, administering an array of patient treatments from beneath layers of head-to-toe safety gear.
Almost all of Balalau's personal protective equipment (PPE) was provided by her employer, a medical center located along the periphery of the Dallas metroplex. However, one critical garment—a machine-washable scrub cap with buttons judiciously sewn into the fabric on both sides—was newly handmade.
Prompted by a colleague's request and inspiration she found online, Balalau has crafted numerous caps and headbands for staff across several of the medical facility's departments, as well as for the hospital's president. The buttons behave like hooks for surgical masks and N95 respirators, which she said previously left the backs of health care workers' ears "almost raw."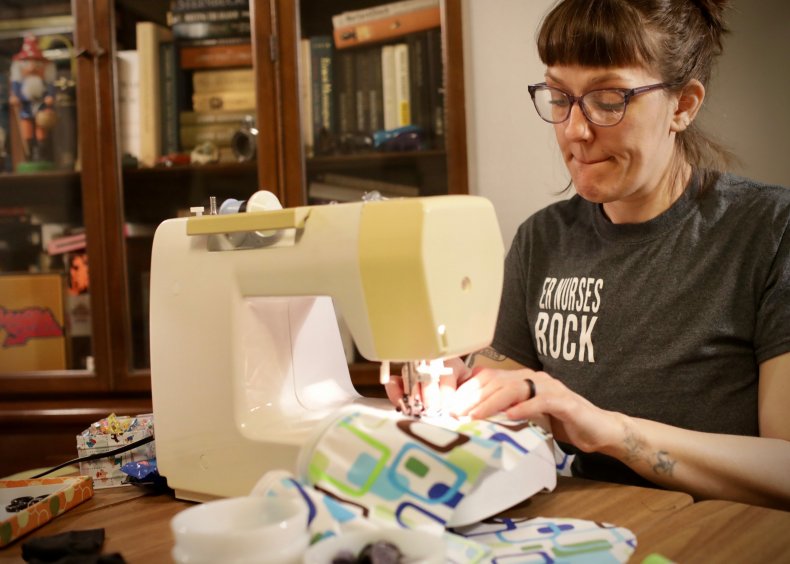 "It provides a more comfortable fit," she told Newsweek of the apparatus' structure. Dr. Gregory Lachar, an emergency room physician at the hospital who has served as the department's medical director for the past six years, has acquired two of Balalau's button headbands in different shades.
"I have a chartreuse one and a dark navy one that I wear depending on my outfit," Lachar joked, though the bands have impacted his physical wellness to a noticeable degree. "When you wear the masks for shifts of 9 to 12 hours, the bands can dig into your ears and cause a lot of pain and discomfort," he explained, adding, "the headbands take the pressure off."
Balalau's creative endeavor was, in part, born out of a desire to counter constant apprehension and uncertainty among fellow health care workers. Describing the "surreal" atmospheric change to her work environment since the onset of the coronavirus outbreak, she said designing an apparel improvement felt like placing something back in her command.
"It's trying to gain a little bit of control in something you feel kind of like you have no control over," Balalau noted.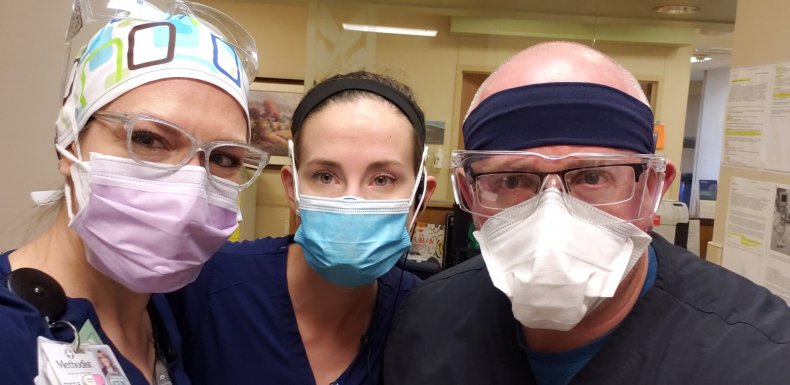 The reusable headwear also serves an increasingly practical purpose. Like millions of health care workers performing frontline medical services during the coronavirus pandemic, Balalau now wears PPE—which includes gloves, surgical masks, goggles, respirators and aprons—for the duration of her shifts. Widespread mobilization of the equipment is one of the primary infection prevention strategies hospitals have adopted to shield employees from COVID-19 exposure, and the recent surge in demand has rapidly contributed to a global supply shortage.
"I just kept reading about the shortages of supplies and how nurses in other communities across the nation were dealing with this, and I just kind of went on this whole like, 'What do I do? What can I do? How can I help?'" Balalau recalled. "The lack of supplies is a very frustrating and difficult thing that we are dealing with. But, you know, this is something that just...it makes it a little easier."
Balalau's hospital has not yet confronted a deficit in its PPE inventory, but she said staff members understand the reserve is limited. For that reason, she and her coworkers have devised techniques to extend the lifespan of their face masks, which are manufactured from disposable materials and billed as single-use appliances.
"We are just leaving them on all day long," Balalau said, explaining that staff generally wear surgical masks over their respirators to reduce contamination risks and increase effectiveness. The double-mask approach, understandably, presents an even greater need for clever adjustments to protective headwear.
Know a hero you want to nominate to be featured in our series? Drop us a line at heroes@newsweek.com.