Parents and caregivers throughout the United States are struggling to feed their babies as three-quarters of the nation's retailers have been out of baby formula. For babies with allergies or other health conditions that require a specific product for food, this has been an extremely difficult, nerve-wracking situation. While this challenge is real and generating high-profile attention, another shortage getting much less attention is impacting children worldwide.
Ready-to-Use Therapeutic Food, or RUTF, is a nutrient-rich fortified peanut paste given to treat malnourished children, helping them regain strength and bring them back to full health in as little as six weeks. It is non-perishable and has a long shelf life, making it easier to supply in communities far from hospitals and often with unreliable or no electricity for refrigeration. RUTF has been invaluable in the fight against child deaths from hunger and is key to addressing the skyrocketing rates of child malnutrition we are seeing today.
But right now, we are experiencing a major crisis in the price and supply of RUTF. This is occurring as the world grapples with a "seismic hunger crisis" driven by COVID-19, the climate crisis, and conflict, according to the U.N. World Food Program (WFP). In Nairobi, where I live, and throughout the Horn of Africa, the situation is exacerbated by an unprecedented drought due to four consecutive dry seasons.
I work to facilitate access to RUTF in East Africa and have seen firsthand the devastating impact of the current crisis on children in the region. Mothers travel for many miles to reach us as their child's last hope, and it breaks my heart to think about needing to turn them away because of dwindling supplies.
Over the past year, the cost of the RUTF we provide has increased by 23 percent, including a 9 percent increase since the war in Ukraine began. According to UNICEF, global prices for RUTF are expected to increase by an additional 16 percent over the next six months, as the costs for transportation and ingredients like peanuts, sugar, and oil continue to rise.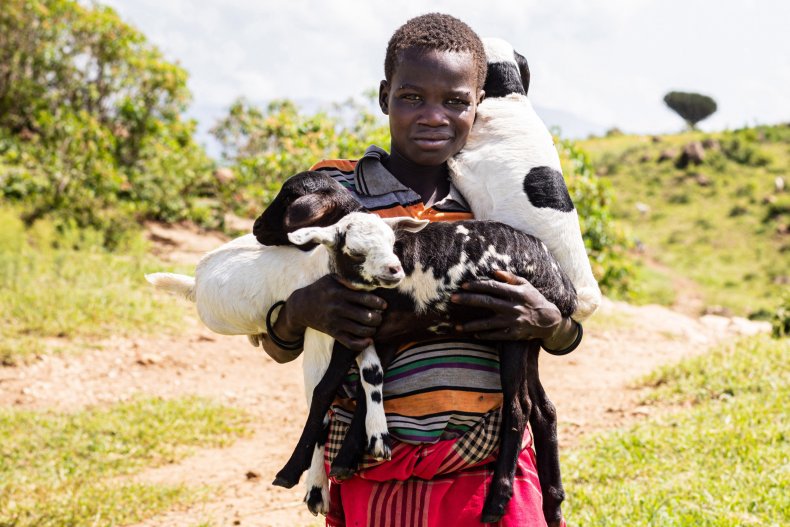 Concurrently, production is down; one of our supplier's production capacity decreased by approximately 40 percent. The price of therapeutic milk, another key treatment for severely malnourished children, has also increased. We are seeing major increases in fuel and fertilizer costs, all of which are making food delivery more expensive. This is raising serious concerns about how we can continue to prevent and treat malnutrition in children.
Recently we have seen an alarming rise in the number of malnourished children arriving at our stabilization centers for treatment. In Somalia, we admitted 55 percent more children between January and April of this year compared to the same period last year. The situation is painful to witness. Many cases of malnutrition can be treated outside of health centers, but the children who must be admitted are in a dire state. They are dangerously underweight and experiencing developmental delays and weakened immune systems that leave them especially vulnerable to diseases. Without immediate help, they are at imminent risk of dying.
We are already maximizing the limited supplies we have. For children with less severe malnutrition, we're treating more cases with less RUTF, thanks to recent research demonstrating that children are recovering well, even with smaller amounts of the product and streamlined protocols to stretch resources farther. Still, it's hardly enough to treat all children—and children with more severe, life-threatening cases need the full course of treatment to recover.
Even before the war in Ukraine, food prices were worryingly high and global markets were suffering from supply chain issues. The Ukraine conflict has upended the situation. Ukraine is the world's fifth largest exporter of wheat, with 40 percent destined for Africa and the Middle East. The complex situation is unfolding as escalating prices affect not only wheat, but other basic foodstuffs, such as maize and cooking oils.
Already we are seeing near-famine conditions. There are more than 1.7 million children in Somalia, Kenya, and Ethiopia who are severely malnourished. The WFP has warned that the number of people facing hunger in the Horn of Africa might rise from 14 million to 20 million by the end of the year.
Given this urgent situation, it is essential that we preserve the nutritional pipeline and increase access to RUTF, an essential lifesaving medicine. We must ensure that production facilities are working at full capacity. We must also expand our streamlined approach to treating acute malnutrition in order to stretch scarce resources and free up funds to reach more children with lifesaving care.
In the U.S., President Joe Biden understandably invoked the Defense Production Act, intended for times of war, to address the shortage of baby formula threatening the nation's youth. Where I live, we risk a major setback in the battle against hunger and children are increasingly a casualty. Failure to act at a moment when hunger is reaching alarming levels will have catastrophic consequences that will echo across generations.
Imelda Awino is the deputy director of the Knowledge and Innovation Hub, Action Against Hunger, based in Nairobi, Kenya.
The views expressed in this article are the writer's own.