Why Emerging Economies Should Ignore Western Health Care Models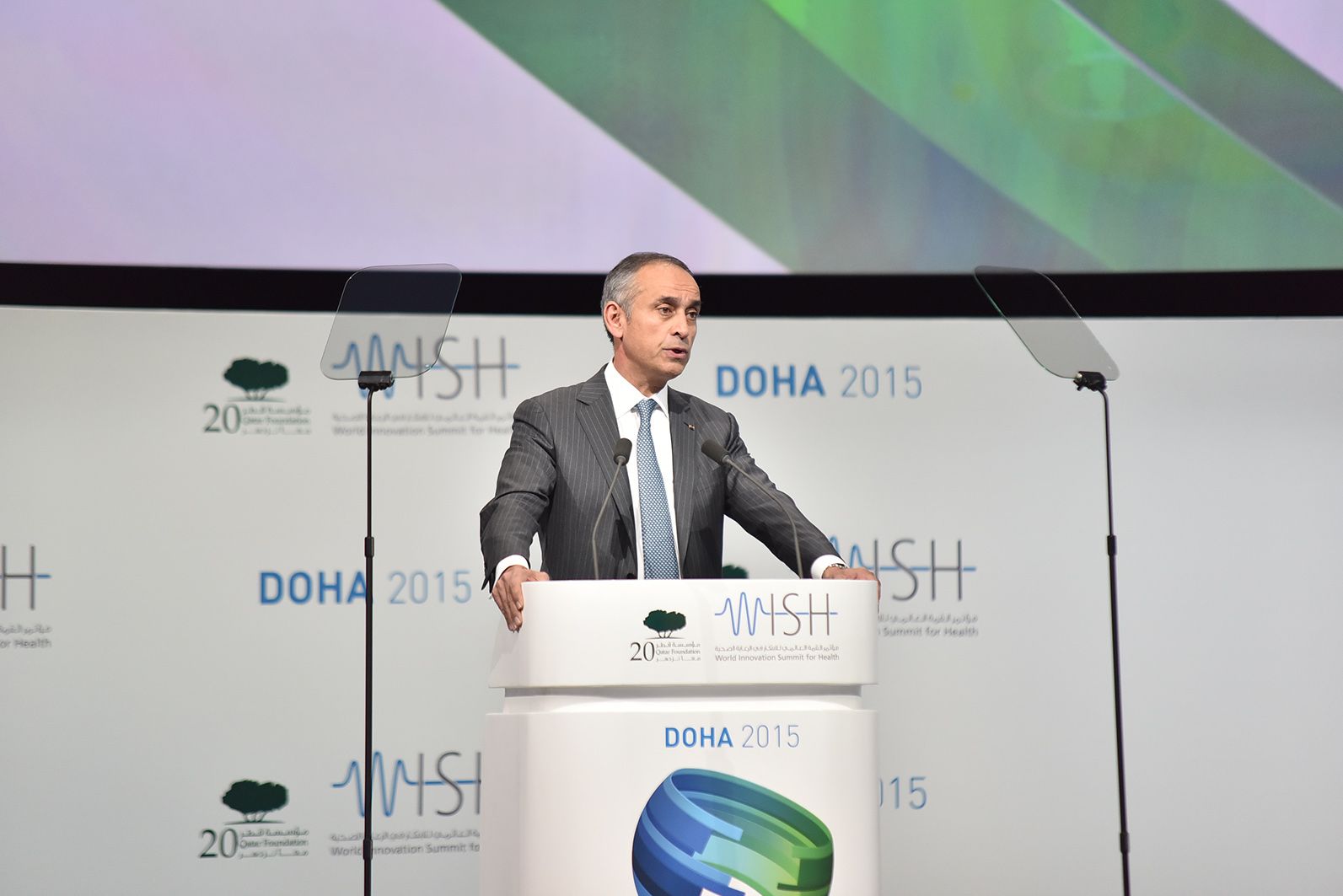 In Doha, the desert is sensed without ever being seen, while construction sites for new buildings are visible everywhere—as are the hard-hats, the builders who linger at evening bus stops waiting to be transported home to sand-colored dwellings referred to here as "villas."
In this Middle Eastern capital, a thousand attendees from five continents and 80 countries congregated for the 2015 World Innovation Summit for Health (WISH) housed at the Qatar National Convention Center. In the lobby of this green building (certified gold by LEEDs) stands an enormous bronze, steel and marble spider: "Maman," sculpted by Louise Bourgeois. The gleaming floors, glass partitions, and reflection pool create a mirage effect, with delegates appearing to shimmer as they wandered, singly or in pairs, near the aching legs of Maman. Twin Arabic and English wall plaques reveal Bourgeois's thoughts about her sculpture: "Spiders are friendly presences that eat mosquitoes. We know that mosquitoes spread diseases and therefore are unwanted."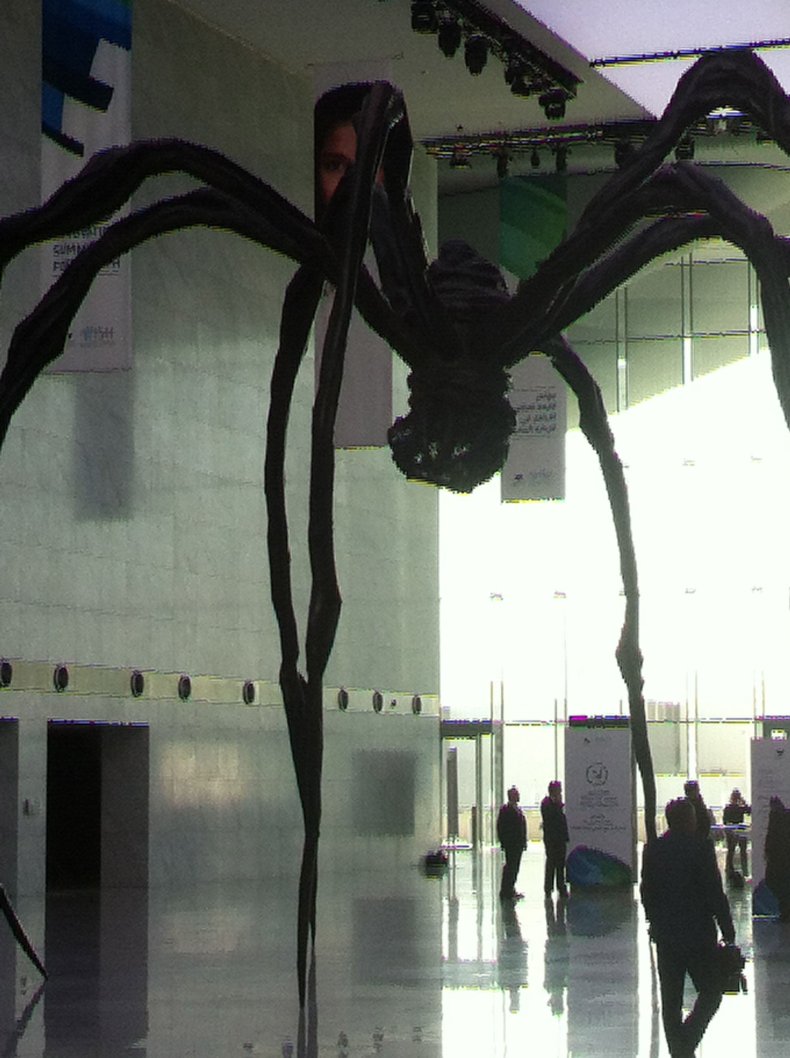 Disease was front and center during the two days of keynote speeches, panel discussions and policy briefings. In their opening remarks, both Sheikha Moza Bint Nasser, chairperson of the sponsoring Qatar Foundation, and Lord Ara Warkes Darzi, a surgeon at Imperial College London and executive chairman of the foundation, gave voice to the now-subsiding fear aroused by Ebola and, closer to home, MERS (Middle Eastern Respiratory Syndrome). And throughout the conference, links were made between infectious disease and the potential of genomic or personalized medicine. Ultimately, though, it was the trials and tribulations of innovation that stole the show.
Change is Coming
"We believe that within the next 10 years India will become the first country in the world to disassociate health care from affluence," said Dr. Devi Prasad Shetty, chairman and founder of Narayana Hrudayalaya Hospitals. In the past year, this network of hospitals in Bangalore provided twice as many surgeries as the Cleveland Clinic at a fraction of the cost. "The wealth of the nation has nothing to do with the quality of health care its citizens can enjoy," he told a crowd gathered at the Convention Center.
Shetty, a cardiac surgeon by trade, spoke of his job as "placing a price tag on human life." He told his audience that the very first question every mother asks upon learning her child requires surgery is, "How much will that cost?" In the past century, almost nothing has changed about the way health care is delivered, Shetty said, and we need to make a change. But, he said, "If a solution is not affordable, it's not a solution." If we don't take cost into consideration, millions will continue to needlessly die from lack of care, he said.
Addressing the worldwide shortage of health care professionals—India alone is in need of three million doctors and six million nurses—Shetty advocated for the creation of a virtual, global university to educate care workers. This would not only ease the professional deficit; it would also, he argued, guarantee accreditation worldwide, allowing medical professionals to travel freely and work wherever they are needed most. The relatively low cost of a virtual university would also address the dire personnel needs of Asia, Africa and Latin America, he said. It is the children of the poor, he asserted, who have the fire in the belly to become the kind of doctors who have a passion to change the way health care is delivered. They just need the opportunity.
Shetty's vision for India's future includes an insurance scheme that would levy payments from India's 850 million phone subscribers, which, he said, would easily provide the necessary funding to finance a health care system capable of accommodating, for example, the two million heart surgeries needed each year in the country. Currently, all of the surgeons in the country together perform only about 120,000 of those necessary operations. "What happens to the rest" of these patients? said Shetty. "They perish gradually,"
Meet Them Where They Are
Later in the day, Mark T. Bertolini, chairman, CEO and president of Aetna, the American health care benefits giant, argued that emerging economies should not sculpt a health care system in the image of that of the West. Bertolini urged those present to build instead to meet the needs of the people where they are.
"Building a hospital is not solving a health care problem. Building a system built on the needs of a population is," he said. Health care needs to be local, he explained, designed around the people and the most prevalent diseases in a given community. In addition, health care must accommodate the cultural, economic, social and environmental trends of the population served. Without even a hint of self-recrimination, this captain of industry added that if a health care system is built right, "you don't even need an insurance company. The product people want is their doctor and their health system, not their insurance company."
The root of his conviction grows directly from experience. Bertolini speaks from the perspective of a father of a cancer survivor and of a patient who suffered damage to his spinal cord. Today, he takes no medicine despite chronic pain from his injury. Instead, he practices yoga and carries his own acupuncture needles, which he "knows where to place," having seen it done often enough.
Ultimately, his argument was that emerging economies may be better off stepping into a leadership role, rather than following. "Often I come away with the impression that, because of our entrenched economic and political interests in the United States, that health reform and system reform will occur here in the Middle East before it will happen there," he said. "You have a real opportunity to do it right."
Change, though, isn't easy. "It's horribly painful," Michael Wagner, executive director of the Advisory Board Company in Washington, D.C., told Newsweek. "You're talking about people's livelihoods, you're talking about people's comfort zones. And then you're asking them to sacrifice what has made them successful on the uncertain hope of what is yet to come." In essence, he said, it's asking people who have been secure in their success to risk it all. Wagner noted that the first barrier to embracing innovation is often an overconfidence in the status quo, and he wondered how we all might stop resisting and begin to think of change as something we want to do.
"The dark side is if they don't risk it all, they don't become the captains of their own destiny--they become the victims of it," Wagner said.