Emily Blunt's Birthday: Her 20 Best Movies Ranked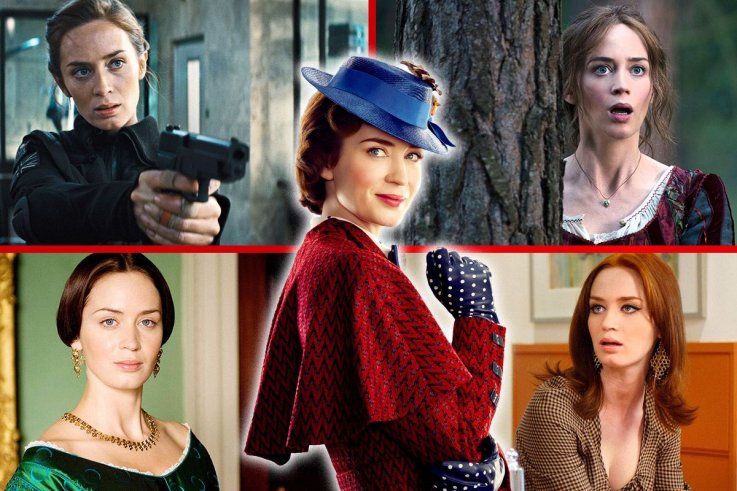 British actress Emily Blunt, who turns 36 today, was born in London on February 23, 1983, the daughter of a barrister and an actress.
Since starring opposite Meryl Streep in The Devil Wears Prada in 2006 at the age of 23, she has gone on to become one of Hollywood's biggest draws, with recent leading roles in The Girl on a Train, A Quiet Place and Mary Poppins Returns.
Blunt found fame by accident while acting alongside her school supply teacher, Adrian Rawlins (also a professional actor who played Harry Potter's father in the franchise.) Rawlins invited his agent to watch the production at the Edinburgh Festival, who then signed up Blunt.
She told Harper's Bazaar: "I didn't have a desire to pursue acting and I wouldn't have, if I hadn't fallen into it. Crazy, isn't it? But that's probably why I ended up booking jobs, because I didn't have any nerves. It was very charmed—rather embarrassingly, in fact."
She made her film debut in 2004's My Summer of Love, playing a privileged teenager who begins a doomed relationship with a girl from the wrong side of the tracks. Then came Hollywood and Prada. Big movies such as Charlie Wilson's War, The Young Victoria and Looper soon followed.
Blunt receives almost universal praise for her performances. In the 2014 action movie Edge of Tomorrow, Variety called her performance "alert, energized and emotionally present," despite her thin role. "One of the year's best performances," said The New York Post of her part in the musical Into the Woods from the same year.
Since then, she and her husband, actor John Krasinski, have become Hollywood's hottest power couple. Both starred in 2018's breakout hit, the Krasinski-directed horror movie A Quiet Place, which made many times its tiny budget at the global box office.
Her recent role as the titular cheerful nanny in Mary Poppins Returns received more praise, despite initial scepticism that anyone could match Julie Andrews's iconic performance as the character. "Gliding down from the clouds, she's practically perfect in every way," gushed Variety in their review of the film.
Director Rob Marshall hinted to The Sun that another Poppins sequel could be on the way—"It is early stages but I will say right now that there were eight books, so there's a lot of great material still to mine," he said. At the moment, Blunt's only confirmed upcoming role is in the adventure movie Jungle Cruise, in which she plays a scientist alongside Dwayne Johnson.
To celebrate her birthday, Newsweek has analyzed data from review aggregation websites Rotten Tomatoes, Metacritic and IMDb to rank all of her movies from worst to best.