'Emily in Paris' Filming Locations: Every Iconic French Landmark Featured in Seasons 1 & 2
Emily in Paris, like the name suggests, sees its eponymous character Emily Cooper (Lily Collins) enjoy life in the French capital.
As an American in Paris, Emily spends a lot of time roaming the streets of Paris and visiting iconic landmarks, while she also finds time in her busy schedule to go to other cities too.
Many of the locations Emily visits are real, and fans of the show can go to them to recreate their favorite moments from the show if they so choose.
The show's second season, which is released on Wednesday, December 22, also features a number of interesting locations, and here is everything you need to know about the real-life places.
What were the filming locations in Emily in Paris Season 1?
Place de L'Estrapade
Emily's flat may actually be filmed on a soundstage, but the view she has over Paris is real, including the café she often visits.
The square in which the café is located is in Paris' Latin quarter and it is also near the Panthéon, and across the street from the eatery is an Italian restaurant which stands in as Gabriel's (Lucas Bravo) workplace.
Place de Valois
Savoir, the marketing firm that Emily works for, has its offices in the Place de Valois, which is a quiet sector near the Palais Royal.
An art gallery, named Galerie Patrick Fourtin, is situated next to the entrance of the marketing firm in the show, making the spot easy to find for fans.
Jardin du Palais Royal
Emily often visits the Jardin du Palais Royal when she first arrives in Paris, eating her lunch alone at a bench while enjoying the views the park has to offer.
It is there that she meets Mindy (Ashley Park) for the first time while she's taking care of her employer's children, and the pair often visit the location for lunch.
The Jardin du Palais Royal is also the spot where Mindy decides to sing in an impromptu performance encouraged by Emily.
Rue de l'Abreuvoir
While in Paris, Emily launches her own career as a social media influencer much to the annoyance of her boss Sylvie (Philippine Leroy-Beaulieu).
Sylvie tells her to delete her social media, and Emily decides to enjoy one last night out in Paris online alongside Mindy.
The pair visit a number of locations, but one is the Rue de l'Abreuvoir which is based in Montmartre which has been dubbed the "prettiest street in Paris" and is where the duo enjoy dinner at La Maison Rose.
Pont Alexandre III
Pont Alexandre III is a stunning bridge which is where Antonie (William Abadie) shoots the commercial for his new perfume.
The advert sees a model walk naked on the bridge as a number of handsome, suit-clad men admire her, an advert Emily argues is "sexist" but Antoine tell her is "sexy" prompting a debate between them.
Le Café de L'Homme
In the series, Antoine throws a party to celebrate the launch of his luxury perfume and this is based in Le Café de L'Homme, a Parisian brasserie that is known for its views of the Eiffel Tower.

Musee des Arts Forains
Savoir throw a party at the Musée des Arts Forains in Paris, which is normally a private museum that is only open for special events.
Café de Flore
Café de Flore is where Emily goes for dinner and meets her first French boyfriend Thomas (Julien Floreancig) when they make a bet to determine whether the man and woman in front of them are mother-and-son or lovers.
The location is one of the oldest café's in all of Paris and, like Thomas says in the show, is known for being the spot where Jean Paul Sartre and Simone de Beauvoir spent their time.
Palais Garnier
Emily goes to the Palair Garnier to watch Swan Lake, and to meet with Pierre Cadault (Jean-Christophe Bouvet) so she can convince him to work with her luxury agency again.
She is seen walking up the stairs of the iconic opera house, and it is here that she breaks up with Thomas.
La Monnaie de Paris
In the final episode of the first season, Pierre Cadault launches a surprise catwalk show at La Monnaie de Paris, the French mint.
The location itself is only seen from the outside in the Netflix show, but fans can go inside to visit its museum, its exhibitions, or even to visit three Michelin star chef Guy Savoy's restaurant.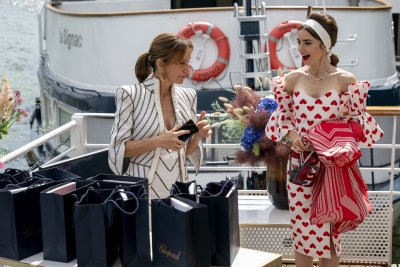 Where was Emily in Paris Season 2 filmed?
Gare du Nord
Feeling guilty over her romance with Gabriel, Emily decides to take a break away from her woes by going on a weekend trip to Saint Tropez with Mathieu Cadault (Charles Martins)—though he ditches her on the train after overhearing her phone call with the chef.
Emily then takes the train alone down to the French Riviera town, travelling from the Gare du Nord in Paris.
Those travelling on the Eurostar between Paris and Belgium, Germany, the Netherlands and the United Kingdom will use the train station as their starting off point (or end point, if you're going to Paris).
Grand-Hotel du Cap-Ferrat
While enjoying her time on the French Riviera, Emily stays at the Grand-Hotel du Cap-Ferrat, a Four Seasons hotel.
The hotel is based between Monaco and Nice, and is actually in the Saint-Jean-Cap-Ferrat region rather than Saint Tropez.
Père Lachaise cemetery
Emily goes out for lunch with her colleague Luc (Bruno Gouery) one day, and one of the spots he takes her to is the Père Lachaise Cemetery in Paris.
The cemetery is the largest in the French capital and is where a number of famous people are buried, including Édith Piaf, Oscar Wilde, and Jim Morrison.
Luc takes her to visit the grave of Honoré de Balzac, a famous French novelist and playwright.
Le Champo cinema
Emily and Luc also enjoy a trip to the cinema, where they watch François Truffaut's classic film Jules et Jim.
The pair see the iconic romantic drama at Le Champo cinema, which is an arthouse cinema based in the Latin Quarter of Paris.
Galeries Lafayette
Later in the season, Emily goes on a shopping trip with new character Petra (played by Daria Panchenko) and they do this at the Galeries Lafayette.
The location is the biggest department store in Europe and its main store is based in the 9th arrondissement of Paris in Boulevard Haussmann, though it has two other spots in Paris and Rouen.
Le Raidd
The new season of Emily in Paris also sees its titular character go with Julien (Samuel Arnold) to a gay bar, named Le Raidd.
A real bar, Le Raidd is based near the Centre Georges Pompidou, and was once voted one of Time Out's top 100 best bars in Paris.
Palace of Versailles
The finale of Emily in Paris Season 2 sees a fashion show take place in the Palace of Versailles, the former royal residence which is based outside of Paris.
It is the home of over 60,000 pieces of art, and the palace has a museum that fans of the show can visit to learn about French History, while it also has stunning gardens and park.
Emily in Paris Season 2 is released globally on Netflix on Wednesday, December 22 at midnight PST.