Emily in Paris is the latest hit from Netflix, which has just knocked Ratched from its two-week run on the streamer's top 10 series charts. The show stars Lily Collins as a midwesterner who grows her Instagram account from 48 followers to 25,000 after moving to Paris, turning her into an influencer. Plenty of Netflix viewers, however, have been laughing at how unrealistic the show's portrayal of social media is.
Perhaps we should not be surprised by the show's silly take on media. After all, the show comes from Sex and the City creator Darren Star, the man who once tried to make us believe that you can live in a dream Manhattan apartment just on the money you make from one newspaper column à la Carrie Bradshaw.
However, with Emily in Paris, a whole new generation is discovering Star's outlandish aspirational style. A Vulture piece, for example, saw writer Rachel Handler contact real Parisian influencers for their take on Emily's pictures of pain au chocolats, vaginal rejuvenation products and dog poop.
One influencer in this piece noted that in real life, these posts would probably lose her followers rather than gain them. They also noted that, while people outside of Paris may be into Emily's "cliched" content, real Parisians certainly would not.
Talking of the pain au chocolat image, for example, they said: "If I posted that, let me tell you what would happen. A lot of North Americans and a few British people would be like, 'OMG, amazing, you are living your best life.' Then there would be all the French people who would probably unfollow me, pushed over the edge.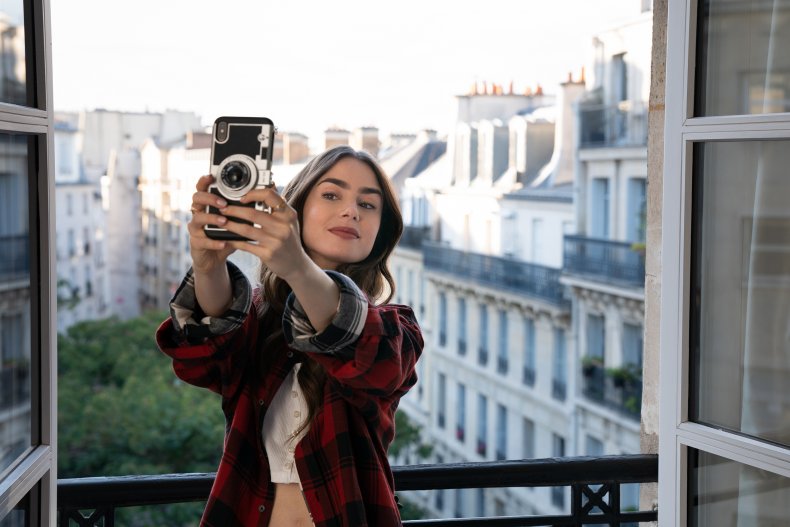 "Then there would be a few people being like, 'As if you ate that pain au chocolat.'" The influencer then says they lost followers after they posted a picture of a lasagne for this reason.
Speaking of the dog poop image, meanwhile, they noted: "I think if you put anything that isn't aesthetically pleasing, like, if you show actual poo ... knowing my followers, I would lose a lot of followers. I mean, if I can lose followers for a lasagna—"
The final assessment in this piece of Emily's 'gram is, "she's trying to find the easiest way to get more and more followers who respond to these kinds of clichés. She's playing that game. And it doesn't feel [contemporary]. Paris has changed so much."
This is something that other French media outlets have also mocked the show for. An RTL review of the show, for example, said of the Netflix series: "Rarely had we seen so many clichés on the French capital since the Parisian episodes of Gossip Girl or the end of the Devil Wears Prada.
A New York Times review of the series, which showed it to French people of multiple ages, reported that the word most used in reactions to the show was "ridicule," the French word for ridiculous.
One person they showed it to, a publishing firm owner, said of the show: "The clichés are so many and so concentrated that they pile up like a collection of little stories that become comical in their exaggeration."
A Grazia review, meanwhile, took specific umbrage against a major social media sin Emily commits: Photographing people without their permission. "Emily means no harm, of course," they write. "She is charming and pretty and sweet, the human embodiment of candy floss on a stick. But she's participating in a murky practice.
"Beneath the smile and the perfect, bushy eyebrows, she is nevertheless an unchecked social media voyeur. In real life, she would be called out on her behavior...If you are too embarrassed to ask to take someone's picture, then you already know that you shouldn't be doing so."
Emily in Paris is streaming now on Netflix.