For over one year, Emily in Paris fans have been waiting to find out what happened next after Gabriel (played by Lucas Bravo) and Emily (Lily Collins) finally got together in the Season 1 finale. As predicted, their hook-up made things very complicated for Emily in Season 2, considering Gabriel decided he was no longer moving to Normandy and Camille revealed she still had feelings for her former boyfriend.
As if Emily's love life could not get any more of a mess, everything was thrown off its axis when she began to develop feelings for Alfie (Lucien Laviscount), a carefree English banker from her French class. In true Emily in Paris fashion, the series ended on a jaw-dropping cliffhanger but did Emily end up with Alfie or Gabriel in Season 2? Newsweek has everything you need to know. Warning, spoilers below.
Does Emily Cooper End Up With Alfie Or Gabriel In Emily in Paris Season 2?
Technically, Emily ends up with her latest love-interest Alfie at the end of Emily in Paris Season 2, however, he remains completely oblivious to Emily's Gabriel-filled epiphany she has towards the end of the finale.
At the end of Season 2, Alfie confessed he had to move back to London as the project he was working on in Paris was complete. Alfie is so clearly in love with Emily it hurts and he suggested they try long-distance. What is even sweeter is Emily genuinely seems committed to pursuing a relationship with him.
Elsewhere, it's a sad day for chef Gabriel and Emily Cooper stans. Unfortunately, once again, Emily and Gabriel do not end up together.
In the finale of Emily in Paris Season 2, Emily is offered the opportunity to stay in Paris for longer, an option Emily thought would never be on the table. Throughout the past two seasons of Emily in Paris, Emily has framed all of her decisions around the notion her contract at Savoir in Paris would be ending after just one year.
Emily even justified her decision not to pursue things with Gabriel based on the fact their romance would have an "expiration date" as she would be returning to Chicago in less than a year.
However, everything changed in an instant when her Paris-based boss Sylvie (Philippine Leroy-Beaulieu) quit her job at Savoir to set up her own company, taking Julien (Samuel Arnold) and Luc (Bruno Gouery) with her and offering Emily a place at the table.
Emily, stressed about the big decision she had to make about her future, ranted to her best friend Mindy (Ashley Park) about her options and in doing so, confessed she still had feelings for Gabriel, despite telling herself, Gabriel, and everybody else otherwise.
She cried out: "I never used to be this person in Chicago, I had a career path and a life plan and I didn't fall in love with my friend's boyfriend."
Emily then set off for Gabriel's apartment to tell him how she really felt but sadly, she was the one who got hurt this time around.
As she poured her heart out, explaining there was a big chance she was going to be in Paris for much longer than planned, Emily almost told Gabriel she was in love with him but was stopped in her tracks by Camille (Camille Razat), who popped her head around the front door to say hello, interrupting Emily's declaration.
In a shocking twist of events, it transpired Gabriel and Camille are back together, and even worse for Emily, Gabriel has asked Camille to move in with him, meaning going forward, the trio will be neighbors.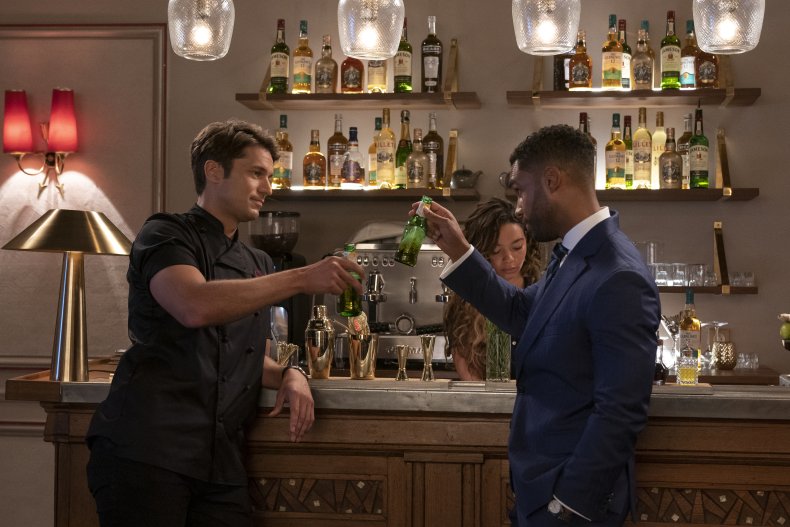 When or why Gabriel decided to ask Camille to move in with him, let alone get back together, is unknown, considering throughout the entire second season he had made his feelings for Emily very clear. Things are sure to be complicated in Season 3 of Emily in Paris if it is given the go-ahead by Netflix.
The second installment ended on a huge cliffhanger and it is unknown what move Emily is going to make next. Will she call off things with Alfie? Will she stay in Paris? We will have to wait to find out.
In the meantime, Emily in Paris fans have been divided on who they want Emily to end up with.
One fan tweeted: "Emily really went after Gabriel when she could have had ALFIE? #EmilyInParis2," whilst another wrote: "Finally finished season 2 of Emily In Paris and I'M STRESSED!!!!! I NEED EMILY AND GABRIEL SEASON 3 ENDGAME #EmilyInParis."
Emily in Paris Season 2 is streaming on Netflix now.