Online Reaction to Emily Ratajkowski's Robin Thicke Allegations Reveals Scale of Problem
Emily Ratajkowski has accused Robin Thicke of groping her breasts while filming the "Blurred Lines" music video in 2013—and the reaction to her claim online shows a disturbing level of victim-blaming that offers an insight into why sexual assaults are largely under-reported.
The model, now 30, revealed details of the incident in an excerpt from her upcoming book, My Body.
"Suddenly, out of nowhere, I felt the coolness and foreignness of a stranger's hands cupping my bare breasts from behind," she wrote in the book, per The Sunday Times. "I instinctively moved away, looking back at Robin Thicke."
"He smiled a goofy grin and stumbled backward, his eyes concealed behind his sunglasses. My head turned to the darkness beyond the set. [The director, Diane Martel's] voice cracked as she yelled out to me, 'Are you okay?'" she continued.
Martel told Newsweek that up until this incident, the cast and crew were all getting along and working well together.
"This was the only incident on set. None of the other talent was aware. Up until this incident we were laughing, the guys were very respectful," she said. "The girls were open and feeling free."
Martel said Thicke's actions were "impulsive" and that he had been drinking.
"He grabbed her breasts with two hands. Once he heard me scream and felt Emily push his hands off of her he was rattled. He realized that what he had done was insane. He sheepishly apologized," she said, adding "it felt like a terrible and creepy gesture."
Newsweek has reached out to Thicke's representatives for comment.
The controversial video has been criticized for featuring topless models and fully dressed men with the lyrics of the song itself—"I know you want it"—presenting a worrying dismissal of consent.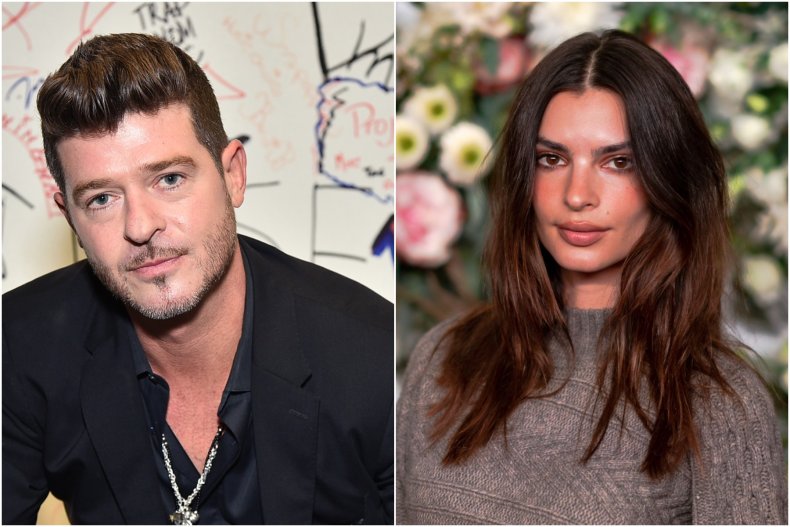 While many online commentators are saying they are "not surprised" that the man who helped write such as song has been accused of sexual assault, a large amount of vitriol has been leveled at Ratajkowski for taking part in the video.
"He made her career, weren't for the video no one would know her," reads one tweet.
While another person added: "Oh please. Simple—next time don't agree to be in a music video."
"Maybe don't do raunchy videos or walk around naked," said another.
Another response reads: "And this is why no one takes victims seriously...why wait so long to say something? Regardless of whether or not this accusation is true what's the point of bringing it up now...and publicly."
While another added: "Good lord... Ofc it was blurred fn lines! If she didn't want the part? She shouldn't have took it."
The large number of comments criticizing Ratajkowski appears across social media, often as responses to media outlet's reporting of her remarks.
As an example, one Facebook comment directed at Ratajkowski reads: "Can you feel humiliation if you are always posting naked or nearly naked pictures almost every day? I'm not saying Robin had permission but her statements don't flow with her constantly naked body...."

Similar sentiments are echoed all over comment sections about the story today. And this attitude of blame towards victims may help explain why a large number of sexual assault go underreported every year.
In the United States, only 19 percent of reported rapes and sexual assaults lead to arrests, according to researchers from the University of Massachusetts Lowell.
Most victims of sexual assault never report their attack to the police and for those who do, the likelihood of an arrest or conviction is small.
Statistics from RAINN, the nation's largest anti-sexual violence organization, indicate that from every 1,000 sexual assaults, 975 perpetrators will walk free. While just 310 are reported to police.
According to RAINN, women and girls aged 16-19 are four times more likely than the general population to be victims of rape, attempted rape, or sexual assault.
And women aged 18-24 who are college students are three times more likely than women in general to experience sexual violence.
Domestic abuse charity Women's Aid states that "abuse or violence of any kind is never the victim's fault" and that "responsibility always lies with the perpetrator, and with him alone," a fact lost on many of those blaming Ratajkowski for the incident.
A medically reviewed paper on victim-blaming published by mental health charity Very Well Mind found that victim-blaming means fewer crimes get reported and fewer predators get prosecuted.
Victim blaming also reinforces "predator-like attitudes" and "allows perpetrators to avoid being held accountable for their actions."
Amy Morin of the charity writes: "Blaming the victim helps us maintain a positive view of the world. It reinforces the notion that 'bad things happen to bad people.' It overlooks the fact that perpetrators are at fault for inflicting pain and committing crimes."
Speaking to Newsweek, a Department of Justice spokesperson said sexual violence remains vastly underreported in the U.S.
"According to DOJ statistics, every 68 seconds and someone in America is sexually assaulted. Despite this staggering statistic, sexual violence remains vastly underreported.
"Time and again, we hear from survivors that the biggest barrier to reporting is the fear of being blamed for what they experienced. When these stories are in the news and other media, survivors are watching the reactions closely.
"Unsupportive reactions that blame or shame victims reduce the likelihood of survivors reporting and can prevent survivors from obtaining the support they need to heal. It is critical that we learn how to TALK to and support survivors. Phrases like 'I believe you,' 'You're not alone,' and 'What happened wasn't your fault,' can go a long way in helping survivors heal."
If you or someone you know has been sexually assaulted, please contact the National Sexual Assault Hotline at 1-800-656-HOPE (4673) or go to rainn.org.