Emily Senn Delivers the News Through Song in Her Hilarious TikToks
No matter how scary the news can get, sometimes it's a little bit more bearable if you can sing along to it in a parody of a pop song or musical number. Singer and actress Emily Senn has found a way to deliver the news in a humorous fashion with quick spoofs of classic songs on TikTok.
The 32 year-old singer regularly shares videos of herself singing along to current events set to the tune of Beyoncé, Rodgers and Hammerstein, Alanis Morissette, or Les Misérables.
In one of her most recent videos, Senn crafted her own take on "Impossible" from Cinderella to rip on people not taking the COVID pandemic seriously. "Impossible! That half of a country could think they know more than science," she sings. "The world is full of dumb, stubborn fools/Who won't believe in sensible rules/And don't believe what literal experts say."
Senn told Newsweek in a phone call that a conversation with a friend inspired her to do the Cinderella spoof, and she penned the rest on the subway ride to work.
"We were texting, and I was just like, 'This is impossible. This is crazy. It doesn't make any sense,' and when I said the word 'Impossible', my musical theater brain went, 'Impossible,'" she said.
Sarcastically biting in her delivery, Senn said her take on "Impossible" was meant to highlight the ridiculousness of those that have been careless.
"This is crazy that this is happening. This is crazy that there are people that are still believing that this isn't real. Crazy that there are still people that are still doubting this and refusing to follow even the most basic guideline setups," she said.
One of Senn's earlier parodies that gained notoriety was a searing take on President Donald Trump's tax payments (or lack thereof for that matter) set to "What's Up" by 4 Non Blondes. "I wake in the morning/Check CNN and learn I paid more taxes than the president/And I scream from the top of my lungs/What's going on," she belts.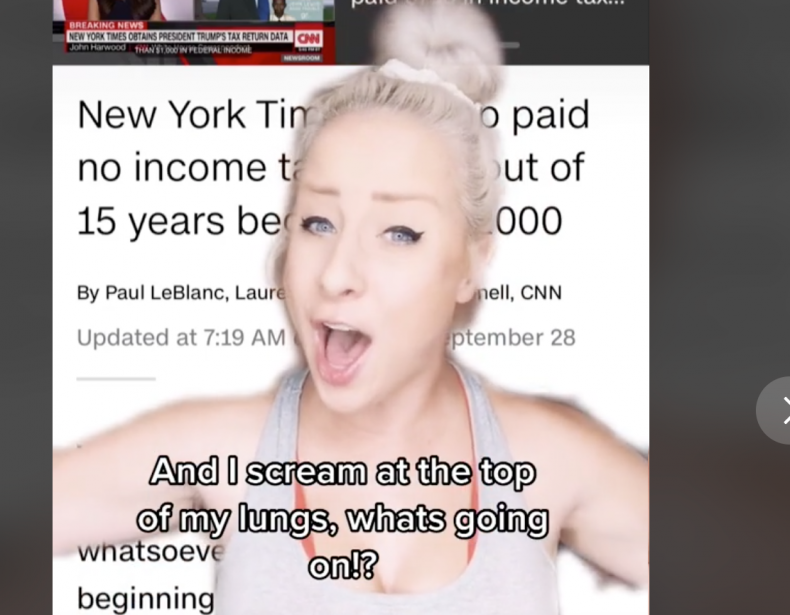 With live performances out of the question for the foreseeable future, the spoofs fill a gap that so many are craving.
"People are missing theater and that kind of stuff, and people are appreciative of singers and musicians who are able to do this stuff on the internet, and it resonates with a lot of people," Senn said.
"Even if you say you don't like musical theater or say you don't like classic rock songs, you think they're cheesy, they're overdone, they still are gonna pump you up, even if you're not going to admit it to anybody," she continued.
Like many performers, Senn really embraced TikTok during the pandemic. When the COVID lockdowns hit, she was performing on one of the cruise ships that passengers were stuck on due to the virus. During the two month wait to deboard, she started watching videos on the app and began making her own TikToks when she eventually got home. After experiencing that aspect of the pandemic firsthand, Senn called her TikToks "cathartic."
"My frustration with everything this year has reached peak level as somebody that lost my job because of the pandemic, and not only that-got trapped on the ocean for two months because of the pandemic. I was so disappointed with how it was handled and how everything played out and very frustrated. Doing these videos has definitely been a way to vent my frustration in a way that's a little less negative," she said.
Even though her primary goal was entertaining people and blowing off steam, the singer's videos have connected with some people who may not pay much attention to the news otherwise. After her take on "You Oughta Know," she said a lot of people commented that they were checking their voter registration, much to her surprise.
"I certainly wouldn't call myself a credible news source, but if my videos inspire somebody to maybe look up something in the news-maybe they'll see something in my video that will click, and they'll think, 'Oh maybe I need to look that up," and they'll look it up and find a credible news source that can give them accurate information, I would call that a success," she said.