Everything Emily VanCamp Has Said About Leaving 'The Resident'
Emily VanCamp's departure from The Resident has been in the works and public knowledge for quite some time, but nothing could have prepared fans for her emotional exit.
VanCamp's final appearance as nurse practitioner Nic Nevin in the medical drama took place in Season 5, Episode 3, titled "The Long and Winding Road," and her story came to an incredibly sad end. Since the episode aired, VanCamp has spoken out about leaving The Resident after four years.
Newsweek has everything you need to know.
Warning: This article contains spoilers about 'The Resident' Season 5, Episode 3
In Season 4 of The Resident, Nic gave birth to her and Conrad's (played by Matt Czuchry) daughter, Georgina Grace Hawkins.
VanCamp was missing as Nic from the Season 5 premiere and in Episode 2. But she did lend her voice to a phone call with her husband Conrad, where he reassured her he would cope just fine being at home alone with their daughter whilst she was away at a spa retreat.
The Resident fans were aware things were not going to be smooth-sailing after teaser footage for Episode 2 saw the police arrive at Conrad's door to deliver devastating news.
Turns out, in Episode 2, Nic was involved in a car crash on her way home and in Episode 3, sadly, she did not survive her brain injury.
Addressing her exit on Instagram, VanCamp paid tribute to her cast, producers, and writers and her time spent on The Resident, alongside a moving video put together by FOX of Nic's final moments on the show.
VanCamp also paid respect to the nurses who inspired her character. She penned under the video: "Thank you so much for four beautiful years!
"Feeling so much gratitude for the relationships I've gained, the stories I've had the opportunity to tell, and the many lessons I've learned from playing Nic Nevin on The Resident. Thank you to everyone who came on this journey with me and this wonderful character. Thank you to the most incredible cast and crew in television- I already miss you so much. To our writers and producers- collaborating with you over the past four years has been so rewarding and I appreciate you all so much. Thank you for putting this lovely tribute together @foxtv I truly hope you all keep tuning in as I know there are still so many incredible stories to be told here.
"And mostly- thank you to all of the nurses out there working tirelessly for your patients. Your patience, grit, and dedication inspired this character and I'm honored to have played a very small part in telling your stories. Sending you all so much love and thanks."
Speaking in her post-exit interview with Deadline on her decision to leave The Resident, VanCamp described it as tough, but "bittersweet" and "the right one."
She explained: "It's such a bittersweet moment for me. I loved doing The Resident so much for the four years I was on it. Oftentimes you hear about someone exiting a show because something bad had happened or there was some bad blood. But in this case, it's the exact opposite. There's nothing but love and respect between all of us and this decision was not an easy one for anybody. But it was the right one for me, personally. I'm grateful that I was met with understanding and compassion."
On the way her character exited the show, VanCamp said Nic's ending was "fitting" and "representative" of her character, giving her "quite the legacy."
The news VanCamp was leaving The Resident broke just days after she gave birth to her daughter Iris. Per Deadline, VanCamp had asked to be released from her contract in May following the conclusion of Season 4.
In a recent interview with Deadline, VanCamp confirmed the birth of her daughter with her husband Josh Bowman played a huge role in her decision to leave The Resident.
She said: "I spent so many years on network television, but then suddenly priorities shifted.
"I think there comes a moment in every woman's life—in every person's life—where it becomes less about work and more about family, and that's what happened while I was making the show. Doing that many episodes in a different city and then you add COVID to that, most of us couldn't see our families for almost a year. It really solidified for me that family is where my heart is at the moment."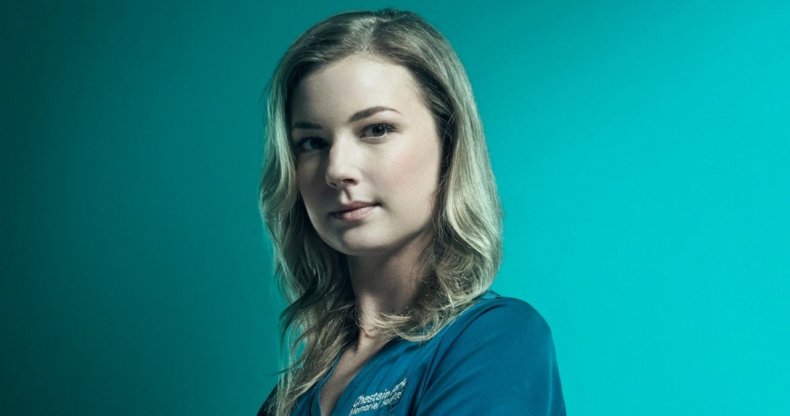 Going forward, The Resident will see Nic's husband Conrad attempt to process the pain of losing his wife as he tries to understand how and why she died in a one-car road accident.
Co-showrunner Peter Elkoff teased to TVLine Episode 4 will see Conrad "trying to make sense of the utterly senseless and inexplicable."
He continued: "Can you imagine, for the great diagnostician Conrad Hawkins, a more emotionally trying circumstance than trying to diagnose an accident that makes no sense? We felt it was the most creative way to tell that story."
VanCamp is hopefully set to pursue other huge acting projects since exiting The Resident. In April, she starred in Disney's The Falcon and the Winter Solider as Sharon Carter. As Sharon Carter/Agent 13, VanCamp will be a huge part of the MCU going forward, so she should not be absent from screens for too long.
Whether VanCamp will ever reprise her role as Nic in The Resident seems unlikely, but fans should never lose hope for her appearance in a flashback or dream sequence. Stranger things have happened in medical dramas, for example, think back to Patrick Dempsey's return to Grey's Anatomy in Season 17 after his character died in Season 11.
The Resident Season 5 airs Tuesdays at 8 p.m. ET / 7 p.m. CT on Fox.