Emin Agalarov, Russia's Pop Star Who Arranged Trump Tower Meeting, Reportedly Cancels U.S. Trip to Avoid Robert Mueller's Investigation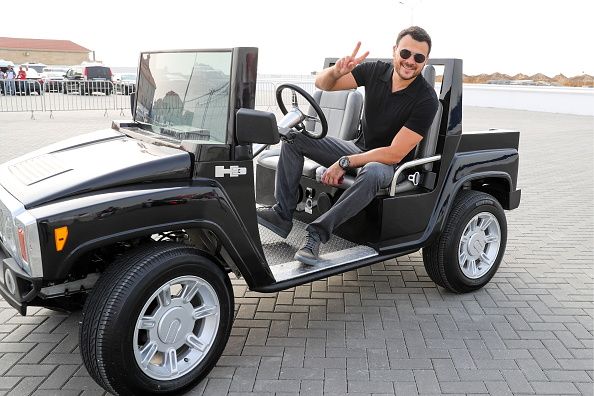 Moscow-based pop singer Emin Agalarov has canceled his upcoming tour of the United States and Canada reportedly to remain out of reach of special counsel Robert Mueller's investigation.
Agalarov abandoned the tour after reportedly failing to receive assurances that he would not be detained upon entering the United States. Agalarov is a person of interest in the Mueller probe for his involvement in initiating the June 2016 meeting in Trump Tower between members of the Trump campaign, including Donald Trump Jr., and a Kremlin-linked Russian lawyer.
The pop singer's lawyer confirmed to NBC News that the tour was canceled because of the Mueller investigation into Russian election interference and alleged collusion between the Trump campaign and Russia. The lawyer said his client is willing speak to Mueller's team and congressional committees, but the parties haven't reached an agreement about the "parameters" of his testimony, NBC News reported.
Agalarov was scheduled to perform in four cities in the United States and Canada. On Monday evening, he released a video message in which he apologized to his fans for canceling the shows.
"Dear Friends, due to circumstances beyond my control, I am forced to postpone my scheduled US and Canadian tour, basically I have been put in this position against my will. I bring my apologies to everyone," he wrote on Twitter and Instagram.
The U.S.-educated pop star told Bloomberg that he is willing to cooperate with investigators, but only if his freedom is guaranteed. "I have the feeling that the U.S. side doesn't have good intentions—that they have a desire, given this anti-Russian hysteria, to turn me, a well-known person, into a circus show," Agalarov said.
Agalarov's father is a wealthy and influential real estate developer who helped host Trump's 2013 Miss Universe pageant in Moscow. During the preparation for the event, at which Agalarov was a performer, Trump played himself in a music video for the pop star.
Putin awarded Agalarov's oligarch father, Aras, the Order of the Russian Federation shortly before the pageant took place, and investigative reporters have suggested that the Agalarovs may have used the event to connect Trump with people in Russian President Vladimir Putin's orbit.
Trump was eager to meet with Putin himself during his trip to Moscow for the pageant, according investigative reporters Michael Isikoff and David Corn. The meeting never happened, but Putin did sent Trump a sealed letter, the reporters wrote in their book 2018, Russian Roulette. The contents of the alleged letter are still unknown.
Olga Lautman, an investigative journalist who tracks Trump's ties to Russia, told Newsweek several other prominent members of Putin's circle attended the Miss Universe pageant.
"In November 2013, Alimzhan Tokhtakhunov, who was involved in the Trincher international gambling ring scandal out of Trump Tower, shows up as a VIP guest at Miss Universe," Lautman said. "Also Vladimir Kozhin, a top aide to Putin, attends the pageant."
"In February 2014, Ivanka Trump travels to Moscow and meets with Emin Agalarov, and Emin travels to Florida to meet with Trump," Lautman said.
Agalarov had a longtime working relationship with the British publicist Rob Goldstone, another associate of Trump's, and the two of them met with Trump in 2015, according to Lautman. "In May 2015, Rob Goldstone and Emin Agalarov travel to Trump Tower and are told by Trump that he will be announcing his presidential run," she said.
Goldstone also helped arrange the Trump Tower meeting between members of the Trump campaign and Russian lawyer Natalia Veselnitskaya, who at the time claimed to have "dirt" on then–presidential candidate Hillary Clinton. Goldstone has admitted that he arranged the meeting on behalf of Emin and Aras Agalarov.
The publicist later said that he didn't know who was behind the meeting, but he claimed it was possible that members of the Russian intelligence requested it. The lawyer Veselnitskaya has deep ties to the Russian government, a fact that was highlighted when she was indicted last week for making false statements about her relationship with the Kremlin in a separate case in New York.
Goldstone allegedly gave the special counsel's grand jury a full account of the Trump Tower meeting in March last year.
Participants in the Trump Tower meeting, including Trump Jr. and Jared Kushner, said the meeting was of little interest and centered only on Russian adoption policy. But adoption has been used to signify sanctions relief, since Russia made it illegal for Americans to adopt Russian orphans in retaliation for U.S. sanctions on Moscow.
The famous Steele dossier, which alleges that Russia was cultivating Trump for years, also mentions Aras and Emin Agalarov. The dossier said that Aras Agalarov was aware of bribes Trump had allegedly paid in Russia to establish business in the country, and was also aware of Trump's alleged sexual activities there. Only some parts of the controversial dossier, which was compiled by former British intelligence agent Christopher Steele, have been verified.
In 2018, the Democratic National Committee filed a lawsuit against Emin Agalarov and his father for allegedly colluding to influence the election on behalf of Trump. The two men have requested that the case be dismissed.