Eminem and Beyonce's 'Walk on Water': How to Listen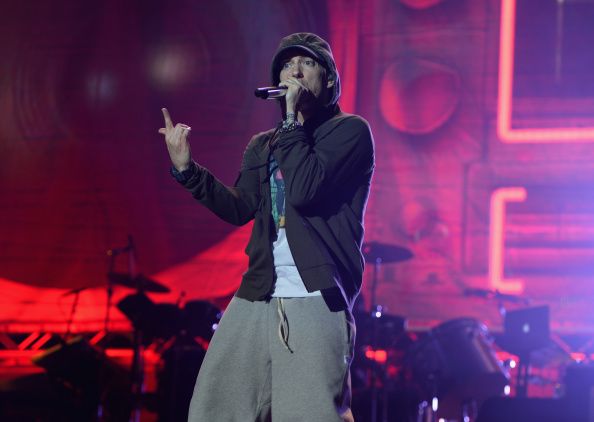 Eminem released "Walk on Water", the first single off his 2017 album Revival, on Friday. The melodic, emotional track begins with Beyoncé singing the hook—"I walk on water, but I ain't no Jesus"—while Eminem audibly tears and crunches paper, scribbles in pencil, and mutters expletives to himself.
The song, set to piano and strings, seems to be an earnest plea for wiggle room: Revival will be Eminem's first solo album since 2013's The Marshall Mathers LP 2, a sequel to his 2000 album. Eminem has long been deified by his many fans, and he received a new surge of attention after releasing a freestyle trashing of President Donald Trump. It's striking to hear Beyoncé sing a hook that Eminem presumably wrote for both of them, each a superstar in their own right. "I'm only human, just like you, making my mistakes, if you only knew," she sings. "I don't think you should believe in me the way that you do cause I'm terrified to let you down."
The last few moments of the song indicate that Revival's tone will change from 'Walk on Water''s intimate, apologetic ballad. The tempo picks up, probably heading into the next track, and Eminem spits, "Bitch, I wrote 'Stan'," referring to his 2000 monster hit about fans' unhealthy obsession with him. If 'Walk on Water' is any indication, Eminem is about to tell his fans he needs room to breathe.
The full track is available to stream on Spotify and Apple Play; it's also available for purchase on Google Play, Amazon Music, and iTunes. Neither Eminem nor Beyoncé's team has commented on the fact that they released a single on the same day Taylor Swift's Reputation album hit streaming services. Maybe Kanye had a word with them.
Revival, the full album, is scheduled to be released on Sunday, November 12.