After U.K. Terror Attacks, Scotland Deploys Extra Armed Security to Eminem Concert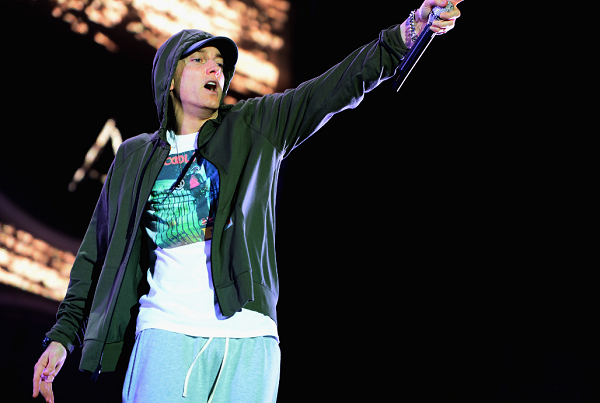 Ever since the Islamic State militant group (ISIS) claimed responsibility for the bombing of an Ariana Grande concert in Manchester, England, which killed 22 people and injured 59 others, officials all across Europe have been taking extra measures to keep fans and citizens safe when musicians come to town.
In Scotland, where only a fraction of police officers carry weapons, authorities announced that they would increase the number of armed officers at Glasgow's Bellahouston Park, where rap star Eminem is scheduled to perform Thursday, according to the Glasgow Evening Times.
Scotland, which is about 250 miles from Manchester, has remained on high terror alert since the May attack and has responded by beefing up the armed officer presence in many of the country's most historic and visited sites. Back in June, the Scottish Police Federation said it would increase the number of armed officers from 350 to 474, explaining that the country was "woefully under-equipped, under-resourced and underprepared" to combat a potential terror attack, the BBC reported.
Ahead of Eminem's concert, which some 35,000 people are expected to attend, police in Glasgow will also shut down a number of roads surrounding the park.
Event commander Superintendent John McBride said that residents and concertgoers should not be alarmed by the heightened armed guard presence, telling the Glasgow Evening Times that the increased presence of armed officers was just another tactic to keep people safe given the recent terror attacks in Spain and the U.K.
"We are not expecting and we have no intelligence that anything like that is going to happen here," McBride said. "Don't be alarmed, this is nothing unusual."
"We plan for what we don't expect, and as well as the armed police, we will have some road closures given what happened in Barcelona," he added.
Just a week before Eminem's Scotland performance, a van drove into a crowd of people in Barcelona, killing 13 people and injuring over 100 more. Hours after the attack, which occurred in the popular tourist area of Las Ramblas, ISIS claimed responsibility.
Authorities had to cancel a concert Wednesday in Rotterdam, South Holland, after being notified of a potential terror threat. Officials in Rotterdam were initially contacted by police in Spain who had received a telegram message from a man threatening to attack the Rotterdam Maassilo, where U.S. band Allah-Las was set to perform, BBC reported.