What Eminem Says About Drew Brees, Cops and Coronavirus in New Kid Cudi Song
If there's one thing Eminem fans can always count on, it's the rapper's refusal to hold his tongue. When it comes to unleashing his opinions, nothing is off limits. So it's no surprise that the Detroit native went after NFL star Drew Brees in his verse on Kid Cudi's new single, "The Adventures of Moon Man & Slim Shady," which released on Friday.
Eminem sounded off on a number of issues bothering him, starting with his disdain for the New Orleans Saints quarterback.
"Got a lil' green (Yeah), but I don't do weed (Nope)/Purp nor lean (Nah), that's Tunechi (Yeah)/That's New Orleans (What?), f**k Drew Brees (Yeah)," Eminem rapped.
Eminem's stance on Brees likely stems from the football player's recent comments regarding other players who protest by kneeling during the national anthem. At the height of nationwide protests spawned by the killing of George Floyd by a white police officer in Minnesota in May, Brees said during an interview that he would "will never agree with anybody disrespecting the flag of the United States of America or our country," despite the fact that players' kneeling began as means to protest police brutality and the killing of Black men by law enforcement.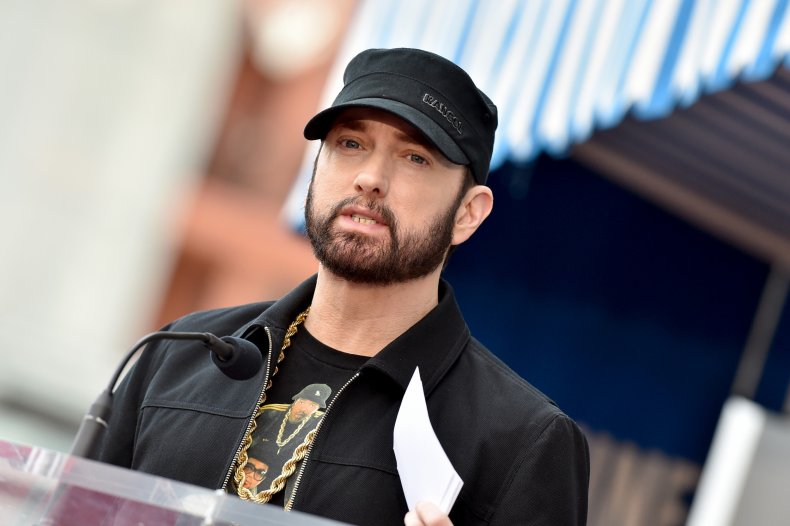 Speaking of law enforcement, Eminem touched on that too during his verse while honoring the lives of Floyd and Ahmaud Arbery, a Georgia man who was videotaped being confronted, shot and killed by two white men while jogging in February.
"Prayers to George Floyd and Ahmaud Arbery (Yeah)/How the f**k is it that so many cops are dirty? (Huh?)/Stop, man, please, officer, I'm sorry/But I can't breathe when I got you on top of me/Your goddamn knee's on my carotid artery (F**k)," he said.
Cops and athletes weren't the only ones to get dissed by the Music to be Murdered By rapper also went after people who haven't been taking coronavirus precautions, particularly those who have been protesting against regulations that most states have instituted requiring residents to wear facial coverings.
"F**k's going on, man? (Yeah)/Bunch of half-wits up in office (What?)/Half of us walking around like a zombie apocalypse/Other half are just pissed off and (Yeah)/Don't wanna wear a mask and they're just scoffing/And that's how you end up catching the s**t off 'em/I just used the same basket as you shopping/Now I'm in a fuckin' casket from you coughin'," he rapped.
While Eminem and Cudi have shown one another a lot of love on social media over the years, the new track marked the rappers' first collaboration. Cudi had fans speculating that they would soon do a song together back in May when he tweeted, "@Eminem rap God. Help!"