Eminem Drops 'Kamikaze': How to Listen to Surprise Release Featuring Jessie Reyes, Joyner Lucas
Rapper Eminem has dropped a new album titled Kamikaze, featuring 13 tracks. "Tried not 2 overthink this 1… enjoy," Marshall Mathers (Eminem) wrote on Twitter.
The album, which is Eminem's second release in just nine months, features Jessie Reyes, Joyner Lucas, Royce Da 5'9" and Paul Rosenberg, his manager. His previous album Revival was released in December 2018.
Kamikaze lasts for a combined 45 minutes and features songs "The Ringer," "Lucky You" and "Stepping Stone."
How to listen to Kamikaze
Eminem shared links to all the places you can buy or stream Kamikaze: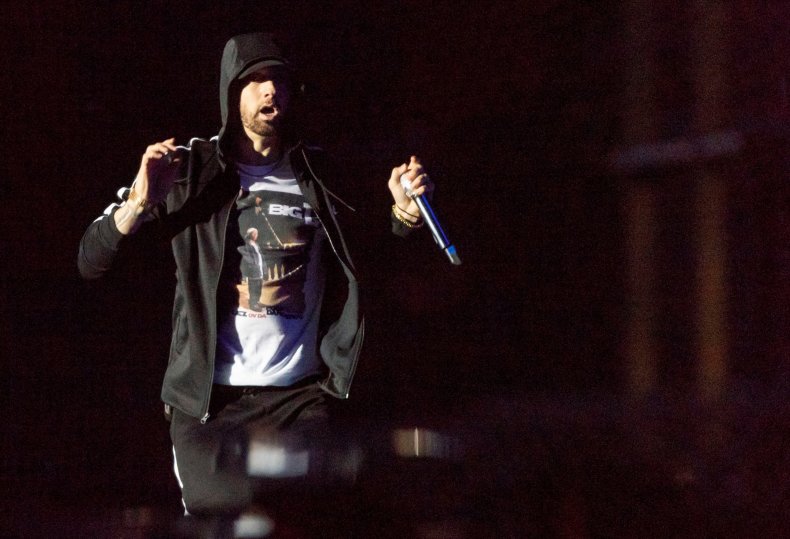 Eminem's Revival album reached number one in five regions including the United States, the United Kingdom, Canada and Australia. According to the Global Music Report in 2018, Eminem sold just over a million copies worldwide.
His most successful release was The Marshall Mathers LP (vinyl record), which was unveiled in May 2000 and sold almost 23 million copies worldwide.
The follow up, The Marshall Mathers LP 2, was released in November 2013 and sold 4.5 million copies.
Rumors have been circulating that Eminem is in a relationship with fellow rapper Nicki Minaj. Earlier this month, Minaj released her fourth studio album, Queen. For the song "Majesty," Eminem was recruited to sing.
"Better not use me as your topic, anybody who brings me up, duck it/ Let me keep it one hundred, two things shouldn't be your themes of discussion," Minaj rapped. "The queen and her husband, last thing you're gonna wanna be is our subjects."
Queen was released under Young Money Entertainment, Cash Money Records and Republic Records. The 19-track record is her first full-length release in four years after 2014's The Pinkprint.
The album features noteworthy appearances from the likes of Ariana Grande, The Weeknd, Lil Wayne and Future. Her track with Eminem stands out due to Minaj's reference to the pair's connection.
Rumors about the rap super couple first surfaced in May upon the release of YG's song "Big Bank." The single boasts Minaj as a guest. On the track, she rapped: "Told them I met Slim Shady, bag the Em/ Once he go black, he'll be back again."