Eminem Issues #GodzillaChallenge To See If Fans Can Beat His Flow
Eminem announced a new viral challenge for fans that can match his speedy flow on the Music to Get Murdered By track "Godzilla."
While fans had tweeted their attempts to match the song's pace before with the hashtag, the rapper, whose real name is Marshall Mathers, tweeted the challenge Tuesday, promising prizes and to repost his favorite takes on the track. The contest is sponsored by AI video editing app Triller. According to the app's Facebook page, the contest winner will receive a signed Lithograph, a shoutout from Mathers, and a pair of Beats headphones.
Triller did not immediately respond to Newsweek's request for comment.
The track, which features the late rapper Juice WRLD, is an easy pick for fans to try to show off their skills. While most of the album is forgettable, "Godzilla" makes up for any lack of substance with pure skill. According to Datpiff, Slim Shady broke his own world record for most words rapped in 30 seconds. He spat 229 words in the short span used for the viral challenge. Eminem was also the previous record holder for his 2013 track "Rap God" from The Marshall Mathers LP 2.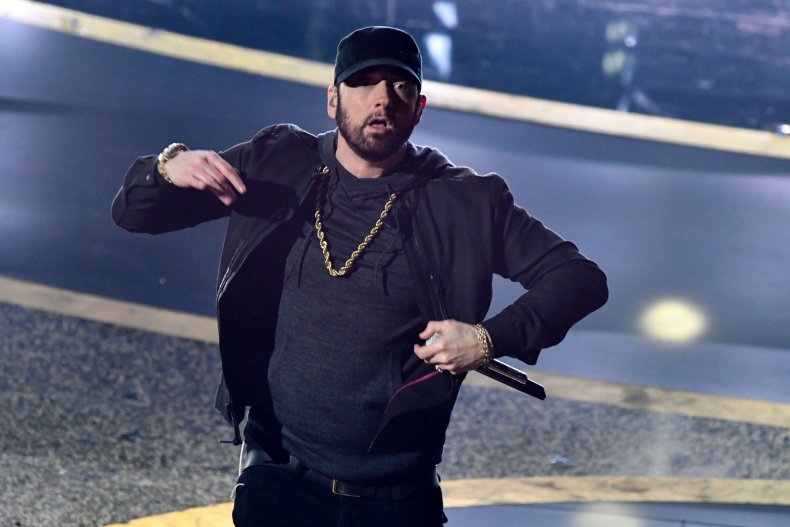 Many fans tried to match the rapper's dexterous verse to varying results. Some nailed the verse in one quick take.
Other fans just tweeted about how difficult it was to rap everything Eminem did at that speed.
Some fans got more creative with the challenge. Instead of trying to rap along, one fan opted to type the whole verse as quickly as he could. Drummer Jabril Malik posted a video of him drumming over the track with a snare drum, while performing stick tricks.
Others took a more humorous approach to the challenge. South African rapper Cassper Nyovest posted a video of a shivering infant and played the track over the video, making light of how fast the rapper's lips move as he delivers the verse. Another shared a child rapping into a camera, but simply replaced the audio with robotic beeps.
In one of the most memorable videos, a Twitter user identified as "Uncle Luke" pours lighter fluid on his t-shirt, tears it off, swaps his baseball cap for a Pikachu novelty hat and swings nunchucks around.
While Slim Shady himself has yet to weigh in on the winners, Eminem's longtime manager Paul Rosenberg tweeted out his pick, a Triller user named Jacksherlock1, whose video also features him flipping through a collection of Mathers' entire discography on vinyl, except the recently released Music to Get Murdered By.