Eminem Jokes That Nick Cannon Owes Him Apology For Diss Track: 'You've Made My Gardener So Jealous!'
On Monday morning, Nick Cannon released an Eminem diss track called "The Invitation." Featuring Suge Knight and battle rappers Hitman Holla, Charlie Clips and Prince Eazy, the Wild 'N Out and The Masked Singer host takes the rapper to task for his alleged fling with Cannon's ex-wife, Mariah Carey and for his own call-out during a guest spot on the the Fat Joe track "Lord Above," which was released on December 6.
Cannon also challenges Eminem to appear on Wild 'N Out, an improvisational comedy show where rap battles are performed, on MTV which is entering its 15th season.
Eminem responded to the track on Twitter, a rare move from him.
After first calling out a line in "The Invitation" in which Cannon claims his chauffeur has video of him "sucking c**k", Mathers tweeted "U mad bro? Stop lying on my dick. I never even had a chauffeur, you bougie f*ck," followed by a clown emoji.
Then he said, "I demand an apology Nicholas, you've made my gardener so jealous!"
Cannon originally responded to the "Lord Above" diss during his Power 106 FM morning radio talk show Monday morning.
"We should change his name from Eminem to Percocet," he said. "What's the pill old people use? We should change it to... we are going to call him Cialis. Get out your wheelchair Eminem and pop whatever you want to pop."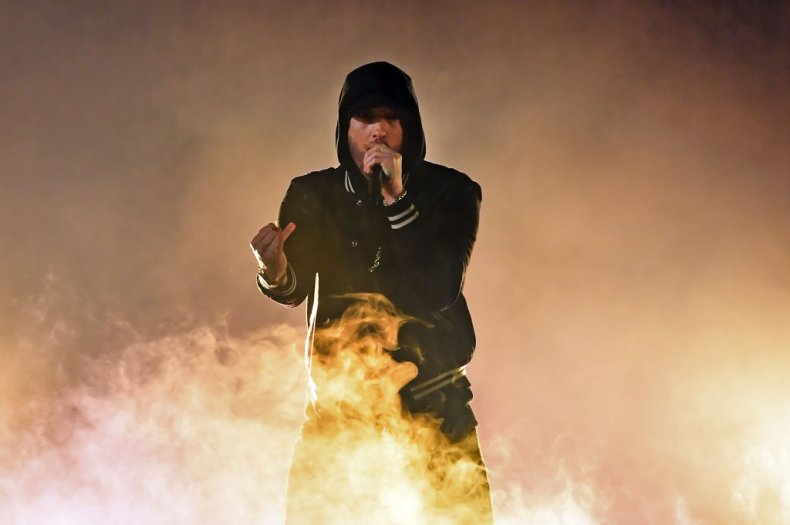 Mathers and Cannon have been in a feud since 2009, after Eminem's relationship with singer Mariah Carey allegedly concluded in a stormy manner and Carey subsequently married Cannon. Carey has always categorically denied having a fling with Mathers.
In response, Eminem dropped a diss track called "Bagpipes from Baghdad" where he threatened to cut Carey up "like Jeffrey Dahmer."
Carey replied with the song "Why Are You So Obsessed with Me?" from her Memoirs of an Imperfect Angel album.
Eminem then released "The Warning," which mocked both Carey and Cannon. Cannon responded with the track "I'm Slick Rick."
The twosome went back and forth in the media for a good chunk of 2009, and Cannon threatened to strike Mathers should they ever meet face to face. The feud calmed down for awhile after that, at least publicly.
In the ten year interim between the beginning of the feud and Eminem's verse on "Lord Above," Carey and Cannon married, had twins and divorced.
"The Invitation" has received little favor from the public, and at press time stands at 42,000 dislikes compared to 13,000 likes on YouTube.