Eminem Launches Mom's Spaghetti Restaurant With 'Store for Stans' in Detroit
An Eminem lyric about vomiting has inspired the rapper to launch a restaurant called "Mom's Spaghetti."
The restaurant, set to open at 5 p.m. on September 29 in downtown Detroit, has an attached shop called "The Trailer" that's billed as "a store for Stans"—a reference to another Eminem hit, "Stan," and the slang term for enthusiastic fans it inspired. The restaurant is reportedly the result of a partnership with the local restaurant group Union Joints.
A pop-up version of the restaurant debuted at the city's Shelter basement club in 2017, according to The Detroit News. The brand was also served at Eminem tour stops in 2018 and to frontline workers in April 2020 amid the first wave of the COVID-19 pandemic.
"Mom's Spaghetti" is a reference to Eminem's song "Lose Yourself" from the film 8 Mile. It won the Academy Award for Best Original Song in 2003, as well as two Grammy awards in 2004. In the opening part of the song, Eminem raps "his palms are sweaty, knees weak, arms are heavy / there's vomit on his sweater already, mom's spaghetti."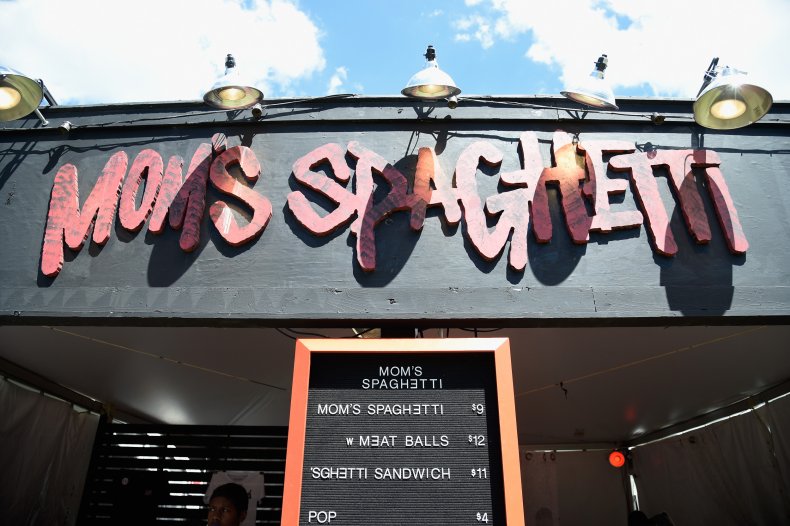 A commercial to promote Mom's Spaghetti has been airing on local television and online. The ad opens with a narrator saying "get your sweaters ready Detroit, Mom's Spaghetti is coming to 2131 Woodward Avenue" as Eminem is superimposed in front of the Detroit skyline and appears to vomit a carton of the branded spaghetti into the Detroit River.
The ad goes on to promote the restaurant's offerings, which include pasta, meatballs and "the s'ghetti sandwich." Eminem returns at the end of the commercial holding a carton of spaghetti in both hands as the slogan "Mom's Spaghetti: It's All Ready" and the phone number 313-888-8388 flashes on the screen.
Calling the number plays a pre-recorded message that urges potential customers to "order in the alley between Union Assembly and the Fillmore, then head in to find a seat next to the bodega or head upstairs to scope out The Trailer—the store for Stans that you will only find above."
The verdict was decidedly mediocre when the Detroit Metro Times reviewed the pop-up restaurant version of Mom's Spaghetti in 2017, with "the aromatics" of the spaghetti described as being "more akin to, say, Grandma's goulash or Dad's lasagna" and the overall assessment finding the food to be "Adequacy at it's pasta-iest."
"More than likely this was the work of a busy mom who doesn't have time to stew her own tomatoes or gather fresh basil and thyme from her window herb garden," Jerilyn Jordan wrote in the review. "Mom's Spaghetti tasted like Prego, or Kraft, or my many lazy attempts at cooking."
Newsweek reached out to Eminem's representative for comment but did not hear back in time for publication.