Eminem's Machine Gun Kelly Diss Track Randomly Name Drops Diddy and Tupac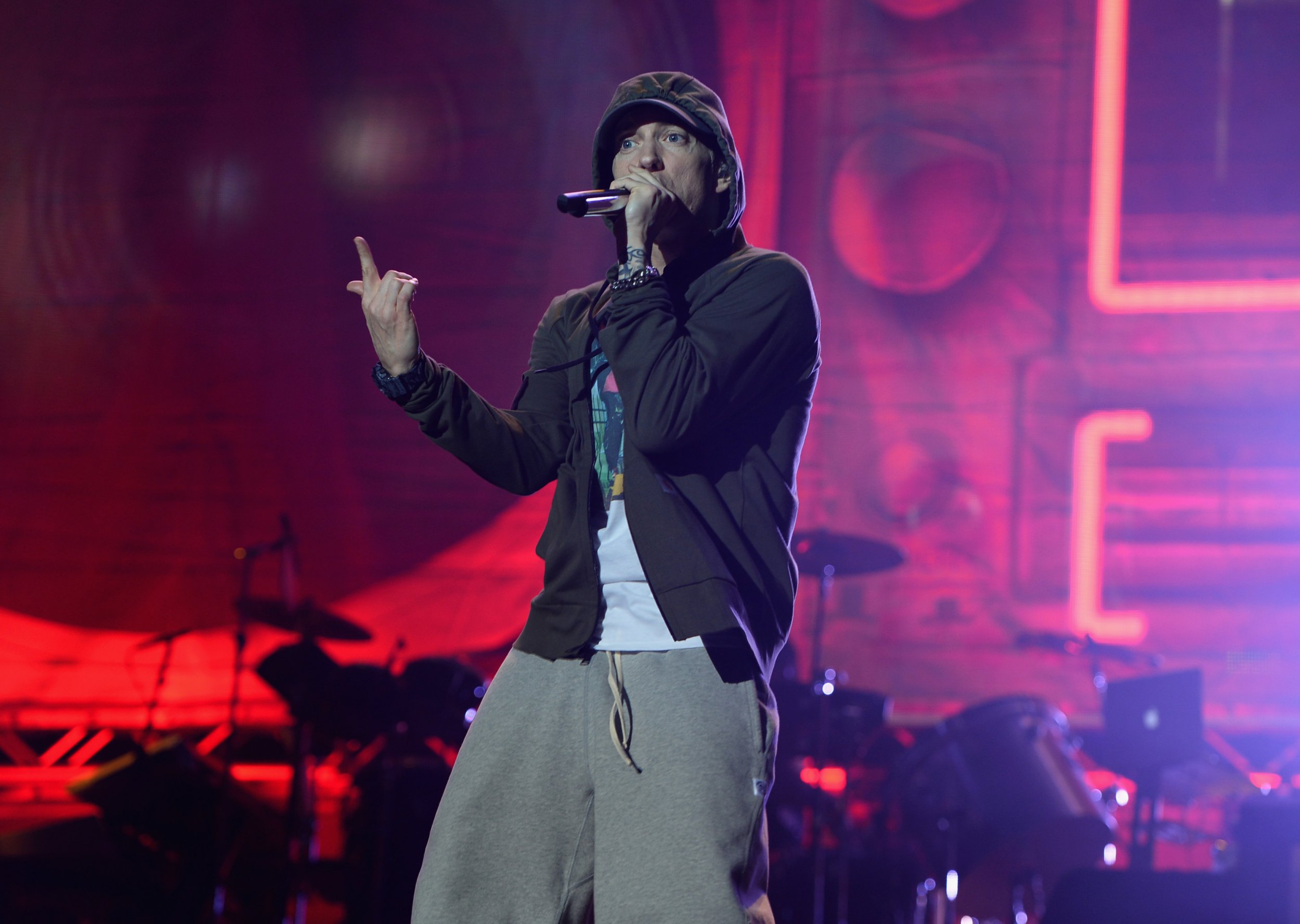 The rap feud between Eminem and Machine Gun Kelly continues as the Michigan-born talent released a new diss track, dubbed "Killshot," on Friday. The track, which boasts a cover that features Kelly's face being targeted by a shooter, is in response to the Kelly's "Rap Devil." Kelly's song was a reply to "Not Alike" off Eminem's surprise album Kamikaze.
The 8 Mile star slammed multiple aspects of Kelly's life on "Killshot." He even took jabs at his career, with lines including "I'm 45 and I'm still outselling you" and "my biggest flops are your greatest hits."
"Wait, you just dissed me, I'm perplexed / Insult me in a line, compliment me on the next, damn / I'm really sorry you want me to have a heart attack," Eminem rapped. "Was watchin' 8 Mile on my NordicTrack / Realized I forgot to call you back / Here's that autograph for your daughter, I wrote it on a Starter cap."
The beef between Eminem and Kelly first began in 2012. Kelly, at the time, took to Twitter to suggest how the "Lose Yourself" rapper's then-underage daughter Hailie Scott was "hot as f***." This did not amuse Eminem, who wound up dissing him on Kamikaze's "Not Alike" six years later.
"He wants to keep up his tough demeanor / So he does a feature, decides to team up with Nina / But next time you don't gotta use Tech N9ne / If you wanna come at me with a sub, Machine Gun / And I'm talkin' to you, but you already know who the f*** you are, Kelly / I don't use sublims and sure as f*** don't sneak-diss / But keep commenting on my daughter Hailie," Eminem said.
Kelly, in turn, did not take the jab sitting down. He recorded and released a diss track three days after Kamikaze debuted.
The Nerve actor called out Eminem's delayed response to his comments on Scott, saying, "Took you six years and a surprise album just to come with a diss." Kelly, in addition to this, suggested Slim Shady's "always mad cooped up in the studio, yelling at the mic" and he's "dweeb."
After the arrival of "Rap Devil," Kelly spoke to an audience about the duo's drama during a Michigan stop on his The M A N I A Tour with Fall Out Boy on September 6. Before performing "Rap Devil," Kelly said: "This is not a battle between Michigan and Ohio. This is a battle between the past and the motherf***ing future."
It was rumored that Eminem was readying a comeback to answer Kelly's "Rap Devil." Eminem's "Killshot," therefore, comes as no surprise. In addition to slamming Kelly, he alleged that P. Diddy was responsible for late rapper Tupac Shakur's death.
"But Kells, the day you put out a hit's the day Diddy admits / That he put the hit out that got Pac killed, ah," Eminem rapped.
While Diddy and Shakur's mention was random, Eminem hinted at a long-suspected rumor that Diddy was behind the late rapper's murder. In 2006, the mother to rapper Biggie Smalls reopened his murder case. In doing so, Los Angeles Police Department detective Greg Karding came across information that connected Diddy to Shakur's death.
Despite Eminem's implication, he concluded the track, saying: "And I'm just playin', Diddy, you know I love you."