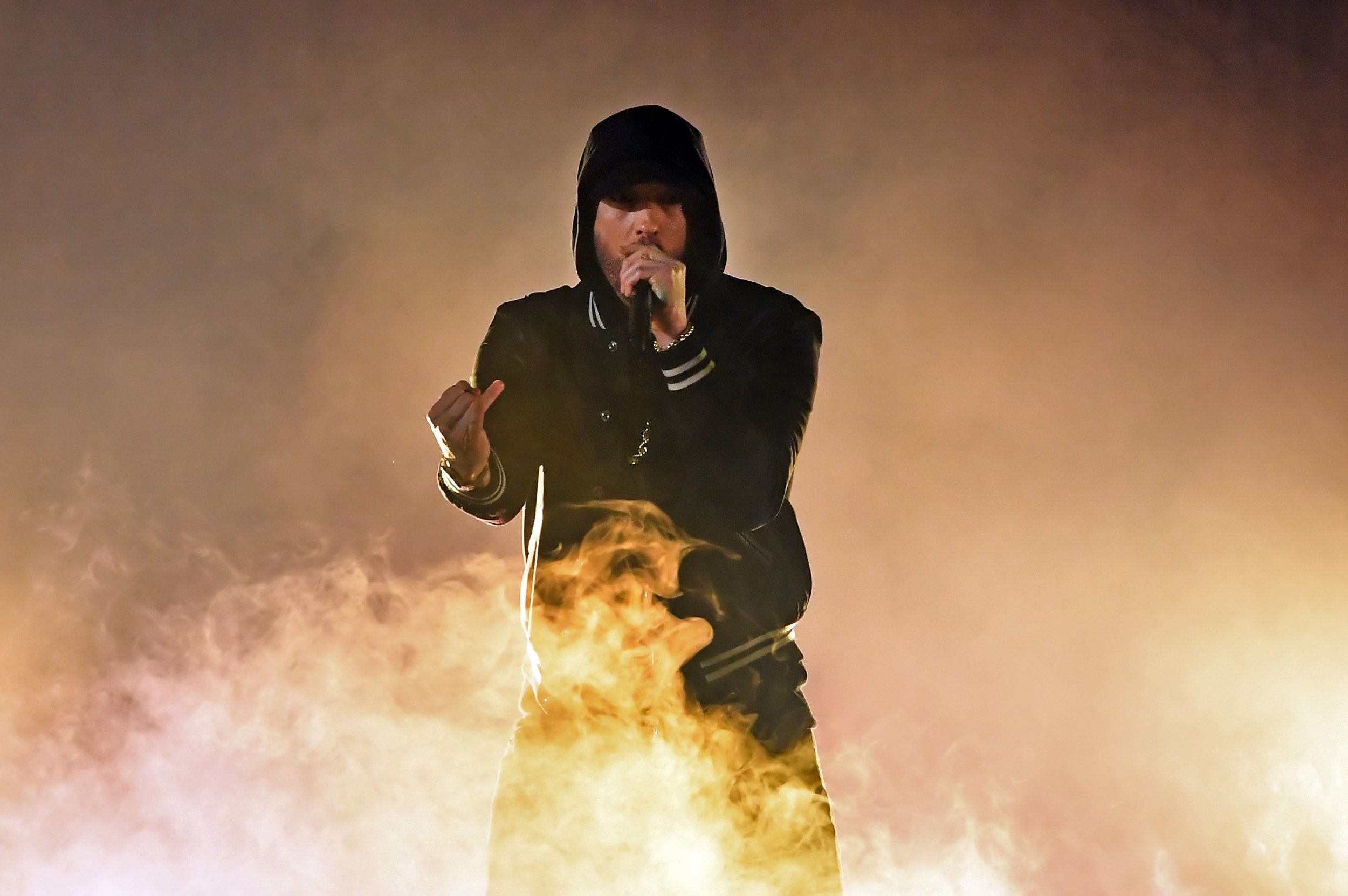 Fans of Eminem were surprised by the rapper dropping his Kamikaze album at midnight Friday, especially fellow rapper Hopsin. Eminem was praised by Hopsin on social media after he realized the real Slim Shady mentioned him on a track from Kamikaze, titled "Fall."
"YO!!! Eminem thank you for acknowledging me on your song [on] Kamikaze!! HOLY F***!! This is seriously the BEST F***ING DAY OF MY F***ING LIFE!! Not even exaggerating," Hopsin, 33, wrote Friday via Facebook. "For years, I always wondered if you even knew who I was! God damn! Literally. The. Best. F**kin. Day. Of. My. F***ing. Life!!!! Period!"
Hopsin further explained how Eminem's mention inspired him musically, writing: "YOU JUST INSPIRED ME TO MAKE A NEW F***ING PROJECT! I'm bout to hit the studio RIGHT F**KIN NOW! This was the motivation I needed to stay on track! Thank you, EM!"
Hopsin, born Marcus Jamal Hopson, is a Los Angeles native. His signature look often incorporates white-colored eye contacts. He signed with Ruthless Records in 2007, but he later founded a record label, Funk Volume, in 2009. By 2016, he started a second label, called Undercover Prodigy. Hopsin's released five studio albums to date, including Knock Madness and Gazing at the Moonlight. He's appeared on multiple Disney Channel shows, like That's So Raven and Lizzie McGuire, and movies, including Fame.
Fans of Hopsin have often considered his rap style to be similar to Eminem's. Hopsin, however, has vocalized how Eminem has inspired his music before. The Los Angeles-based rapper has even mentioned his interest in collaborating with the "Lose Yourself" hitmaker.
"He's in the place now that he's doing what he wants to do because he's literally [the] biggest f***ing rapper in the world," Hopsin told REAL 92.3 in 2017. "He has been the rawest rapper in the world. Everything these MCs are trying to do he has done it. Touched all this people's hearts already."
On Kamikaze, Slim Shady's track "Fall," which features Bon Iver frontman Justin Vernon, details how the rap scene is today. In doing so, he mentions several rappers alongside Hopsin, including Logic and J. Cole, who are making music that's culturally relevant. He additionally suggested he's served as these rappers inspiration as well.
"Put my feet up and just make myself at home. I belong here, clown, don't tell me 'bout the culture," Eminem rapped. "I inspire the Hopsins, the Logics, the Coles, the Seans, the K-Dots, the 5'9"s, and oh. Brought the world 50 Cent, you did squat, pissed and moaned. But I'm not gonna fall… bitch!"
Hopsin's written response on Facebook was accompanied by a video, where he is seemingly very excited by his discovery as he lets out a loud scream. "I didn't even know he knew who the f*** I was. God damn," Hopsin said. "He said, 'Don't tell them about the culture.' Implying that I'm part of the culture! S*** man. I got to call my mom."
Kamikaze is Eminem's tenth studio album. It's a follow up to 2017's Revival, which was panned by both fans and critics alike. On Kamikaze, Eminem takes aim at President Donald Trump, Drake and the press, among others. "Fall," the track that mentioned Hopsin, was initially listed on streaming services as "Kamikaze" by mistake.