Eminem and Nick Cannon's Longtime Rap Beef Explained After Artists Exchange Disses on Twitter
Eminem and Nick Cannon exchanged blows on social media on Monday, seemingly reigniting an age-old feud between the rappers.
While the men haven't gone toe-to-toe in years, their combative relationship spans the entire decade.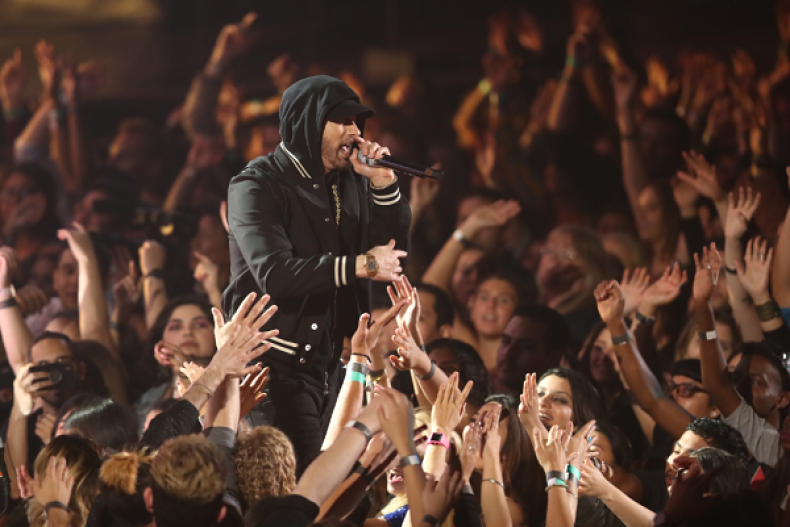 In fact, it was 11 years ago when Eminem first ripped on Cannon in his track, "Bagpipes from Baghdad," from his sixth studio album, Release, which dropped in May 2009. In the song, Eminem fired shots at Mariah Carey in response to her relationship with Cannon, whom she married the year before. Eminem and Carey allegedly had a fling before the superstar singer tied the knot with Cannon—although she vehemently denied ever participating in any kind of romance with the Michigan rapper.
Sulking over the breakup, Eminem rapped vicious lyrics against Carey, even threatening to "cut ya like Dahmer," in reference to the serial killer and sex offender Jeffery Dahmer, all while calling Cannon a slew of names throughout the song.
A Twitter war erupted between the men when Cannon issued a response to the track shortly after the song's release. A number of music industry vets like Diddy and Dr. Dry tried to ease the tension between them but things only escalated after Carey—who was initially silent during Cannon and Eminem's feud—released her June 2009 hit single "Obsessed," and the accompanying video, in which a man resembling Eminem appeared to stalk her in New York City. Eminem responded to that with yet another song, "The Warning," in which he mocked Carey's music video and her relationship with Cannon.
Cannon didn't respond musically to Eminem's jabs until September 2010 when he released the diss track, "I'm a Slick Rick," in which he accuses Eminem of "lying on your d**k" in regards to his so-called fling with Carey. Cannon followed up the song by inviting his enemy to duke it out with him in a boxing match in a now-deleted Facebook post, which Eminem never responded to.
Their feud essentially died down after 2010, but around the time of his divorce from Carey in 2016, Cannon extended an invitation to Eminem to appear on his long-running MTV sketch comedy show Wild N' Out. In an interview on Tim Westwood's show that same year, Cannon said he was still interested in not only battle rapping Eminem but fighting him in the ring as well. Eminem never responded to the offer.
Then in September 2019, Cannon—after years of being silent on his past with Eminem—opened up about their rocky relationship on an episode of T.I.'s podcast, ExpediTIously. Cannon claimed he'd spent the last few years trying to reconcile with Eminem, even having written him a letter.
"I wrote this long-a** letter pretty much saying, 'I respect you as an artist. I'm actually a fan. I think you're one of the best to ever do it, but from man to man, you talking out of pocket to my wife. You've gotta be held accountable for that so I need to see you face to face,'" Cannon explained, adding that there was a time during their beef when he was ready to actually fight Eminem over the things he said about Carey.
Cannon also revealed Eminem had apologized to him in private, during which time they decided they didn't "wanna fight anymore."
It seemed as though their issues were a thing of the past, but Eminem brought the beef back center stage when he referenced Cannon and Carey again in his guest appearance on Fat Joe's "Lord Above," a feature on Joe's new album Family Ties, which released on Friday.
"I know me and Mariah didn't end on a high note/But that other dude's whipped, that pussy got him neutered/Tried to tell him this chick's a nut job before he got his jewels clipped/Almost got my caboose kicked/ Fool, quit, you not gon' do shit / I let her chop my balls off, too 'fore I lost to you, Nick," Eminem rapped.
After firing some shots at Eminem on his morning radio show and Instagram—referring to the now 47-year-old rapper as "Grandpa Marshall"—Cannon released a diss track of his own in response to his longtime enemy on Monday titled, "Invitation."
"My baby mama killed you off a decade ago/You still crying about it b***h/ Now who really the hoe?" Cannon rapped on the song.
Although much friendlier than previous years, the men took their jabs to Twitter once again when Eminem made a post referring to Cannon's diss track on Monday. "I demand an apology, Nicholas, you've made my gardener so jealous!"