Why Did Eminem Apologize to Rihanna on His New Song 'Zeus'?
Eminem is sorry for causing Rihanna grief—at least, that's what he says on his new song "Zeus," featured on his latest album, the just-released Music to Be Murdered By—Side B.
The rapper surprised fans on Friday with the 16-song collection, which is really coming tacked on as an album-length bonus to Em's release from earlier this year, Music to Be Murdered By. And while it features a number of major collaborations with artists like DJ Premier, Ty Dolla $ign and Sly Pyper, it's his commentary on "Zeus" that has social media talking at the moment.
On the track, in which the 48-year-old Eminem compares himself to the titular Greek god, the rapper recalls the hurt that he apparently caused Rihanna after lyrics to an unreleased track were leaked in 2019. With "Zeus," Em tries to make amends.
"But, me, long as I re-promise to be honest/ And wholeheartedly, apologies, Rihanna/ For that song that leaked, I'm sorry, Ri/ It wasn't meant to cause you grief/ Regardless, it was wrong of me," Eminem raps.
On the song Eminem's referring to, which is titled "Things Get Worse," he seems to show support for Rihanna's former boyfriend Chris Brown and references the ex-couple's infamous 2009 domestic dispute, for which Brown was pinned with felony assault charges.
A snippet of the song surfaced online in November 2019, in which Eminem rapped, "I'm not playing, Rihanna, where'd you get the VD at?/ Let me add my two cents/ Of course I side with Chris Brown/ I'd beat a b***h down too/ If she gave my di**k an itch now."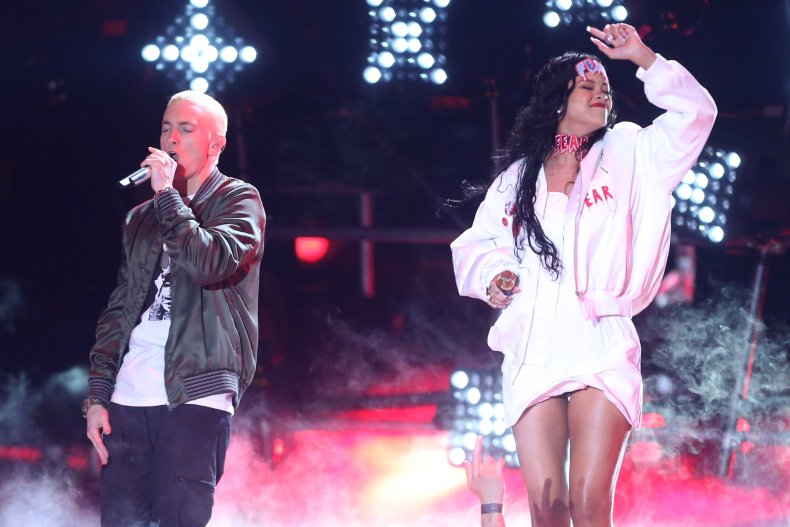 Eminem originally wrote the rap while recording 2009's Relapse album, according to a 2019 Billboard report. However, in the years since the assault, he's appeared on songs with Rihanna on a number of occasions, including on their 2010 hit "Love the Way You Lie," as well as "Numb" and "Monster," which released in 2012 and 2013, respectively. The pair even toured together in 2014.
When the song initially leaked, Dennis Dennehy, a rep for Eminem, told Billboard that the song had been rewritten.
"This is a leak of something that's over 10 years old," Dennehy said. "After Eminem recorded it, he scrapped it, and rewrote it. Obviously, he and Rihanna have a great relationship."
Fans were quick to notice the apology on "Zeus," and several of them took to social media on Friday to applaud the 8 Mile rapper for taking accountability for his wrongdoings.
"Eminem apologizing to Rihanna for the leaked song...I knew he felt bad about it- this is why I Stan this man...his heart #MTBMB2," one fan wrote on Twitter.
"I like the fact that Eminem apologized to Rihanna. A real man who has the balls to apologize to a women when they know they were wrong. #MusicToBeMurderedBySideB," another tweeted.