Eminem Rips Trump in New Big Sean Track 'No Favors'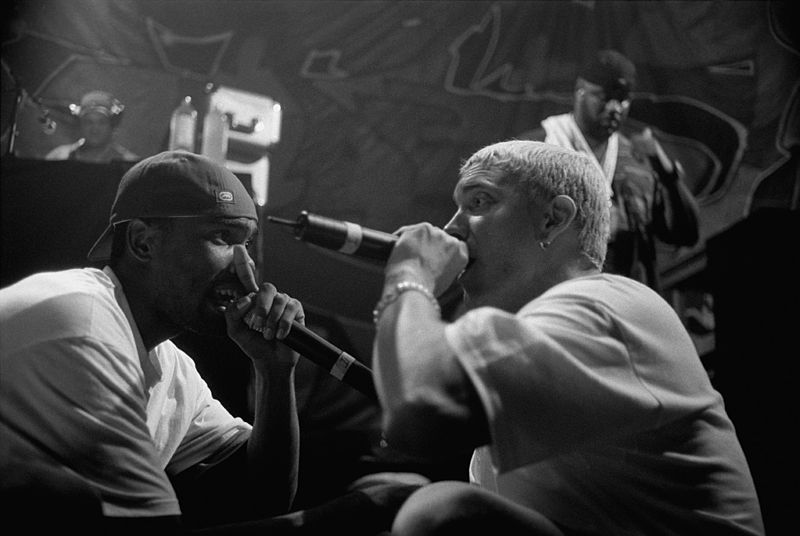 Eminem has a guest verse on Big Sean's new track "No Favors," and it's an aggressive dig at President Donald Trump. The track appears on the album I Decided, which came out on Friday.
In the verse, Eminem doesn't exactly keep it subtle, rapping: "I'm anti, can't no government handle a commando / Your man don't want it, Trump's a bitch / I'll make his whole brand go under." He also attacks far-right commentator Ann Coulter, linking her to the KKK.
Related: Hackers hijack radio stations to play YG's anti-Trump anthem "FDT"
This isn't the first time Eminem has gotten political. In 2016, he released the nearly eight-minute freestyle "Campaign Speech," in which he ripped into Trump and his supporters: "You say Trump don't kiss ass like a puppet / 'Cause he runs his campaign with his own cash for the fundin' and that's what you wanted / A fuckin' loose cannon who's blunt with his hand on the button / Who doesn't have to answer to no one."
And over a decade ago, he went after Bush in his 2004 song, "Mosh."
It seems unlikely that "No Favors" will overcome YG's "FDT (Fuck Donald Trump)" as the unofficial anthem of the burgeoning protest movement against the new president (and hacked radio station favorite ), though it'll surely be appreciated by at least half the country. You can listen to "No Favors" here.
Read more from Newsweek.com:
- No, Eminem, You Did Want The Cover of Newsweek
- Why did Eminem dis Mariah Carey?
- Ben Carson loses himself to Emine