Video of Eminem Taking the Knee During Super Bowl Halftime Show Viewed 1.5M Times
Video clips of rapper Eminem taking the knee during his performance at the 2022 Super Bowl have gone viral on social media and sparked praise and criticism.
The rapper took the knee after finishing his 2002 hit song "Lose Yourself" as his accompanying band began preparation for the next song.
The gesture has become a symbol of support of racial equality and justice since NFL player-turned-activist Colin Kaepernick took the knee during the national anthem during a pre-season game in 2016.
Video clips of Eminem taking the knee have been shared widely on Twitter on multiple pages and been viewed over 1.5 million times.
While many reacted with praise for the performance and the gesture, others remarked that politics should remain out of football. This comes after years of protests from NFL players making the gesture ahead of football games.
Some comments on social media suggested that the NFL had told Eminem not to take the knee. However, the national football league denied this was true after the performance, according to a Guardian report.
"We watched all elements of the show during multiple rehearsals this week and were aware that Eminem was going to do that," league spokesperson Brian McCarthy said.
On social media the rapper was praised for supporting racial equality but also mocked for his efforts.
Human rights activist Mohamad Safa praised Eminem for raising the issue and supported individuals taking the knee on large stages.
"I'm not black, but I see. I'm not black, but I heard you. I'm not black, but I will kneel with Colin Kaepernick and Eminem to support Black Lives Matter, am I alone?" he wrote on his Twitter page.
Rolling Stone journalist Rob Sheffield praised the entire halftime show performance and dubbed it one of the NFL's all-time greats.
"I went deep on why tonight was one of the all-time great Super Bowl halftime performances," Sheffield wrote. "Dre takes a W, Eminem takes a knee, holleration and hateration take the L and given the NFL's complex history with hip-hop, it's long overdue."
Television host Joy Reid simply tweeted: "Good on Eminem. And that halftime show was [fire emojis]"
However, criticisms of the gesture and Eminem focused on the appropriateness of his success in hip hop as well as general mockery.
Donald Trump Jr. mocked Eminem by tweeting an image of Ellen DeGeneres at a football game.
"Eminem getting ready to perform at the Super Bowl halftime show," he captioned the image.
Other criticisms towards Eminem said that he had appropriated Black culture by being a rapper.
Chief Rebel News Australia correspondent Avi Yemini took to Twitter to question why Eminem had not been canceled.
"Eminem built his entire career on appropriating black culture," he wrote on Twitter. "Isn't that a cancelable offense these days? I'm just trying to keep up."
Florida Republican candidate Lavern Spicer also criticized Eminem while praising the other artists during the halftime show.
"How is it that Eminem has not yet been canceled for cultural appropriation of hip-hop." she tweeted.
She later tweeted: "That Pepsi Halftime show was American excellence. All that great talent was born and bred right here in this country.
"We have the best and brightest right here in the USA. (Everyone but Eminem)"
Newsweek has contacted the NFL for comment.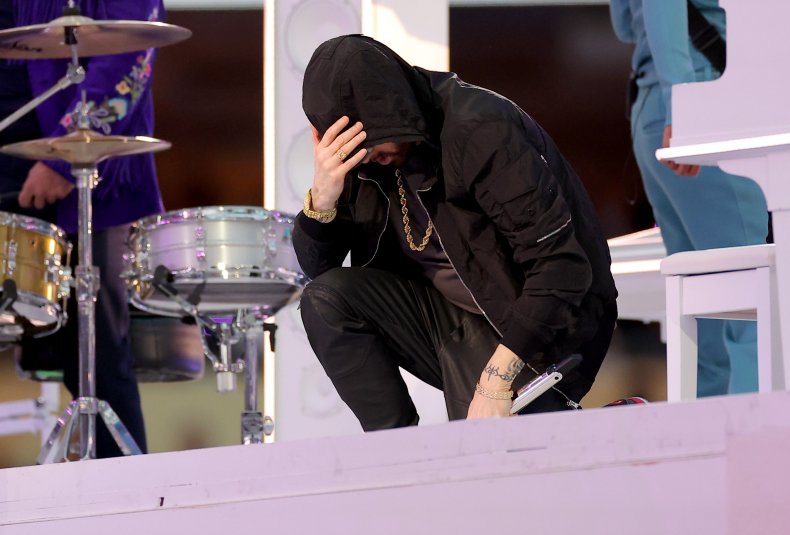 Update 2/14/22, 3:36 a.m. ET: This article was updated with additional information.