Before Trump, Eminem's Lyrics Targeted George W. Bush for the Iraq War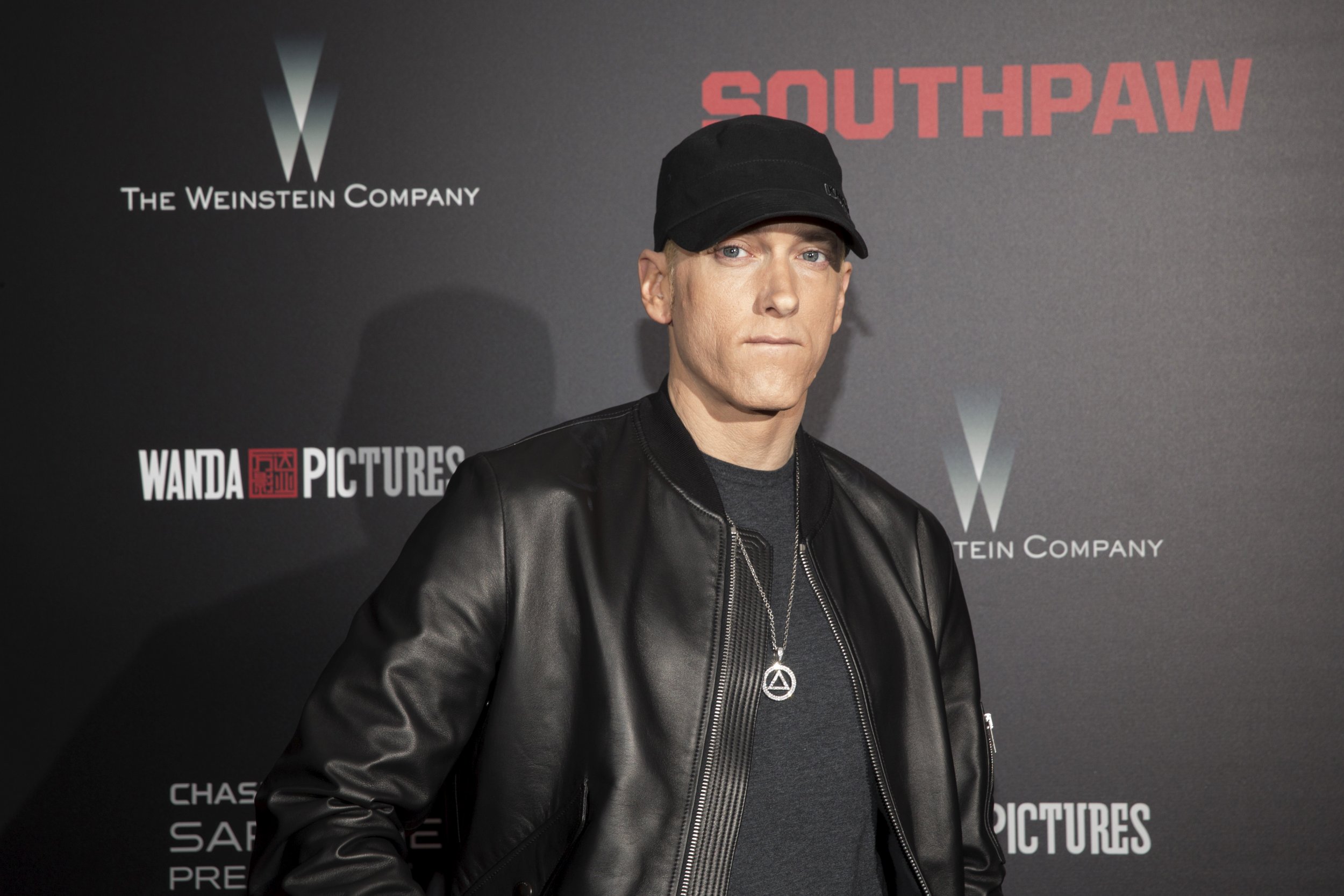 Rapper Eminem's broadside against President Donald Trump at the BET Hip Hop Awards was certainly was not the first time the "8 Mile" rapper had aimed his flow at a sitting president.
Back in November 2004, Eminem took aim at George W. Bush with expletives and criticism for taking the U.S. into war with Iraq.
"We gonna let him know/Stomp, push, shove, mush, fuck Bush!/Until they bring our troops home," he raps in the track "Mosh" on the album "Encore."
Another lyric challenged Bush to fight the war himself: "Let the president answer on higher anarchy/Strap him with an AK-47, let him go fight his own war/Let him impress daddy that way . . . No more blood for oil."
Before that song, Eminem also made references to Bush in "Square Dance" off the 2002 album, "The Eminem Show," saying he was "no friend of Bush" and wanted to inspire people to fight back against the president.
The second verse of that song began: "Boo! The boogie monster of rap, yeah, the man's back/With a plan to ambush this Bush administration/Mush the Senate's face and push this generation/Of kids to stand and fight for the right/To say somethin' you might not like."
In a 2004 interview with Rolling Stone, Eminem – whose real name is Marshall Mathers – objected to what he saw as hypocrisy from the commander in chief.
"[Bush] has been painted to be this hero, and he's got our troops over there dying for no reason," he said. "I think he started a mess . . . He jumped the gun, and he fucked up so bad he doesn't know what to do right now . . . We got young people over there dyin', kids in their teens, early twenties that should have futures ahead of them. And for what? It seems like a Vietnam 2. Bin Laden attacked us, and we attacked Saddam. Explain why that is. Give us some answers."
As of Wednesday morning, Trump had not reacted to Eminem's rap at the BET awards, but Bush apparently had a strong reaction to the rapper's lyrics. The Secret Service briefly investigated Eminem after lyrics of an unfinished song hit the internet in December 2003. One of the lines read: "I don't rap for dead presidents, I'd rather see the president dead."
The agency looked into the matter but did not launch a full investigation. A spokesperson for the Secret Service said it was "concerned about communications that can be interpreted in a manner perhaps not intended by the artist," according to BBC.
In the Trump critique, the hip-hop superstar chastised the president for politicizing the protests around the NFL as well as the his actions following the hurricane that decimated Puerto Rico and the Las Vegas shooting. Eminem also praised quarterback Colin Kaepernick, who started the NFL protests that have drawn Trump's ire.
"Any fan of mine who's a supporter of his/ I'm drawing in the sand a line/ You're either for or against/ And if you can't decide who you like more/ And you're split on who you should stand beside/ I'll do it for you with this," the Detroit native said at the end of the freestyle, punctuating it with a middle-finger salute.
BET blurred out the finger.