Eminem's Adopted Child Comes Out As Non-Binary in Heartfelt TikTok Video
Eminem's adopted child, now known as Stevie, has come out as non-binary in a post shared on their TikTok account.
Stevie, formerly known as Whitney, made the revelation to their almost 10,000 followers on the platform last week, and acknowledged in their TikTok bio that they're happy to be referred to under "any" pronoun.
The 19-year-old was adopted by Eminem, real name Marshall Mathers, when the rapper briefly reunited with their mother, Kim Scott, in 2005.
In Stevie's video, the teen shared a montage of photos tracking their changes over the years, from identifying as "she/they," before progressing to "they/she" and, ultimately, "all pronouns."
The clip, which featured Stevie audibly weeping at the start, was captioned: "Watch me become more comfortable with myself."
Adding that they were "forever growing and changing," Stevie has used the hashtags and has used the hashtags "#genderfluid" and "#bi" in recent posts.
The National Center for Transgender Equality says on its website of non-binary identity: "People whose gender is not male or female use many different terms to describe themselves, with non-binary being one of the most common.
"Other terms include genderqueer, agender, bigender, and more. None of these terms mean exactly the same thing—but all speak to an experience of gender that is not simply male or female."
Eminem was initially married to Stevie's mother between 1999 and 2001. Their daughter, Hailie, was born in 1995. Eminem adopted Stevie, who was born in April 2002 from another relationship, after he reconciled with Scott.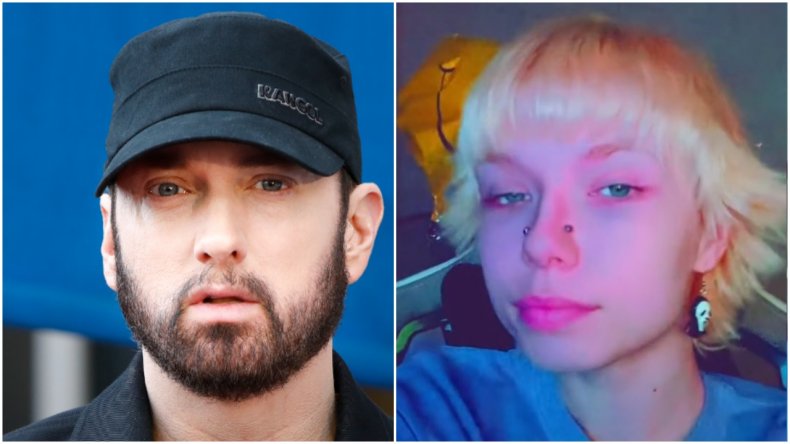 Eminem and Scott remarried in January 2006, though the musician filed for divorce months later, in April of that year.
The star is also the adoptive father of Alaina, whose mother is Scott's late twin sister, Dawn Scott.
Back in March 2020, Grammy winner Eminem spoke candidly about parenthood, as he said that "being able to raise kids" was one of his greatest accomplishments.
Speaking on Hotboxin' with Mike Tyson, he responded when boxing legend Tyson asked him if Hailie, now 25, had any children of her own: "No babies. Just a boyfriend. She's doing good."
"She's made me proud for sure," he added, per People, as he revealed that she graduated from college with a 3.9 GPA after studying psychology at Michigan State University.
Referring to Alaina and Stevie, respectively, he went on: "I have a niece that I have helped raised, too, that's... pretty much like a daughter to me, and she is 26. And then I have a younger one that's 17 now."
"So when I think about my accomplishments like that's probably the thing that I'm the most proud of, you know, is that—is being able to raise kids," he said, as he stressed the importance of keeping children with famous parents "grounded."