Emirates Suspends Flights to Some U.S. Cities Due to 5G After AT&T, Verizon Delay Rollout
Emirates airline announced Tuesday that it will suspend flights to a number of U.S. cities "due to operational concerns associated with the planned deployment of 5G mobile network services" in certain airports. The move comes despite AT&T and Verizon both saying they would delay the rollout of 5G wireless service near airports.
The flight suspension goes into effect Wednesday and will continue "until further notice," the Dubai-based company said.
The cities/airports where the airline will be halting its travel are Boston (BOS), Chicago (ORD), Dallas Fort Worth (DFW), Houston (IAH), Miami (MIA), Newark (EWR), Orlando (MCO), San Francisco (SFO) and Seattle (SEA).
The announcement comes a day after CEOs of the largest airlines and shipping carriers in the U.S. warned about a "catastrophic disruption" to operations and asked for AT&T and Verizon to stop the launch of new 5G service within two miles of airports. On Tuesday, AT&T and Verizon announced they would delay the 5G rollout near airports.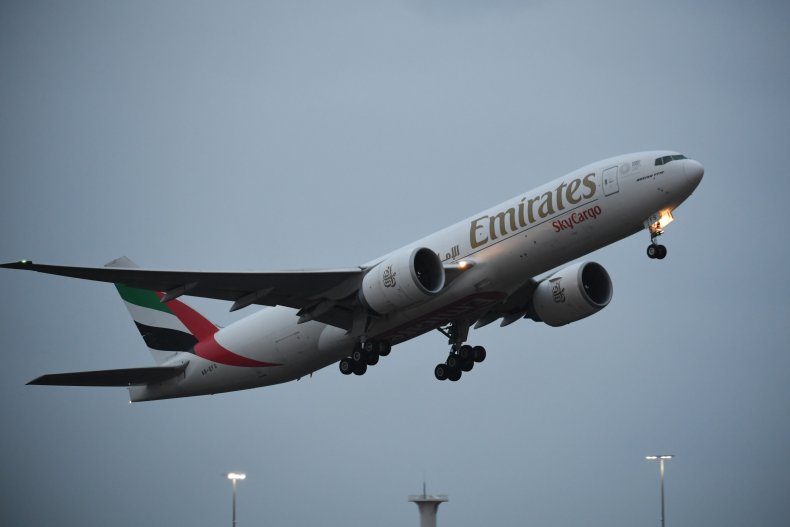 "We are writing with urgency to request that 5G be implemented everywhere in the country except within the approximate two miles of airport runways as defined by the FAA on January 19, 2022," the airline CEOs wrote in a letter to Transportation Secretary Pete Buttigieg and other government officials.
The letter was signed by CEOs of airlines including American Airlines, Delta Air Lines, United Airlines and Southwest Airlines, along with leaders of FedEx and UPS.
The letter added: "To be blunt, the nation's commerce will grind to a halt."
The launch of C-Band 5G service from AT&T and Verizon was the cause of the CEOs' concern. The launch of the service has been delayed two previous times over concerns it would affect airplane devices.
AT&T on Tuesday called the latest delay temporary and noted it was working with Federal Aviation Administration (FAA) "to provide further information about our 5G deployment, since they have not utilized the two years they've had to responsibly plan for this deployment."
A Verizon statement similarly blamed the FAA and the airline industry. The company said the transportation agency and airlines "have not been able to fully resolve navigating 5G around airports, despite it being safe and fully operational in more than 40 other countries."
President Joe Biden on Tuesday praised the cellphone companies for deciding to halt Wednesday's scheduled rollout near airports.
"This agreement will avoid potentially devastating disruptions to passenger travel, cargo operations, and our economic recovery, while allowing more than 90 percent of wireless tower deployment to occur as scheduled," Biden said in a statement. "This agreement protects flight safety and allows aviation operations to continue without significant disruption and will bring more high-speed internet options to millions of Americans."
In its announcement, Emirates noted that flights to New York's JFK Airport, Los Angeles LAX and Washington, D.C. (IAD) would not be interrupted.
"We are working closely with aircraft manufacturers and the relevant authorities to alleviate operational concerns, and we hope to resume our U.S. services as soon as possible," the airline's statement said.
Newsweek reached out to Emirates for comment.