Emma Roberts Talks About How Social Media Influences Relationships in Her New Film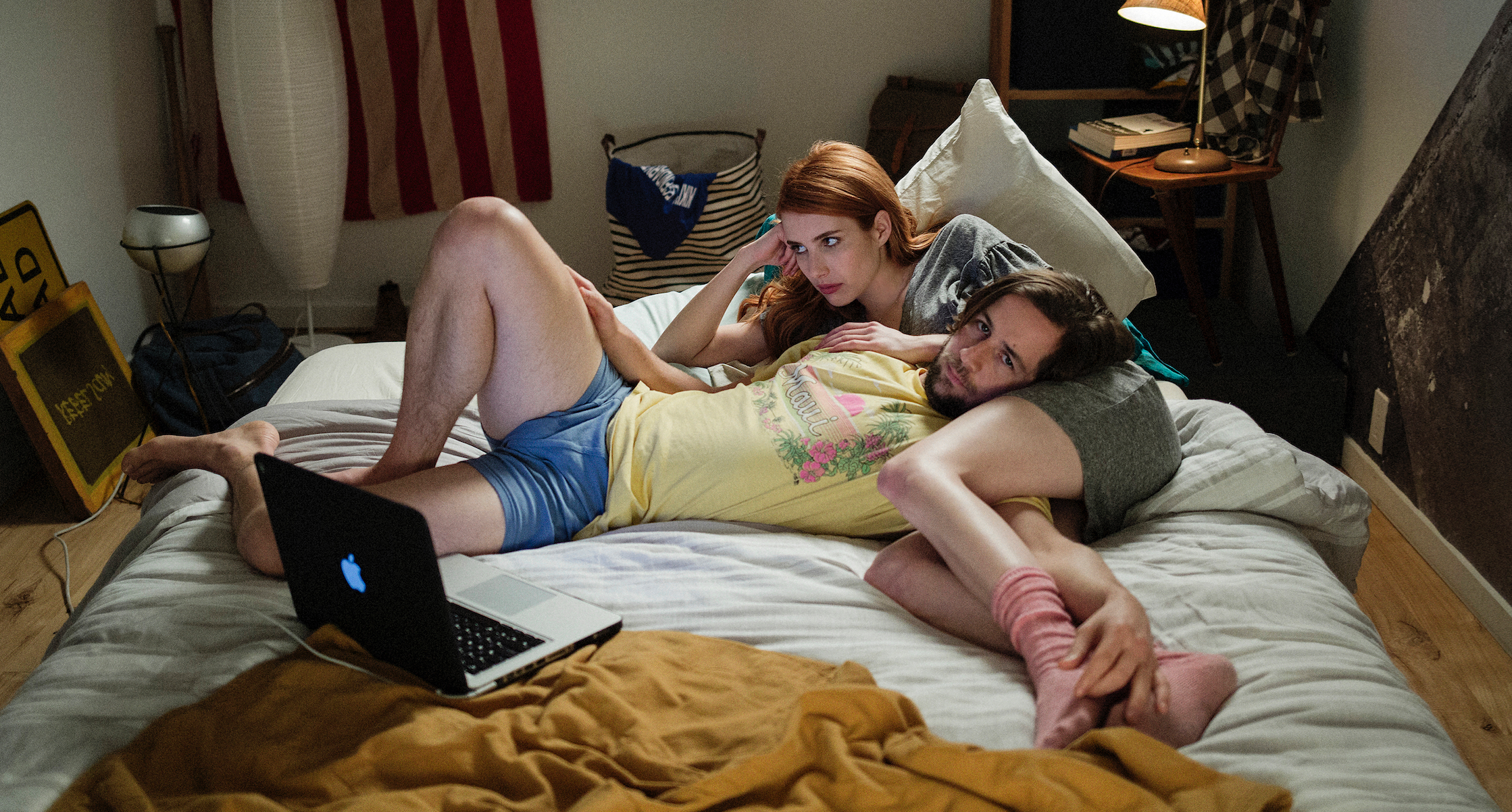 Actress Emma Roberts' new romantic comedy, In a Relationship, explores the different ways people in relationships communicate with each other.
Roberts stars as Hallie, a 20-something woman living in Los Angeles. Hallie and her long-term boyfriend, Owen (Michael Angarano), hit a wall in their relationship, and begin to explore romantic connections with other people.
With the prevalence of social media and smart phones, millennials communicate with each other differently than any other generation. Directed by Sam Boyd and produced by Roberts, In A Relationship shows the impact Instagram, texting and other digital tools have on modern relationships.
Newsweek spoke with Roberts about working on In A Relationship, debuting at the Tribeca Film Festival Friday, and her other career endeavors.
"In A Relationship" is based on a short film of the same name that starred Dakota Johnson and Nicholas Braun. What drew you to this project as a star and executive producer?
The short was originally produced by my best friend Karah [Preiss], also an executive producer of the feature, so I had known about the project for a long time. I think Sam [Boyd, the director] is crazy good at capturing the really commonplace elements of romantic relationships and making them cinematic. When there was talk of a feature, Karah sent me the script and I immediately gravitated towards Hallie. I came on as an EP because Karah and I really believe in Sam as a writer and director and I wanted to be more involved in the casting and final story elements.
What was your experience like working as the film's executive producer on top of starring in it?
From the beginning of production, I have always felt way more involved in this project than just being an actress for hire. For example, I suggested Paddy (Patrick Gibson) after watching The OA and being taken by his performance in that. I have always loved Dree [Hemmingway] since Starlet and so she seemed like an obvious choice when we were thinking about Willa.
Would you do produce and act in the same film again?
The dual role of executive producer-actress is ideal to me, and I have begun to consider producing as a real avenue. I would definitely do it again.
In what ways do you believe this film freshens up the romantic-comedy genre?
This type of movie is usually called a "slice of life" comedy, which means that not much actually happens as far as plot; there's nothing grandiose about it. Instead, the plot is more emotionally driven. I think that's what Sam does so well. You're watching a movie about normal people doing normal things and then all of the sudden there is full blown emotional warfare taking place that you relate to not because it's overly-dramatic but because it's so realistic. Every relationship you see in this movie we've all been through.
Speaking of the relationships shown, do you think the film gives a more realistic take on how modern day relationships occur?
A lot of what Sam writes is stuff that has happened in his own life or stuff that his friends have told him. Most of the stuff in the movie has happened in real life, and so it's safe to say that it is a realistic portrayal of how relationships are today. We decided to keep text messaging as a major component of the movie because it's how we all realistically communicate. We reference a lot of modern technology and platforms because those are the things we use. I added the line about sushi pictures on Yelp because sushi pictures on Yelp actually comfort me! Things like HBO Go passwords and Insta-stalking someone's wedding they are significant parts of human experience in 2018 and they affect the way we see ourselves and our relationships. It's the way we confirm or deny normalcy, success and progress. What I think Sam does so well is poke fun at these things without trivializing them. He's sort of a master of millennial dialogue.
You've tackled all kinds of roles in your long career. Taking your long body of work into consideration, how do you freshen things up with the roles you pick?
I love doing stuff I've never done before. I love bouncing from comedy to drama, TV to movies. That keeps it fun for me and I think it's interesting for an audience. I really like to change my look for every role too, especially with my hair. It gets me more in character once I have new hair.
Your book club Belletrist celebrated its first birthday in March. What has been that been like?
I think the best part of starting Belletrist (other than that I've read more books this year than I have in any other calendar year) is that I now have this other creative outlet that I never had before. I've always had this entrepreneurial drive and I think Belletrist is the perfect blend of that drive and my very apparent love of reading. We have some very exciting things in store for the coming year. I also just loved going to the opening of Magic City Books in Tulsa, Oklahoma.
What are you reading now?
I'm about to crack open My Year of Rest & Relaxation by Ottessa Moshfegh. One perk of starting Belletrist is that I sometimes get to read things before they come out. This one is out in June.