BTS is Performing on 'SNL' and Even Show Host Emma Stone is Freaking Out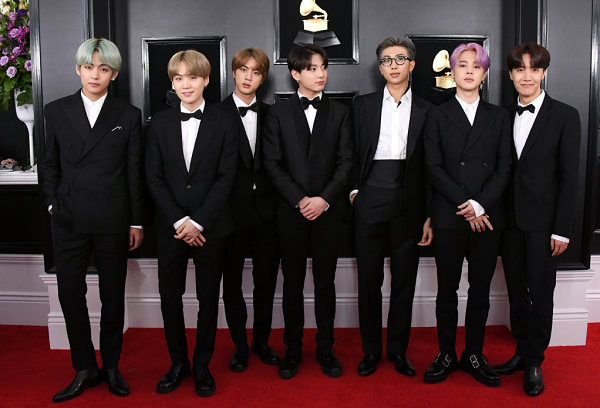 They've played the albums, they've hung the posters and they're wearing the merch—These are the ladies of Saturday Night Live and they are totally, completely and more ready than ever to see BTS perform on the NBC sketch comedy show Saturday. In fact, superfans (and castmates) Kate McKinnon, Heidi Gardner, Melissa Villaseñor and Ego Nwodim are so pumped for the K-Pop band's appearance that they've apparently taken the SNL stage hostage while they wait for the band to arrive.
Even Emma Stone, who is set to host the show on Saturday, could care less about preparing for the show. In the latest SNL promo, released Wednesday, fellow BTS-obsessed fan Stone hands off her hosting position to cast member Beck Bennett after he interrupts the women's BTS gushing-session.
"I am camping out on this stage until BTS gets here," Stone said in the clip right before Beck disturbs their powwow by entering the iconic Studio 8H inside New York City's Rockefeller Center, which they've turned into a BTS-themed sleepover.
Not only does Beck intervene on their "no boys allowed" fan-out, but he also insults the troupe when he asks, "What's a BTS?"
"How dare you!" McKinnon shouted. "Shut your mouth!"
"Go to hell Beck!" Nwodim screamed.
"Won't you get bent!" Villaseñor shrieked.
When the comedian suggests Stone should be using her time to practice before she hosts the show, she mocks him. "'Oh you're gonna be busy. You don't have time. You have to host the show.' Whatever Beck! You friggin host!" she snapped.
Stone may not need that much time to prep for the show, considering the actor has already helmed the position on SNL three times before. However, the SNL episode will mark BTS' first ever appearance on the show.
The chart-topping group will likely perform a few new tracks off their latest album, Map of the Soul: Persona, which will release on Friday, just a day before the group's SNL performance.
SNL airs on NBC on Saturday nights at 11:30 p.m. ET.