The World's Highest-Paid Actress, Emma Stone, Continues Trend of 20-Somethings Earning the Most in Hollywood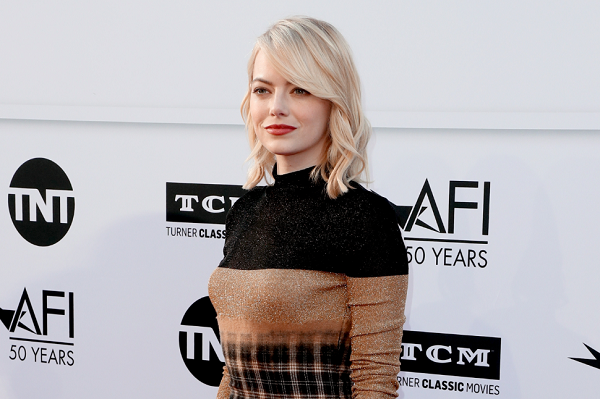 Emma Stone topped Forbes's 2017 list of the world's highest-paid actresses, continuing a three-year streak of women under 30 in the No. 1 position.
For years, blockbuster stars like Angelina Jolie, Jennifer Aniston and Sandra Bullock had been leading the pack of highest-earning Hollywood women. And while Aniston made contributions to the heaping $172.5 million actresses brought in between June 2016 and June 2017—Bullock and Jolie didn't appear on the top 10 list at all—it was Stone who banked the most, bringing in roughly $26 million pretax within a year.
Forbes's report, released on Wednesday, credited Stone's movie-musical La La Land for the majority of her earnings. The film, which grossed over $445.3 million at the box office worldwide, also scored her an Academy Award for best actress.
It was 28-year-old Stone's first time appearing on the list, followed by Aniston, 48, who saw a $25.5 million payday over the course of 12 months, thanks to her many endorsement deals for brands like Emirates airlines, Smartwater and Aveeno.
Jennifer Lawrence, 27, who was the world's highest-paid actress in 2016 and 2015, came in third, grossing a cool $24 million. In the previous years that landed her the title, Lawrence raked in $46 million and $52 million, respectively, mostly due to the third and fourth installments of The Hunger Games series.
Kristen Stewart was the first 20-something to top the list back in 2012, when she grossed $34.5 million between May 2011 and May 2012. The actress became a household name following her role as Bella Swan in the Twilight series and was just 25 years old when she landed the No. 1 spot on Forbes's list.
Usually, the top Hollywood earners tend to be big-name celebrities, like 53-year-old Bullock, who earned the most in 2014 and 2010, as well as 42-year-old Jolie, who grossed the most money of all actresses in 2013, 2011 and 2009.
However, Stewart's introduction to the list launched the start of breakthrough actresses, like Lawrence and Stone, finally scoring the highest-earning title.