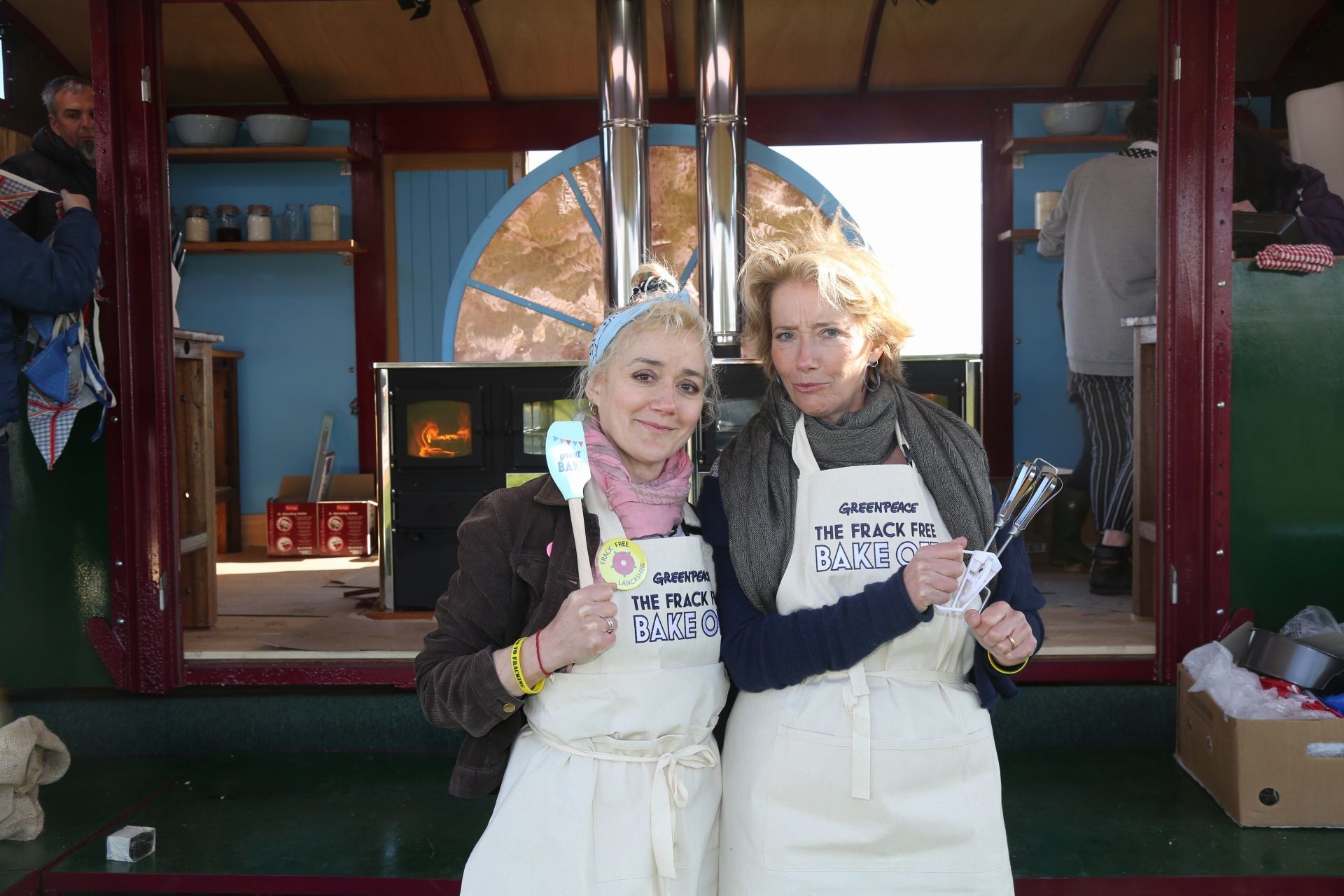 British actor Emma Thompson and her sister Sophie Thompson gave the U.K.'s hit reality show The Great British Bake Off a political twist on Wednesday when they broke an injunction and hosted a baking contest of their own in protest of fracking.
The Oscar winner and her sibling staged their "Frack-Free Bake Off," backed by charity Greenpeace, on land near Preston, Lancashire, that is being leased by large oil and gas exploration firm Cuadrilla for the purpose of fracking for shale gas.
The land is the subject of a 2014 injunction preventing protesters from congregating on the farm. Thompson and her sister managed to bake some renewable energy-themed cakes before the police were called. The rogue bakers were questioned, but ultimately officers took no action, reports the Telegraph.
The Saving Mr. Banks actor whipped up a wind turbine cake while her sister Sophie—who has appeared in U.K. soap opera EastEnders and is a former Celebrity MasterChef winner—created a solar cake.
The anti-fracking protest wasn't without drama, however, as the farmer who owns the land drove past the Thompsons and their crew in a manure-spreading tractor and attempted to spray the stars with liquidized manure.
Speaking on why she decided to back the anti-fracking campaign, Thompson said: "I've been aware of this issue for a while with my work with Greenpeace, and it came to a head for me when David Cameron went to the Paris climate conference and signed on to the protocol and then on the sly at Christmas, when nobody was looking, gave the nod to 200 fracking sites in Britain. It proved to me our government is saying one thing and doing the opposite."
Cuadrilla's application to drill on the site was rejected by Lancashire County Council last year amid strong opposition from local residents. However, the firm has appealed the decision.