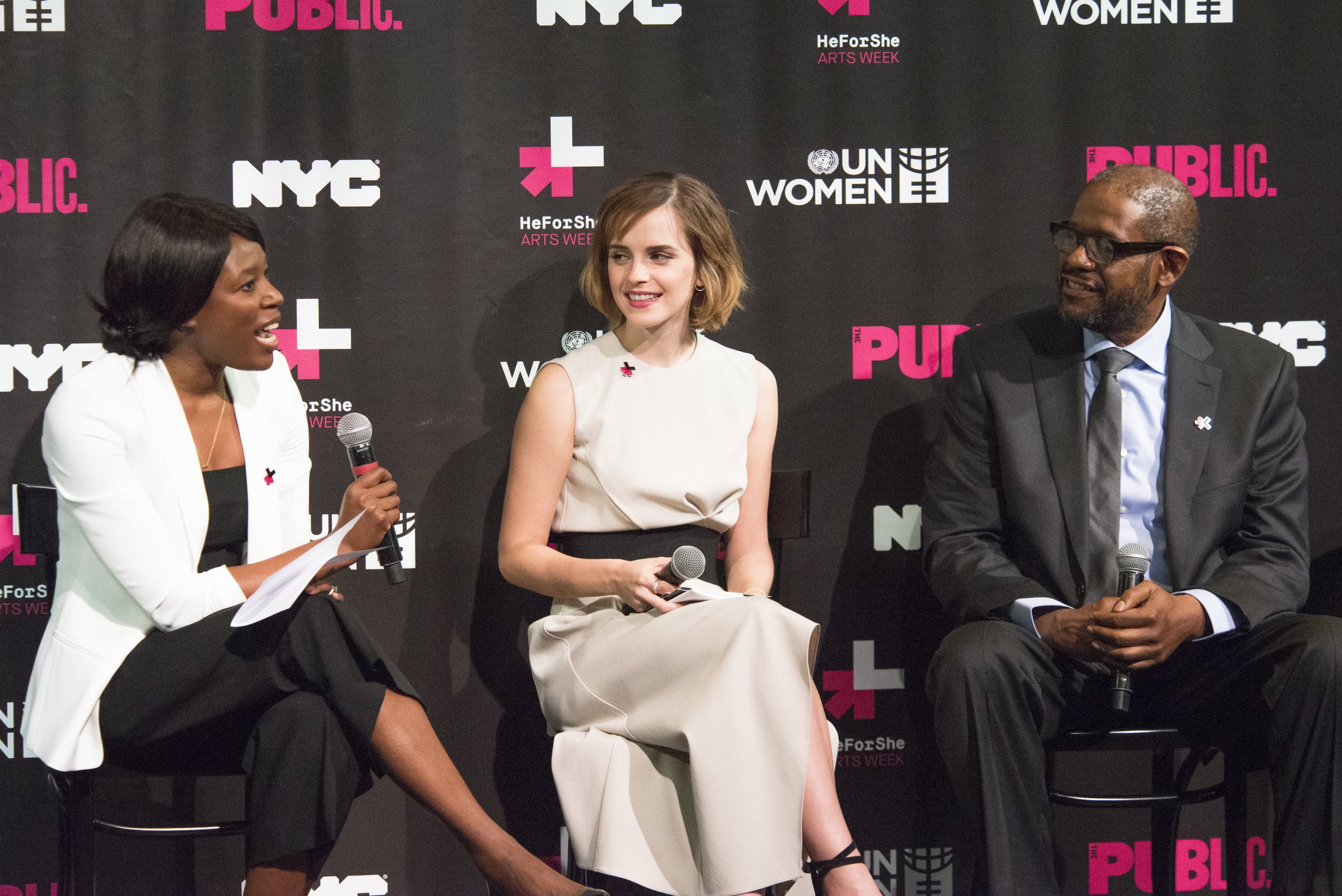 Emma Watson and Forest Whitaker talked gender equality and masculinity in movies at the launch of the inaugural HeForShe Arts Week on Tuesday.
HeForShe, a U.N. Women initiative launched by Watson in 2014, aims to achieve gender equality in areas such as education, health and politics by encouraging both men and women to take action to reach gender parity. The launch, which took place at Joe's Pub at the Public Theater in Manhattan's East Village, coincided with International Women's Day.
Between March 8 and 15 in New York, places for the arts, including ballet and opera venues, Broadway theaters and museums, "will highlight the important issue of gender equality, leveraging this as an opportunity for dialogue and action," according to the website.
Watson, who is taking a year off from acting to concentrate on her work with HeForShe, and Whitaker spoke about how they've personally experienced discrimination due to their gender. Watson, who is best known for playing the character of Hermione Granger in the Harry Potter film series, said she was particularly affected by her treatment at the hands of the entertainment media and tabloids.
"I remember on my 18th birthday I came out of my 18th birthday party and photographers laid down on the pavement and took photographs up my skirt, which were then published on the front of the English tabloids the next morning," said Watson.
"If they published the photographs 24 hours earlier they would have been illegal, but because I turned 18 they were legal. Obviously, Dan [Radcliffe] and Rupert [Grint], who were my male co-stars, don't wear skirts. That's just one example of how my transition in womanhood was dealt with very differently by the tabloid press than it was for my male colleagues."
Watson added that movies including The Pursuit of Happiness, Billy Elliot, The Color Purple and Brokeback Mountain are all films that challenge "these very rigid definitions" of masculinity and ideas "of what a leading man can and can't do and how they should or shouldn't act."
During the conversation, Watson was also asked how the public can help promote gender equality.
"It's a daily practice. It's about awareness, about being conscious in our daily lives," said Watson. "When you talk to most women and when you talk to most men, they can name a moment in their lives when they were a witness to a moment where a man or a woman was treated unfairly because of their gender. It just takes someone just calling it out. It can be done in lots of different ways."
Watson's appearance at the Arts Week launch came shortly after an interview with People magazine in which she said that she has been called a "diva," a "feminazi," "difficult" and a "First World feminist" for her work on gender equality.
"Call me whatever you want, it's not going to stop me from trying to do the right thing and make sure that the right thing happens," Watson told People . "Whether you are a woman on a tea plantation in Kenya, or a stockbroker on Wall Street, or a Hollywood actress, no one is being paid equally."
Later on Tuesday, Watson and first lady of New York Chirlane McCray, who was also at the launch, visited the Empire State Building, where they turned the skyscaper's lights pink in honor of International Women's Day.