Emma Watson, Tom Hanks and Patton Oswalt Talk Privacy and Technology With Twitter CEO Jack Dorsey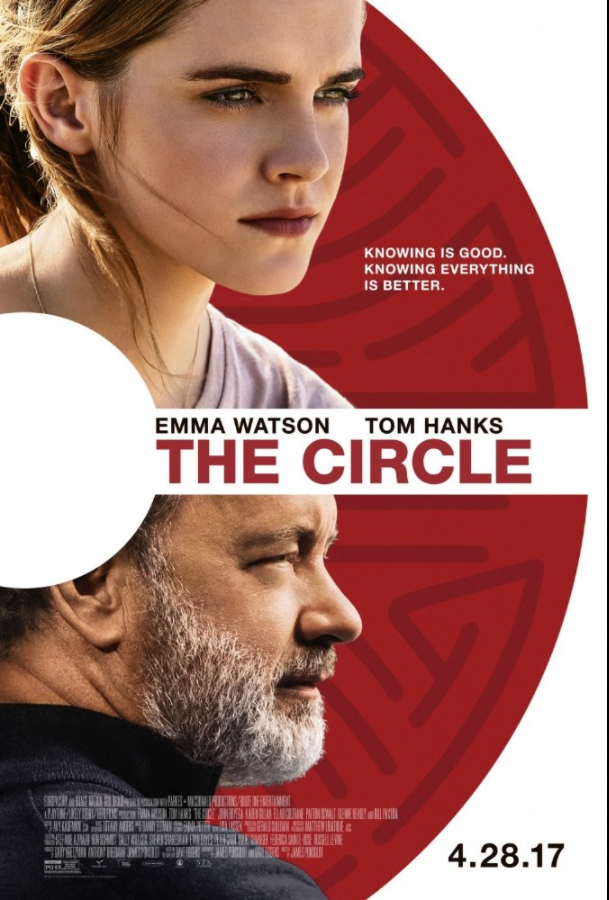 As he entered a conference room in the San Francisco headquarters of Twitter, Tom Hanks strode immediately toward the back of the bright, well-appointed space. There, on a bookshelf, sat a vintage typewriter, teal in color, sleek in look and utterly incapable of embedding video or making a Sean Spicer GIF go viral. Hanks, a well-known typewriter enthusiast, proceeded to test out its keys, a gaggle of press representatives, producers and reporters watching in amusement, perhaps wondering if his request for a piece of paper was genuine. Above the typewriter was a quote from Margaret Atwood: "A word after a word after a word is power."
Hanks is featured in an upcoming documentary about typewriters (California Typewriter, about a typewriter store in Berkeley), but that isn't what brought him to the Twitter mothership on this cold spring Monday. Instead, he, Emma Watson and Patton Oswalt were there promote their new film, The Circle, about a young woman who joins a Silicon Valley tech giant whose make-the-world-a-better-place shtick comes to seem increasingly ominous, then downright dangerous. The film was directed by James Ponsoldt, whose last film, End of the Tour, was a sensitive, incisive take on the reclusive life of novelist David Foster Wallace. This time, he was adapting a novel of the same name by David Eggers, originally published in 2013.
Eggers wasn't at Twitter headquarters on Monday, but an even more elusive figure was: Twitter founder Jack Dorsey, who generally shuns media attention. He must have recognized, however, that inviting three Hollywood stars to his offices and livestreaming their conversation on Twitter could only burnish the prospects of a company that is vastly influential but not profitable—and is all too easily hijacked by trolls. Clad in black jeans and black T-shirt, he seemed at once the most important person there and the one most uncomfortable with his own importance.
Hanks, apparently in a good mood, made his way around the room, stopping to inspect an end table where lay thin, bespoke notebooks, cardboard covers bound with string and branded stylishly (i.e., in the lower right-hand corner) with the blue Twitter logo. What does it say about a tech company, he wondered, "that gives you pen and paper?"
That same company was now inviting a conversation about the potential evils of technology. The Circle is a devastating depiction of a society so reliant on technology that the basic bonds of civil society start to dissolve. Twitter has been accused of being such a company, driving us to distraction and turning "sharing" into an obsessive activity practiced without reflection. Hanks, who plays Circle chief executive Eamon Bailey, grew a beard for the role. Dorsey also has one, a fact Hanks could not help but remark upon.
"I played you," he joked.
The soft-spoken Dorsey discussed the need for diversity, a common topic in Silicon Valley these days. He appeared to recognize that the platform he created has become much than a laissez faire space for pithy self-expression. "We can't just be toolmakers here," Dorsey said, in what could be taken as a dig at Facebook founder Mark Zuckerberg, who insisted after the election that he was not to blame for the proliferation of fake news.
The Circle's central argument is that the "share everything" ethos of the digital age is a kind of tyranny of its own. And if the film fosters suspicion about Silicon Valley corporations and their techno-optimism, that suspicion is routinely justified by real-life events. Over the weekend, the unsubscription company Unroll.Me apologized for selling user data to Uber. The revelation came in a lengthy profile of Uber founder Travis Kalanick in The New York Times; the lede of that article describes an astonishingly brazen attempt by Uber to track iPhones from which the Uber app had been deleted. Of course, if you believe that your service is at the vanguard of a revolutionary social/economic/technological movement, then what's ethics or the law? It's surely only an accident that the Circle's logo, a thick-pronged C, closely resembles Uber's redesigned emblem of a similarly plump U on its side.
Watson, by far the youngest member of the cast present, said that she was at once dismayed by the tech world's lack of diversity (18 percent of all computer science graduates are women, she pointed out) and amazed by the power Silicon Valley wields. Shooting for The Circle, which is set in the San Francisco Bay Area, finished in 2016, before the presidential election. As she watched the returns on November 8, Watson remembered being struck by the immense power of social media to drive the political conversation. It was, she said, "life, art, reality all coming together."
"I wish we'd gotten more stuff wrong," Oswalt quipped. In the film, he plays the snarling C-suite henchman to Hanks's more amiable fleece-clad visionary, a consigliere less interested in digital utopias than off-shore tax havens. In real life, Oswalt is a prolific tweeter whose anti-Trump views have earned him a bevy of trolls, though that has hardly stopped him from flipping the little blue bird.
Oswalt mused about a Circle-like future in which privacy will no longer exists, where everyone will watch everyone else. One day, he figured, a reversal of Andy Warhol's quip about fame would be true: "Everyone will be anonymous for 15 minutes."