Emmanuel Macron Addresses Donald Trump Directly in D-Day Normandy Speech, Appears to Reference 'Maga'
President Donald Trump met with French President Emmanuel Macron on Thursday to celebrate the 75th anniversary of D-Day, the Allied invasion of Normandy, France, that led to the eventual liberation of the country from Nazi occupiers.
Trump praised the soldiers and discussed the defeat of fascism during their meeting, but appeared to be bored when his French counterpart began to extol the virtues of multilateralism and the need for international alliances to combat fascism.
"We know what we owe to the United States of America. The United States of America, dear Donald Trump, dear president, which is never greater than when it is fighting for the freedom of others," Macron said during the televised meeting. "The United States of America, that is never greater than when it shows its loyalty to the universal values that the Founding Fathers defended when, nearly two and half centuries ago, France came to support its independence."
Macron appeared to be alluding to Trump's "Make America Great Again" slogan to argue for America's strong role in the global affairs, a role that has been viewed as beneficial to U.S. allies like France.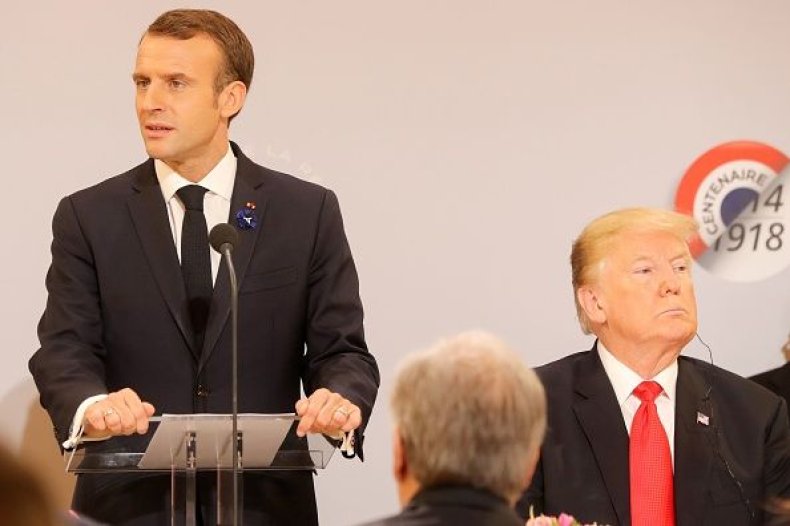 "We shall never cease to perpetuate the alliance of free people," Macron continued, going on to highlight the role of multilateral institutions like the United Nations, NATO and the European Union and appearing to take aim at Trump's repeatedcriticisms of these institutions.
Trump has claimed that the European Union was formed to "take advantage of" the U.S., an assertion that has no basis in fact. The European Union was formed in 1993 in order to expand economic cooperation between countries on the European continent and to ensure that they do not enter into wars like World War II.
Trump has also taken aim at the North Atlantic Treaty Organization (NATO) and complained that member states are not investing enough in their defense budgets. NATO members pledged in 2014 to raise their level of defense spending to two percent of GDP by 2024.
Macron has attempted to maintain a friendly relationship with Trump even when other European leaders, like German Chancellor Angela Merkel, have done little to hide their frustration with him. But Trump's last visit to France ended badly, with Trump criticizing Macron's "low approval rating" and noting that France would have remained under German control during World War II if it weren't for the U.S.
On Thursday, the relationship between the two leaders appeared to have bounced back despite Macron's rousing defense of international alliances. Using his frequent superlatives, Trump called the relationship "outstanding" and said that he doesn't think that the relationship has ever been as good as it is now.