Emmanuel Macron Calls on EU to Match U.S.' COVID Vaccine Donations
French President Emmanuel Macron called for the European Union to match the United States' efforts in donating COVID-19 vaccines to developing countries—African nations in particular—at a news conference on Thursday, the Associated Press reported.
The U.S. promised to donate 500 million Pfizer vaccines by mid-2022 to 92 countries and the African Union.
"I think the European Union needs to have at least the same level of ambition as the United States," Macron said.
France donated 100,000 doses of the vaccine to Mauritania in April. Macron said France would donate 500,000 by mid-June and 30 million by 2022.
For more reporting from the Associated Press, see below.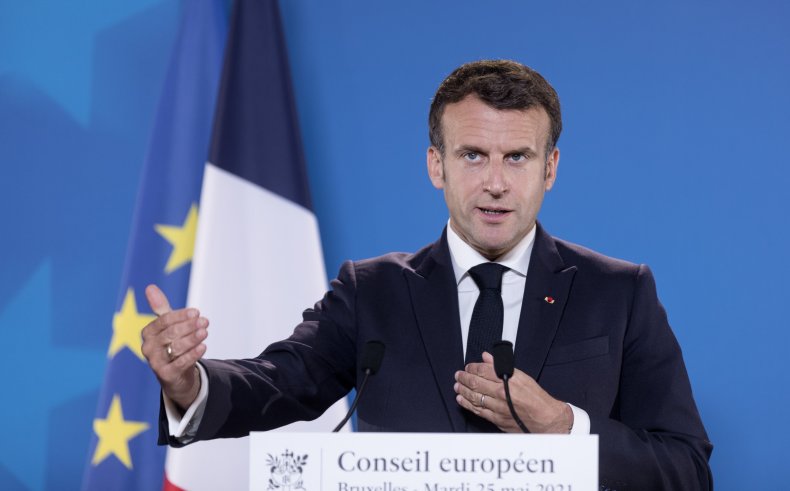 President Joe Biden says the United States is buying and donating hundreds of millions of doses of Pfizer's COVID-19 vaccine to help save lives, not to get favors or potential concessions from the nearly 100 low-income countries that will be receiving the shots.
He's also calling on other countries to follow the American lead, saying, "it is in all of our interests to see the global economy recover."
Biden is outlining U.S. global vaccine-sharing plans in St. Ives, England, after a meeting with British Prime Minister Boris Johnson.
Biden, Johnson and other leaders of the world's largest economies are meeting for a summit that begins Friday in Cornwall, England.
Biden says the U.S. will buy 500 million doses, with 200 million to be delivered this year and the remainder in the first half of 2022.
A hotel hosting media and security staff for the Group of Seven (G7) summit in England has temporarily shut down because of a COVID-19 outbreak.
The Pedn Olva in St. Ives shut down for a deep clean, according to its owners, the St. Austell Brewery. The shutdown came after an undisclosed number of staff contracted COVID-19.
The owners said Thursday that the hotel will reopen after the deep clean and after they have enough staff to run it.
G7 leaders begin three days of meetings Friday in Carbis Bay, a small seaside village.
While locals in the community are accustomed to crowds and traffic in the summer, disruptions caused by the summit are rather more extreme.
Some 5,000 extra police officers have been deployed to the area, and authorities have even hired a cruise ship with a capacity of 3,000 to accommodate some of the extra officers.