French President Emmanuel Macron has tested positive for coronavirus after displaying symptoms and has begun a seven-day isolation period, according to a press release from his office issued Thursday morning.
The 42-year-old will continue to work and carry out his presidential duties, but will do so remotely while practicing social distancing, the official communique explained. He will undergo the seven days of isolation that are standard for any French citizen who tests positive for the COVID-19 virus.
The Élysée Palace—the president's official residence—said Macron took the test "as soon as the first symptoms appeared." The statement did not say how serious the symptoms are.
The palace also did not say what contact tracing measures were being pursued nor whether Macron may have infected others. The president attended a European Union summit last week and on Wednesday met with António Costa, the prime minister of Portugal.
France is currently grappling with soaring cases, and this week introduced an overnight curfew in nine cities—Paris, Grenoble, Lille, Lyon, Marseille, Montpellier, Rouen, Saint-Etienne and Toulouse—to try and slow the spread ahead of Christmas and New Year celebrations. The country has so far recorded more than 2.4 million cases and almost 60,000 deaths.
Announcing the curfew last week, Macron told viewers in a televised address: "We have to act. We need to put a brake on the spread of the virus."
"We won't be leaving the restaurant after 9:00 p.m.," Macron added. "We won't be partying with friends because we know that that's where the contamination risk is greatest."
Macron said the nation is in a "worrying situation," though insisted his government had not "lost control" of the virus. The French government also extended its state of emergency to help combat the virus, following a cabinet meeting in which ministers were warned that the country is facing "a health catastrophe."
Macron is the latest world leader to test positive for the virus, which to date has infected more than 74 million people and killed more than 1.65 million. The Statista infographic below shows a selection of other leaders who have also been infected.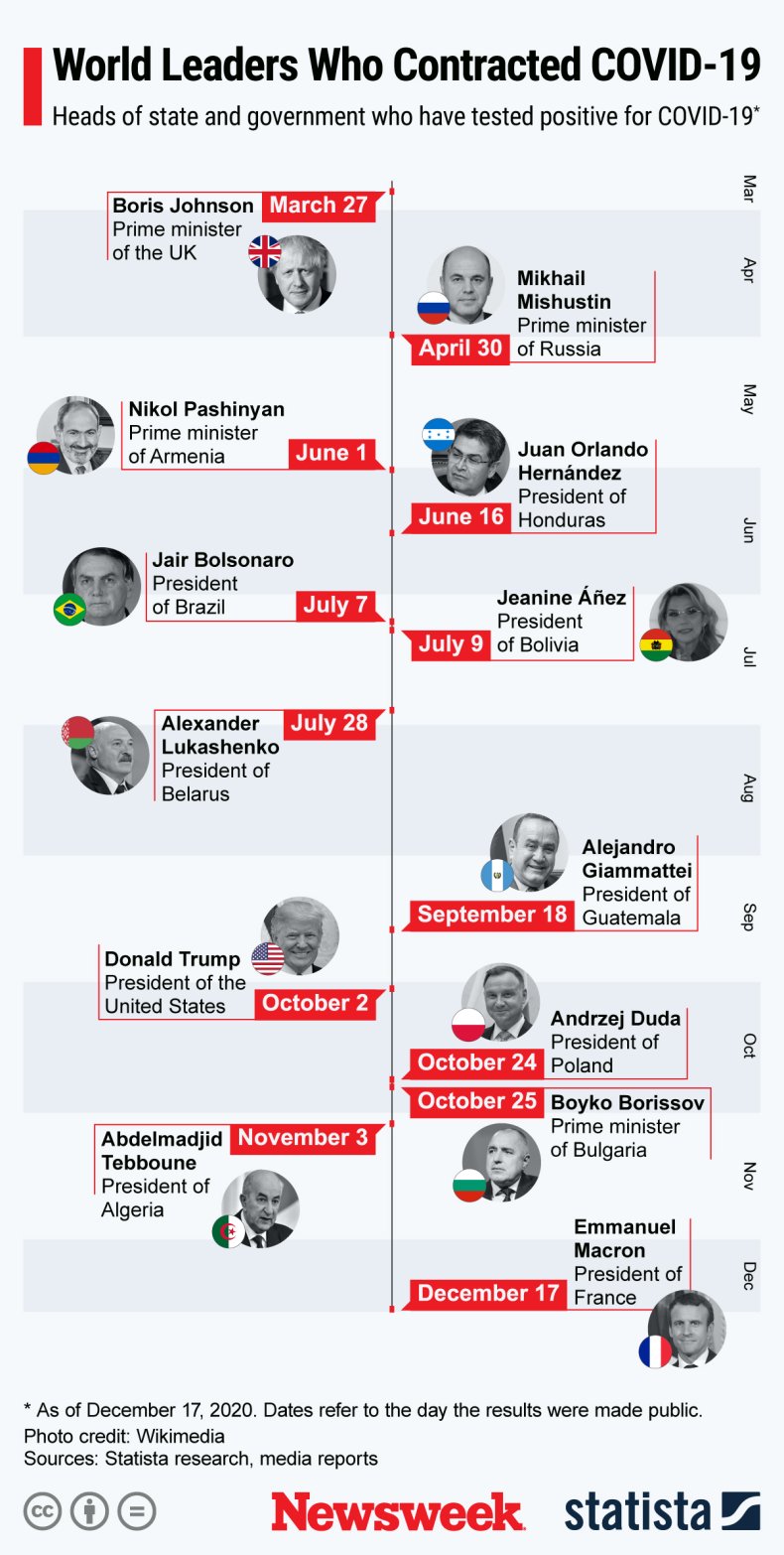 Macron is relatively young compared to other world leaders, meaning he is less at risk from serious complications and death.
Other world leaders who have tested positive include President Donald Trump, who spent some time in hospital after displaying symptoms. The president received supplemental oxygen and an experimental antibody treatment to help him recover. Trump's age and obesity made him particularly at risk from complications and death.
Macron's fellow European leader in the U.K., Prime Minister Boris Johnson, also caught coronavirus early in the pandemic. The prime minister—also obese and thus at higher risk—spent several days in hospital and received oxygen.
This article has been updated to include an infographic.