Donald Trump in France: What Emmanuel Macron and the President Have in Common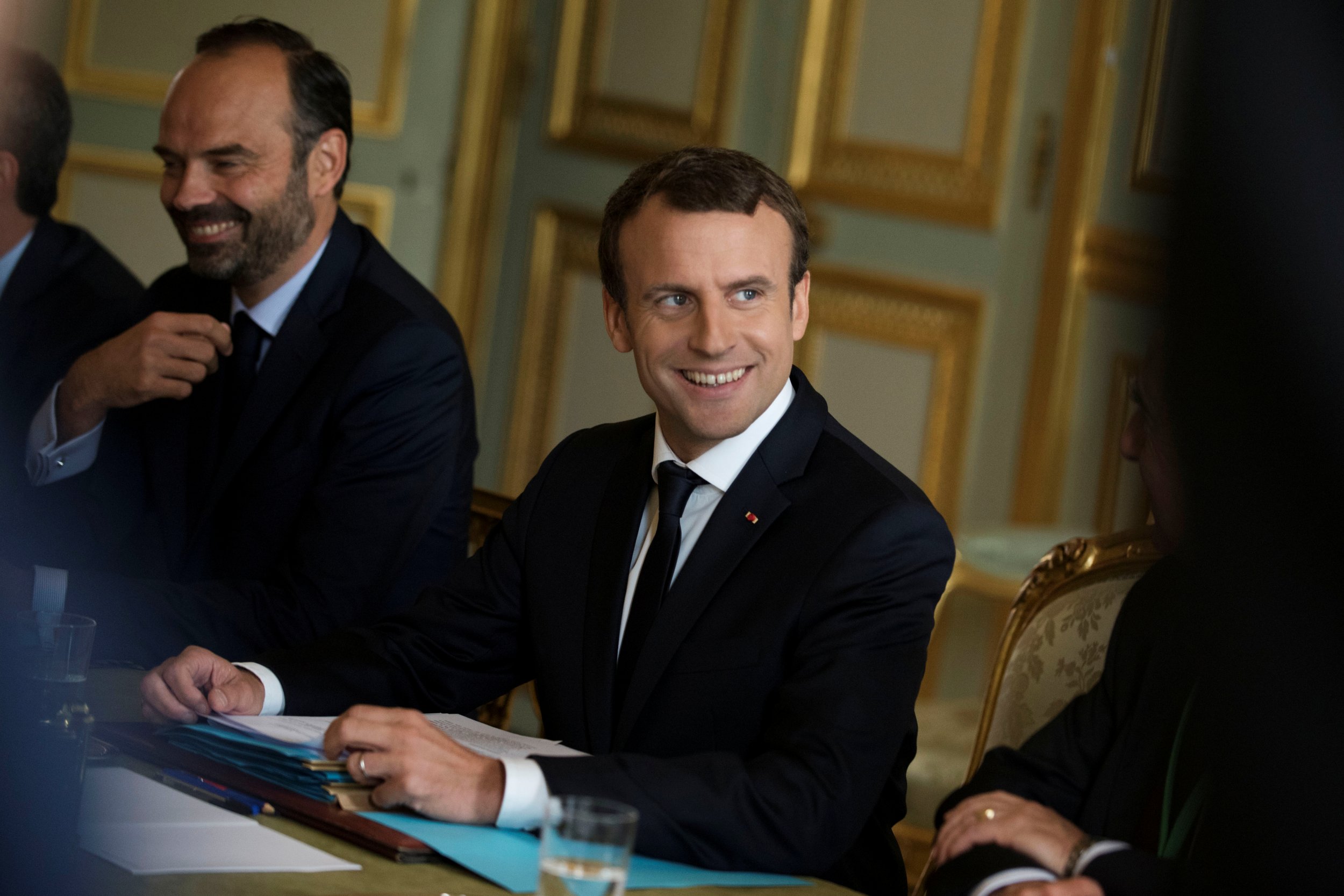 He's the outsider-insider who stormed into office to clean up politics. But now he's there, he's proving unpredictable, controversial, and rather fond of the taste of power.
Not Donald Trump, but Trump's host on his current overseas trip; French President Emmanuel Macron.
Most Americans know Macron as the anti-Trump: the science-loving, philosophy-quoting, liberal, environmentalist yin to the American President's yang.
But as Trump touches down in Paris for a visit and bilateral talks, his French counterpart is facing criticism for his arms-length relationship with the media and his domineering executive style. Do the two have more in common than we think?
The "republican monarch"
French people often refer to their presidents with this oxymoronic phrase, noting the irony that a country that so famously deposed its monarch has a president imbued with far more power and pomp than those of most European nations.
Macron certainly fits that description in his public image; it seems that barely a day passes without him being depicted at the front of a phalanx of horses or similar. He even said in an interview two years before his election that in French politics "there is something missing, the figure of the king, whose death, I believe, fundamentally, the people did not want."
Partly, this is an attempt to correct for the perceived mistakes of his predecessor, Francois Hollande, who left office as France's most unpopular president since World War Two, and who was seen as overly caught up in day-to-day political wrangling. Macron's aides describe his lofty, distant governing style as "Jupiterian," after the Roman king of the Gods.
There's somewhat of a difference there with Trump, who has become known for the unusual number of impromptu meet and greets he holds in the Oval Office. But where the two are closer is in their occasional impatience with the parliamentary process.
Macron's ambitions for the executive branch of government go beyond a change of aesthetics. He announced plans at the start of this month to cut the number of lawmakers in the parliament by a third, complaining that "In the past, procedures have taken preference over results, rules over initiative, living off the public purse over fairness."
And there's some debate over the way Macron is looking to pass his policies through parliament. The government wants to use a type of legal instrument called an "ordonnance" to pass plans to liberalize the French labor market laid out by Macron during the campaign; if they're successful, it would mean the policy is subject to much less parliamentary scrutiny.
Jean-Luc Melenchon, a leftist rival to Macron during the presidential campaign, has said the president is getting "drunk with his own omnipotence."
Outside of parliament, Macron's party, which started life as an energetic, open movement that encouraged members to be active and involved, is trying to move to a new model granting its elected officials far more power over members, according to a report in Marianne magazine.
Le fake news
Macron is a long way from tweeting any gifs of himself wrestling major news organizations. But that doesn't mean he hasn't, like Trump, had his disputes with the press.
On Bastille Day, the French national holiday that Trump is attending on Friday, the president of France traditionally gives TV interviews at the Élysée Palace, his official residence.
Macron has declined this year; One aide explained to a newspaper that the president's "complex thought process lends itself badly to the game of question-and-answer with journalists." The quote sparked derision among France's journalists. "Us no understand President Macron," ran a mocking headline in Marianne.
Before that, Macron's first run in with the press came in May, when the president's office said it wanted to choose which journalists accompanied Macron overseas. The government eventually rowed back on the idea, but not before campaign group Reporters Without Borders had warned that the idea had "sent the media a disturbing signal."
A meeting of minds?
It's important not to overstate the controversy surrounding Macron. In the time since his Presidential election, he has won a landslide victory in parliamentary elections and made a series of well-received appearances on the world stage.
But as Trump, the champion of the "left behind", and Macron, the young challenger who wants to open up and clean out politics, meet for a private chat at an exclusive restaurant halfway up the Eiffel tower Thursday night, supporters of both might mark the difference between the anti-establishment rhetoric of their campaigns, and the hard execution of high office.