Macron's Election Win Positions Him to Lead Europe's Response to Russia
French President Emmanuel Macron will begin his second term in office as Ukraine's most powerful friend within the European Union, as the bloc considers new economic sanctions on Russia despite its internal disputes.
Macron defeated far-right challenger Marine Le Pen for the second time in five years in Sunday's second round presidential runoff.
The incumbent secured some 58 percent of the vote to Le Pen's 41.
Macron's decisive result was greeted enthusiastically by fellow EU and NATO nations, as well as in Ukraine.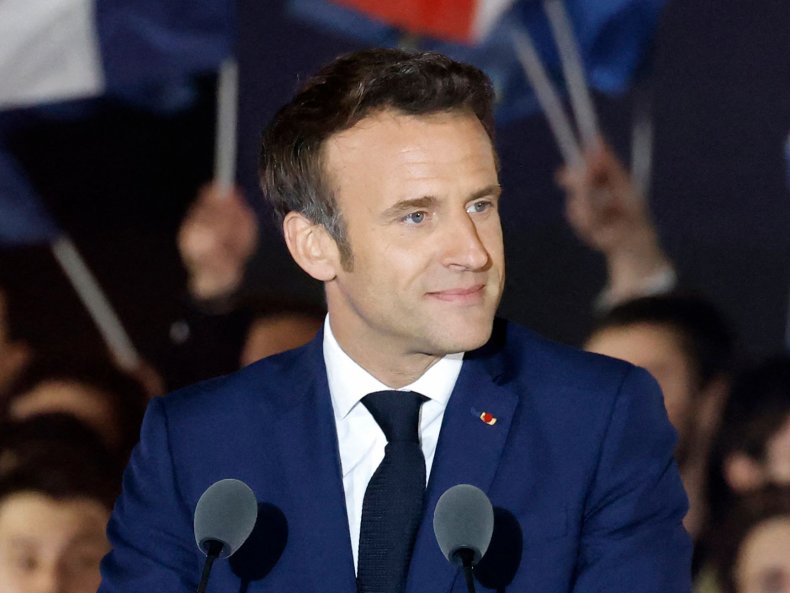 President Joe Biden and German Chancellor Olaf Scholz both said they were looking forward to continued cooperation on issues, including Russia's invasion, while Ukrainian President Volodymyr Zelensky called Macron "a true friend of Ukraine."
"I appreciate his support and I am convinced that we are moving together towards new common victories," Zelensky added.
Macron has been ever-present throughout the Ukraine crisis, though his efforts to maintain contact with Russian President Vladimir Putin have not always been welcomed in Kyiv or allied capitals.
Still, helped by Scholz's vacillation on weapons and sanctions, Macron has emerged along with Biden and British Prime Minister Boris Johnson as among Kyiv's most important supporters.
Last week, for example, Macron detailed more significant arms deliveries to Ukraine as Scholz dodged questions on why Germany was refusing to supply heavy weapons.
Paris was sending Milan anti-tank missiles and Caesar howitzers, Macron announced, as French voters prepared to head to the polls again.
The Chance to Lead
"I think we have to continue on this route," Macron told the Ouest-France newspaper. "Always with the red line that we will not become parties to the conflict."
"France has a chance to lead in the EU now," Iuliia Mendel—Zelensky's former press secretary—told Newsweek.
"When we see how hesitant the politics in Germany is and hear so many contradictory statements—some of them show no confidence in Ukraine's strength—we understand that Germany is giving up the position of being the most decisive EU leader."
"It's a pity, but it's a reality," Mendel said. "President Macron is not a novice anymore, he is in his second term. He is well aware of what has been happening and how the developments of peace in Europe were moving."
"He has established trust with world leaders and now it's only about taking the right decisions," Mendel continued.
"We know it's possible to explain to French people the importance of supporting Ukrainian independence and resistance to Russian aggression through the new/old leader, and to make this resistance effective to the point of Ukraine's victory."
"We expect support for an energy ban from Russia, the support of military assistance and a tough sanctions regime. We need to stop Putin together, to stop the awful atrocities of his army in Ukraine."
Worries About Le Pen and Russia
Ukraine and Russia featured heavily in the French election.
Macron cast himself as an orchestrator of the international response to Putin's invasion, while stressing Le Pen's connections to Moscow.
One of the challenger's campaign leaflets included a photo of Le Pen and Putin shaking hands at a Kremlin meeting in 2017.
Le Pen's National Rally party also received a $9.6 million loan from a Russian bank in 2015, and the far-right leader refused to condemn Putin's annexation of Crimea in 2014. In response, Le Pen explained that she took the loan from the Russian bank because she was unable to receive one from a French bank.
"The big concern is how large support of Le Pen appears to be despite all of the proven Russian ties," Mendel said.
In the run up to the election, Le Pen sought to distance herself from the Kremlin, condemning the Russian invasion of Ukraine and saying that she supports most of the sanctions that France has imposed.
"I agree with all of the sanctions taken against Russian oligarchs and banks. But, the only sanction I disagree with is the ban on imports of Russian oil and gas because I don't think that's the right method," she said. "I don't think that is what will hurt Russia."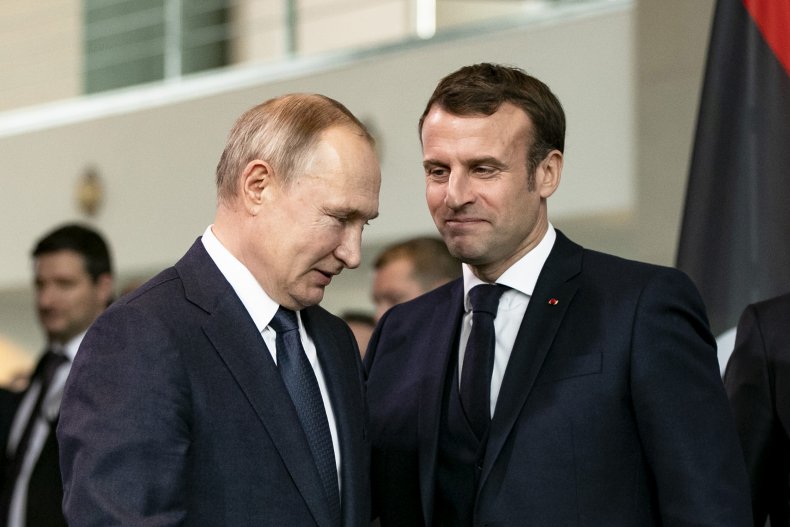 Sanctions and Energy Imports
Macron's electoral victory comes as the EU considers its sixth round of sanctions on Russia, one that will reportedly include long-awaited action on Russian oil imports, which earn Moscow billions of dollars a week.
EU states including Germany and Hungary have opposed such a measure, but some level of action looks inevitable as Russia launches a new assault in the eastern Donbas region, and more evidence of suspected war crimes—which Moscow denies—are uncovered in areas where Russian troops have been operating.
The president has said France does not need Russian natural gas, and in early April said it was "his wish" to see an EU ban on Russian oil and coal imports in response to suspected war crimes in Kyiv's suburbs.
Last week, French Finance Minister Bruno Le Maire told Europe 1 radio that Macron supports an EU embargo on oil, adding that such a measure is currently being discussed. "I hope that in the weeks to come we will convince our European partners to stop importing Russian oil," Le Maire said.
Germany Pushed Aside
The French position on further sanctions contrasts with the German approach.
Scholz has repeatedly dismissed any proposal for a full energy import ban, arguing it would devastate the German economy. The chancellor's hesitance to provide heavy weaponry has also drawn fierce criticism at home and abroad.
In his first term, Macron was often overshadowed on the international stage by veteran German Chancellor Angela Merkel.
For all Macron's ambition, the stateswoman remained the unquestioned leader of Europe. With Scholz now chancellor, Macron is Europe's most recognizable and experienced leader of the EU's historic "big two."
Tara Varma—the head of the European Council on Foreign Relations' office in Paris—told Newsweek she thinks Macron will seize the moment.
"He has momentum now and will push," Varma said. "Especially because during the diplomatic leadership vacuum, Scholz not only didn't seize the moment but actually got severe criticism from inside and outside Germany."
Macron and France will be key elements in any future peace deal. Negotiations are currently stalled and there is little trust in Moscow's intentions.
What Is NATO's Role?
Absent NATO membership—which looks increasingly unlikely—Ukraine is demanding concrete security guarantees from its leading members, including France. Macron, along with Scholz, has already expressed willingness to offer such a guarantee.
Ukrainians will be hopeful but wary. Leaders in Kyiv will be pleased that the anti-NATO, anti-EU Le Pen has been soundly defeated again.
But Macron's decision to keep his lines of communication with Putin open has been criticized, particularly given the French leader's apparent inability to dissuade the Kremlin from further aggression.
Indeed, Macron's pre-invasion visit to Moscow was interpreted by many in Ukraine as duplicity, an attempt to force Kyiv to undermine its own sovereignty in order to avoid war.
Fabrice Pothier is a former NATO director of policy planning, and is now a senior fellow at the International Institute for Strategic Studies and the CEO of Rasmussen Global. Pothier is a member of Macron's En Marche party, though is not involved in campaigning or party operations.
Pothier told Newsweek that Macron's dual approach of supporting Ukraine while maintaining contact with Putin "is not working and is making other Europeans not trust him."
"If he wants to lead Europe in solving Russia's war in Ukraine, he will have to correct the contradictions of his own policy," Pothier explained. "If not, the center of gravity of decisions is likely to remain with the U.S."
EU Membership, But Not Quite Yet
Future EU membership will also be a vital security and economic pillar for post-war Ukraine.
The country may need trillions of dollars to repair the damage wrought by the Russian invasion, a bill the EU could help foot. Longer-term, EU membership will attract much needed foreign investment and oversight that could help Ukraine complete long-desired reforms.
Ukrainian leaders and some within the bloc have called for a fast-track accession process, skipping the years-long journey that has pained other applicants.
That plea has fallen on deaf ears, though in general EU states have been open to eventual Ukrainian membership via the traditional route.
"Can we open today a procedure of accession with a country at war? I don't think so," Macron said in March. "Shall we close the door and say: 'Never?' That would be unfair."
France will hold the presidency of the EU Council—which consists of the leaders of the bloc's member states—until June.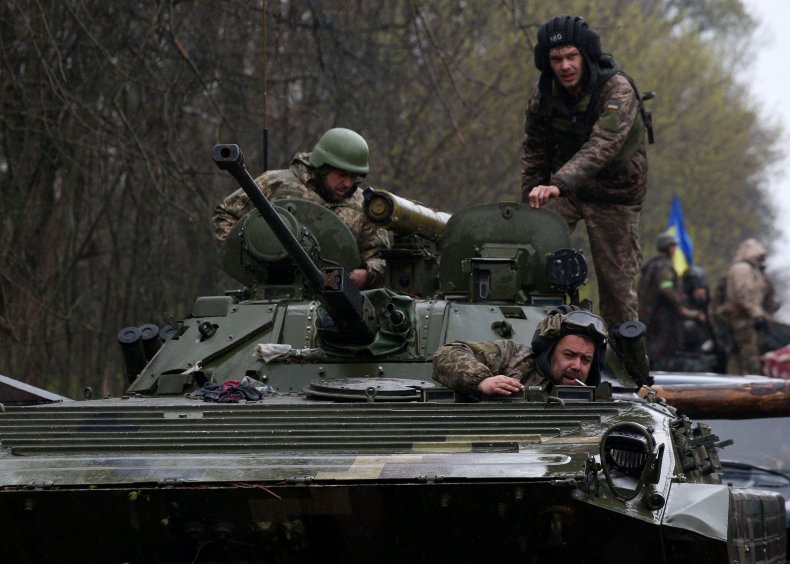 Before then, the Council will be involved in a conference regarding the EU's long-stalled expansion into the Western Balkans (Albania, Bosnia and Herzegovina, Montenegro, Kosovo, North Macedonia, and Serbia), the results of which could have significance for Ukraine's bid.
Leaders in Kyiv will be hoping that Macron's support for Ukraine extends to its EU ambitions, especially as skeptical nations such as Austria make their opposition public. The conference, Varma said, is "an opportunity to start rethinking the EU's enlargement policy."
EU Strategic Autonomy
Beyond Ukraine, Macron will have the chance to develop his grand project of EU strategic autonomy, perhaps even stretching to progress on a unified EU military.
"Macron's victory means the pursuit of an ambitious project for Europe," Varma explained. "He will be advocating to double down on the European sovereignty agenda: on tech, on defense, on fighting economic coercion."
In all these areas, Russia stands to lose from greater European solidarity.
"Macron will have to take the mantle of European diplomatic leadership again," Varma said. "He mentioned Ukraine in his victory speech. He should travel to Kyiv immediately with Scholz to demonstrate Europe's support to Ukraine. Macron now needs to adjust his method when it comes to defending its European agenda. He should strive for a more inclusive, participatory Europe."
Newsweek has contacted the Élysée Palace to request comment.