France's Macron Gains More Support, Interior Minister Quits Amid New Scandal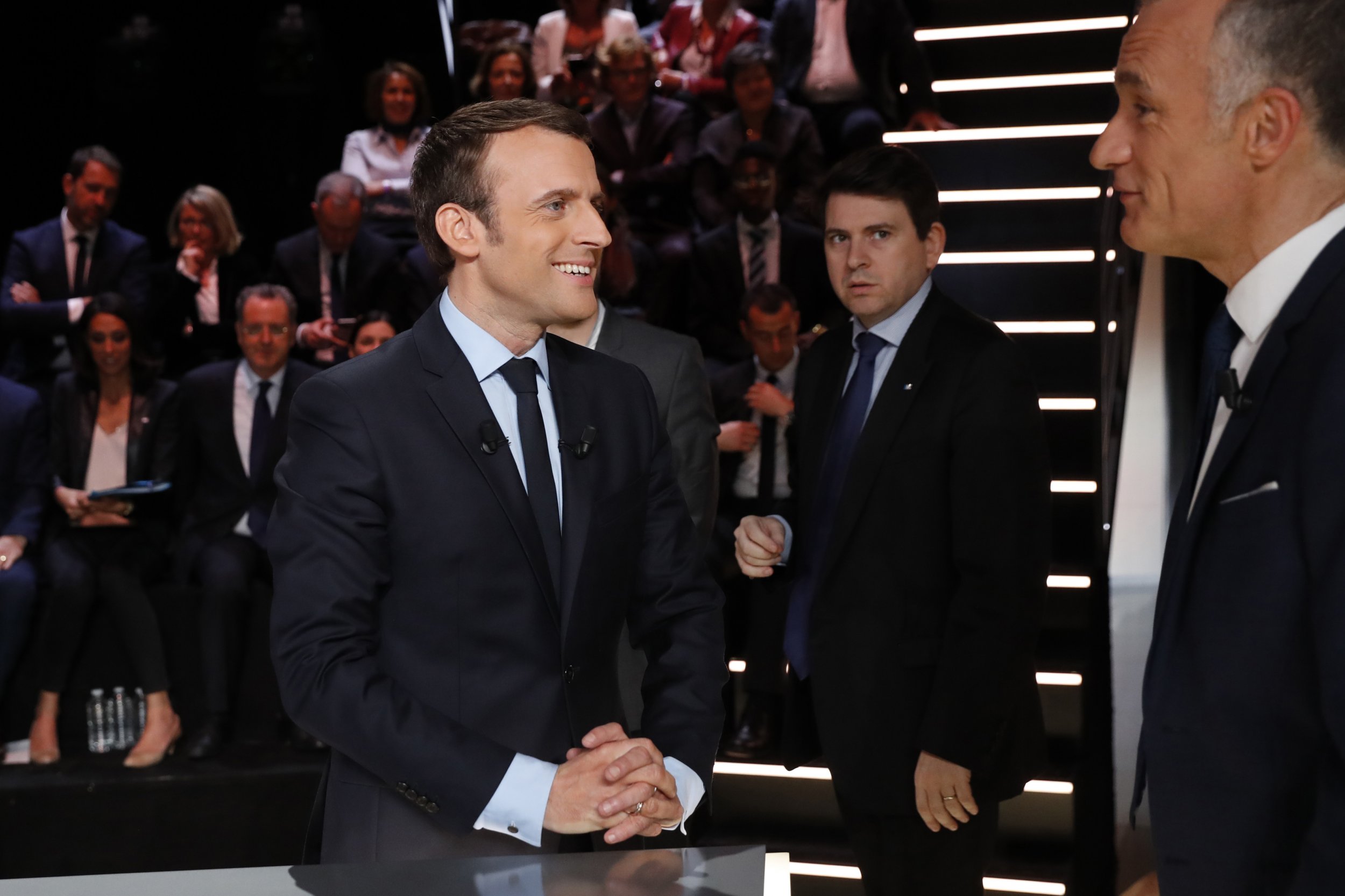 Centrist Emmanuel Macron's bid for power in France gathered pace on Tuesday when he won support from a junior minister in the Socialist government while the interior minister resigned amid scandal in a new twist to the topsy-turvy presidential campaign.
Voters rated Macron as the strongest performer of the five leading candidates who took part in the first debate of the presidential election campaign on Monday night, watched by nearly 10 million viewers, according to snap opinion polls.
His front-running status was reinforced by an endorsement from a junior minister in Socialist President Francois Hollande's administration, the first government member openly to back the independent politician in preference to the Socialist candidate, Benoit Hamon.
In addition to the endorsement from biodiversity minister Barbara Pompili, of the ecology party, Macron also won backing from Bernard Poignant, a close adviser to Hollande.
The turbulent election campaign was rocked again on Tuesday by the sudden resignation of Interior Minister Bruno Le Roux over press reports he paid his daughters from public funds for summer jobs in parliament when he was a lawmaker.
The hiring of family members by politicians has become a sensitive issue after conservative candidate Francois Fillon became embroiled in a similar scandal over parliamentary assistant jobs for his wife and two of his children.
Le Roux quit after financial prosecutors opened an inquiry into the allegations against him, although he insisted he did nothing wrong.
"Those work contracts ... correspond to work that was effectively carried out," said Le Roux in a televised statement, seeking to draw a distinction with the case of Fillon, who is accused of having paid his wife hundreds of thousands of euros for work she did not do.
Le Roux's quick resignation contrasts with Fillon's dogged refusal to step down as candidate even after magistrates opened a formal investigation into the allegations against him, a contrast his opponents could use to raise the pressure on him.
Even as he slipped from first to third in the opinion polls, meaning he could be eliminated from the May 7 election runoff, Fillon quelled a revolt by some in his party who wanted him to step down in favor of a replacement candidate.
Fillon Pressure
The inquiry into Le Roux was launched after Fillon allies suggested that any inaction by the judiciary in Le Roux's case would show that Fillon, who says he did nothing illegal, was the victim of bias by the judiciary.
The Quotidien TV show said on Monday that Le Roux had paid a combined total of 55,000 euros ($59,455) between 2009 and 2016 to his two daughters as parliamentary assistants during summer vacations, starting from when they were 15 and 16.
Le Roux, who just last Saturday directed the government's response to what prosecutors said was a thwarted attack at Paris Orly airport by a radicalized Muslim, will be replaced by junior foreign trade minister Matthias Fekl.
A source close to the Fillon investigation said the inquiry had been widened to include suspicion that false documents had been presented to justify employment.
Le Canard Enchaine, the newspaper which broke the allegations about the jobs for Fillon's relatives, reported in its latest edition that a Lebanese billionaire paid a company owned by Fillon $50,000 in 2015 to arrange introductions to Russian President Vladimir Putin and Total CEO Patrick Pouyanne.
There was no immediate comment from Fillon's campaign or Total. Fillon has consistently denied wrongdoing.
Three polls taken during or after Monday night's debate said viewers found Macron the most convincing of the five candidates.
Polls show that far right leader Marine Le Pen could come first in the April 23 first round, but would lose heavily to Macron in the runoff.
Investors who had retreated to safe assets on worries that Le Pen would win the election and try to take France out of the euro sold low-risk euro zone government bonds on Tuesday, relieved by Macron's debate showing. The euro rose against the dollar.