U.K. Accepts France's Highest Medal of Honor for WWII actions
French President Emmanuel Macron is bestowing London with France's highest honor, the Legion d'honneur, to commemorate how the city acted as an ally and base for exiled French leader Charles de Gaulle during World War II.
Macron is visiting London on Thursday to mark the 80th anniversary of Charles de Gaulle's BBC broadcast to occupied France, in which he rallied the country against Nazi occupation.
U.K. Prime Minister Boris Johnson will welcome Macron to Downing Street to mark the occasion which is credited with inspiring the resistance movement in France.
On June 18, 1940, General de Gaulle made a speech from London which was known as the "Appel", or appeal, in which he told his fellow countrymen that "whatever happens, the flame of the French resistance must not be extinguished and will not be extinguished."
During Macron's visit, Johnson will also hand MBEs to honor the last surviving members of the French Resistance.
MBEs will be given to Edgard Tupët-Thomé, Daniel Bouyjou-Cordier, Hubert Germain, and Pierre Simonet for their help in defeating the Nazis, though they will not be present.
Johnson said: "The four men we are honoring today symbolize the enduring depth and strength of the friendship between our two countries.
"They are heroes, and I am immensely proud that as a nation we are paying tribute to their courage and sacrifice in defending us and the whole world from fascism."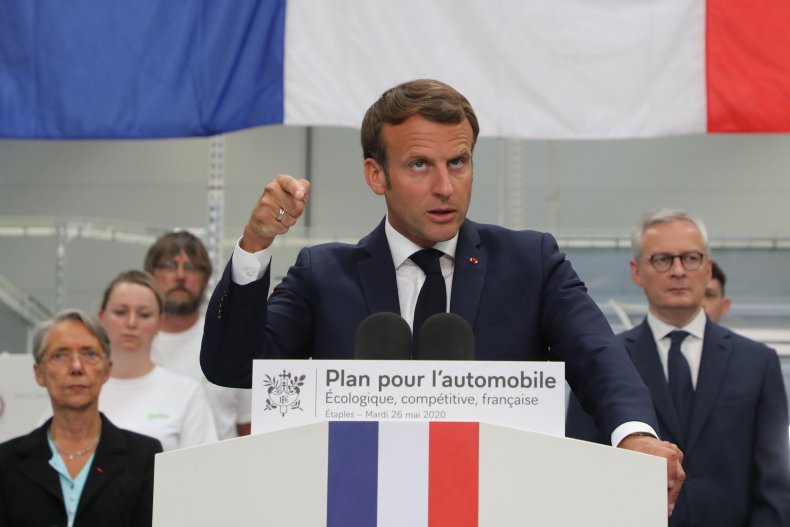 The two leaders will also spend time viewing artifacts and letters from General de Gaulle's time in London and from his partnership with the U.K.'s wartime prime minister, Sir Winston Churchill, including the 'Order de la Liberation' - a Cross of Lorraine in crystal glass gifted from General De Gaulle to Churchill.
Macron and Johnson will also watch a joint flypast by the RAF's Red Arrows and the French Air Force, with Charles, the Prince of Wales, and Camilla, the Duchess of Cornwall, also expected to meet the French president.
As well as marking the historic occasion, Johnson is also expected to raise issues relating to the COVID-19 pandemic, as well as travel between the U.K. and France amid lockdown restrictions.
The issue of Brexit and trade is also expected to feature on the agenda, however Foreign Secretary Dominic Raab earlier cautioned against the idea of air corridors between countries, which had been mooted as a potential option to allow travel between nations without the need for quarantine.
Raab told BBC Breakfast that the government had to tread carefully because there was a risk of legal action if it did not treat all parties equally.
He said: "There is also a risk of legal challenge is you open up for one country but not others.
"We want to open up as soon as we safely can."