French Election: Emmanuel Macron Pulls Ahead of Rival Marine Le Pen After Insult-Filled Debate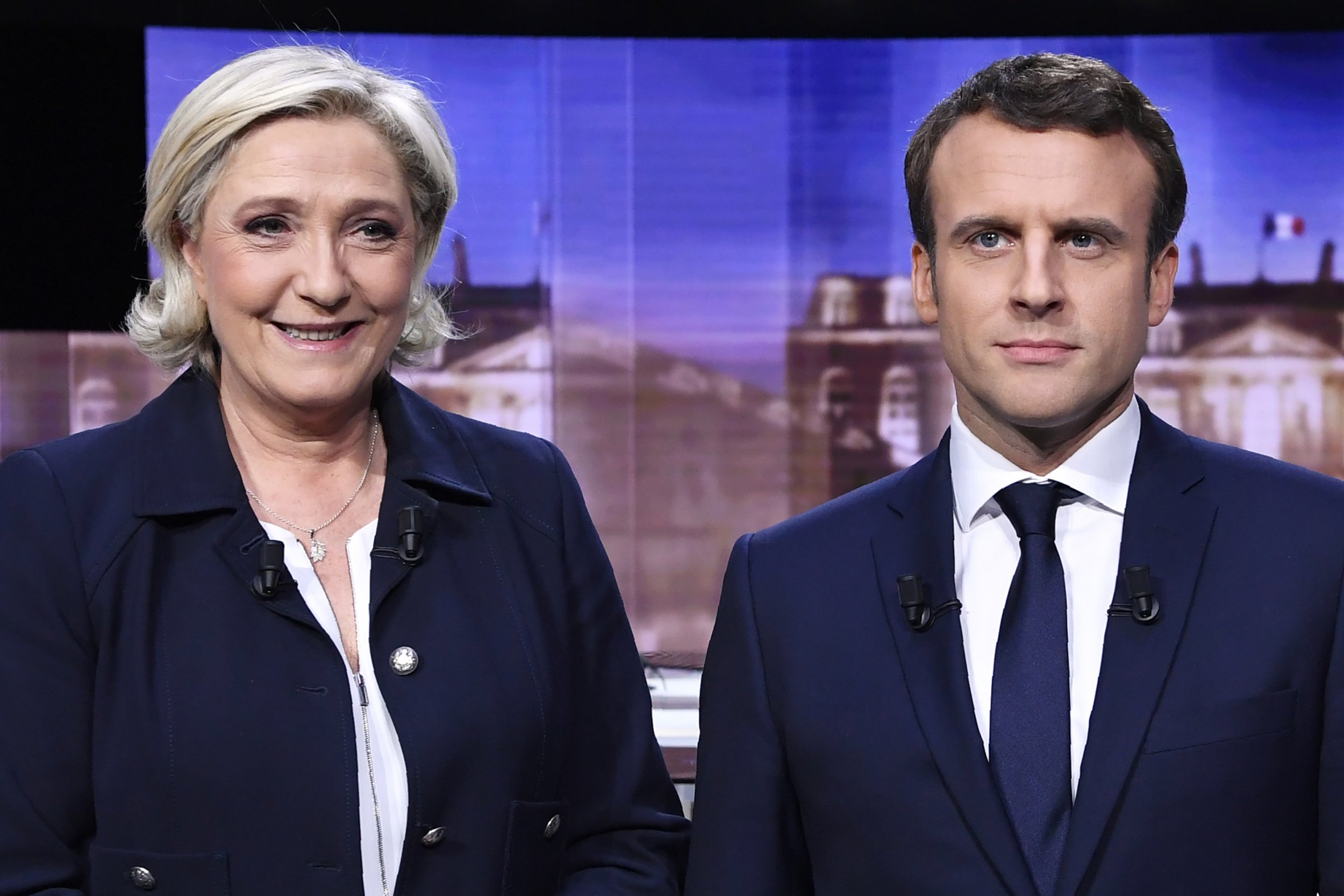 The two remaining candidates in France's presidential election were expected to come out swinging in the final televised debate and neither disappointed. Centrist candidate Emmanuel Macron edged ahead of his rival, the far-right leader Marine Le Pen, after a heated debate filled with more personal jabs than policy.
Over the course of the two-hour-long televised debate the two independent candidates exchanged blows over immigration, security and the European Union ahead of the final round of voting on Sunday.
However, the strongest attacks were personal as Macron called his challenger "the high priestess of fear" and Le Pen called the frontrunner a "darling of the system and the elite."
Le Pen, a stalwart of France's National Front (NF) who believes she can replicate the electoral success of President Donald Trump and upset the polls, called Macron "complacent" over Islamic extremism, Le Monde reported. She sought to brand the 39-year-old leader of the independent En Marche! ("Onwards!") party as the inheritor of the deeply unpopular outgoing Socialist government and an advocate of "wild globalization."
Read More: Marine Le Pen to appoint nationalist, euroskeptic prime minister if she wins
At intervals Le Pen referred to Macron as "Mr. Hollande" and "Hollande Junior," a reference to the sitting President Francois Hollande under whom Macron served as economy minister from 2014 to 2016.
Macron also used Le Pen's own past in his attacks. Addressing "Madame Le Pen," Macron drew attention to Le Pen's far-right father, Jean-Marie Le Pen, who stood as a presidential candidate in 2003 and lost in the second round. Macron called the 48-year-old "the heir of a system that has prospered from the fury of the French people for decades," and said that she played on people's fears and would start a "civil war" if elected.
The En Marche! leader scored points against the NF policy of withdrawing from the European single currency, the euro—Le Pen looked uncomfortable discussing the subject, and Macron called the policy "nonsense." Le Pen looked stronger attacking Macron over his closeness to Europe. "France will be led by a woman, either me or Mrs Merkel," she said, accusing Macron of being "submissive" to the German leader.
According to a poll by the Elabe group for the BFM television channel, 63 percent of those interviewed in the immediate aftermath of the debate found Macron more convincing, versus 34 percent for Le Pen, AFP reported.
An average of national polls after the debate showed Macron ahead with around 59 percent of the vote, with Le Pen on 41 percent.