Emmanuel Macron's New Immigration Bill: What You Need to Know
Updated | French President Emmanuel Macron has scored an early win for his controversial immigration bill but now faces criticism from multiple parties, including his own.
After more than 60 hours of debate and amendments, France's lower house—the National Assembly—passed it on Monday, but not without exposing the biggest signs of division yet under Macron, including over a dozen of his own lawmakers abstaining from the vote and one quitting in protest. Here is what the draft law calls for and why it has sparked such a heated debate.
What is France's new immigration draft law?
The new bill seeks to shorten the asylum application deadlines, supposedly to make the process of granting asylum to refugees more efficient, French state-funded news network France 24 reported. The bill also ramps up punishments for illegal immigration, doubling the time authorities can detain undocumented migrants and also makes an unlawful entry into France an offense that could result in a year-long prison sentence.
This means that under the draft law, a migrant seeking to receive asylum in France who once had 120 days to file their applications will instead only have 90 days. If French authorities rule to reject them, claimants will have two weeks to launch an appeal. Once finally rejected, a failed asylum seeker could also be held for 90 days before deportation, under the bill's terms, as opposed to the current period of permitted detention, which is 45 days. The government initially proposed to increase the detention period to 135 days.
Why is Macron pushing for changing immigration rules?
Elected to office on a centrist, pro-reform platform in 2017, Macron pledged to make a handful of current French policies more streamlined and efficient. He also faced his stiffest challenge not from the political mainstream but from a resurgent, nationalist candidate Marine Le Pen, whose anti-immigrant message found an unprecedented level of traction.
Read More: After Facebook and Russia scandals, France is testing its own encrypted messenger
Macron's party has argued that it is better for a more moderate government to tighten immigration rules, instead of allowing hardliners the chance to win more support with the promise of even more sweeping changes.
"I fear that if we do not resolve the problem facing us... others will do it without any humanity," Interior Minister Gerard Collomb said earlier this month, according to French public broadcaster RFI. The new measures seek to support authorities' abilities to distinguish genuine asylum applications from so-called "economic" migrants—France's nationalists frequently used the term for the influx of asylum seeker to argue against taking in any refugees.
Who is against the bill?
Members from across the political spectrum have criticized the bill. Members of the Socialist Party and other left-wing politicians rallied against increasing detention terms for asylum seekers, some of whom may be children.
"Nothing justifies locking up a kid," Socialist Party lawmaker Herve Saulignac told France 24.
Members of Macron's party, Republic on the Move, many of whom were once socialists, also refused to back the bill as 14 of its lawmakers abstained and one, Jean-Michel Clément, quit in protest. This is a first for the new president's movement.
Humanitarian organizations have criticized the shortened time to compile asylum applications, as both Human Rights Watch and Amnesty International have warned this could jeopardize those asylum seekers in the most urgent situations and most likely to miss deadlines.
"Under the guise of providing a more effective asylum system, the bill includes a series of measures that would diminish access to protection," Human Rights Watch's France Director Bénédicte Jeannerod told the BBC.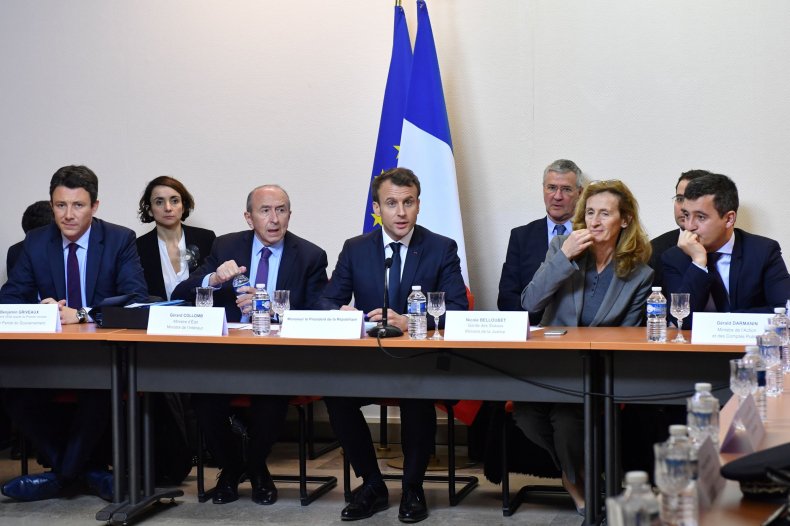 France's right-wing has also taken issue with the immigration bill, though focusing more on the treatment of successful asylum seekers. Right-wing parliamentarians voiced opposition to allowing asylum seekers the right to work after six months, instead of nine months. Such is the system currently utilized by Germany.
What happens next?
The National Assembly passed the bill on Sunday with 228 votes in favor, 139 votes against and with 24 abstentions, which means it will go to France's upper house. There, 348 senators will be tasked with debating the bill's terms. The review will likely take place in June. Although France's lower house has the final say on legislation, the Senate could be Macron's biggest stumbling block because he does not command a majority there. The right-wing Republicans party controls the most seats with 146, while Macron's own party is in joint third place with only 21 senators.
A headline has been updated to correct the spelling of French President Emmanuel Macron's first name.