Emmitt Smith's Son Picks Stanford Over Florida, Then Dad Wins National Signing Day With Fatherhood Comments
E.J. Smith has embraced learning and studying football from his father, Emmitt Smith, who is the NFL's all-time leading in rushing yards. E.J., a senior at Jesuit Prep in Dallas, went on national TV Wednesday morning on the early National Signing Day to announce where he would attend college and play football.
And it looks like a first down play of E.J. running out of dad's shadow.
The younger Smith sat next to his mother and father with five college ballcaps in front of them—the five schools of which E.J. had it narrowed from numerous offers. There were Georgia, Ohio State, Stanford and Texas A&M caps, and then there was a blue cap for Florida, where Emmitt went to college before his illustrious pro career.
The Florida Gator cap was front and center on the table, directly in front of E.J., who was decked out in a suit for the ceremony. E.J. kept his recruitment silent and centered, and there was no hint of which way he was leaning—whether it was running back-rich schools like Georgia or Ohio State, in-state school Texas A&M, pop's alma mater Florida or the only school on the West Coast—Stanford.
E.J., the No. 96 overall high school prospect in the ESPN 300, thanked his family, God, his school, coaches and teachers for having opportunities, then made his declaration.
"And the next four years, I'm going to Stanford University," E.J. said as he grabbed the black Stanford cap and placed it atop his head. His family showed joy and shared hugs. E.J. went on the say a major factor was that Stanford has "a great football program and great academic program."
"I loved all these schools that have given me the opportunity to come and play football at their school, but I saw that Stanford was the best opportunity for me," E.J. said.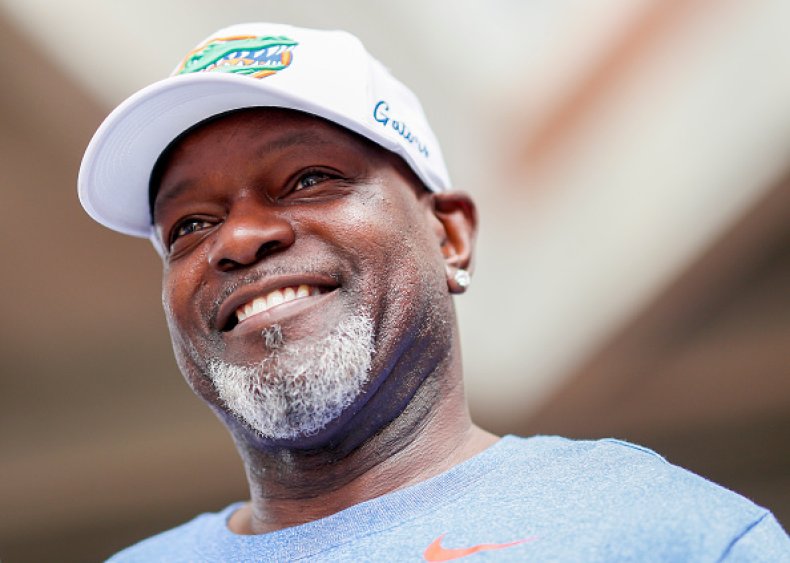 Emmitt Smith was then asked what he thought of his son's choice, and dad said he was proud of the selection. And when asked how he felt of his son choosing Stanford over Florida, Emmitt went full-father mode, saying he was a dad first.
But before he commented, Emmitt grabbed the Florida hat and placed it upon his own head, saying, "I'm going to take this, and I'm going to wear this hat.
"His daddy went here, that doesn't mean my son has to go here," Emmitt said. "The end of the day, my son has his own journey. And it is his journey, not my journey. For him to do the things that are best for him is what we teach all of our children. To find what is best for you and make it go happen for yourself.
"I'm proud of him for standing up for the man that he is, the man he will continue to become," Emmitt continued, saying he's a Gator because he went to Florida, and that his family will always be Gators by association. He said the Smiths are a family of Gators, and they support all their children. "All of our children, no matter where they go, we're gonna be parents first."
Emmitt's remarks set social media ablaze with these comments all day Wednesday.