How to Watch The 2017 Emmy Awards: Live Stream TV's Big Night With Host Stephen Colbert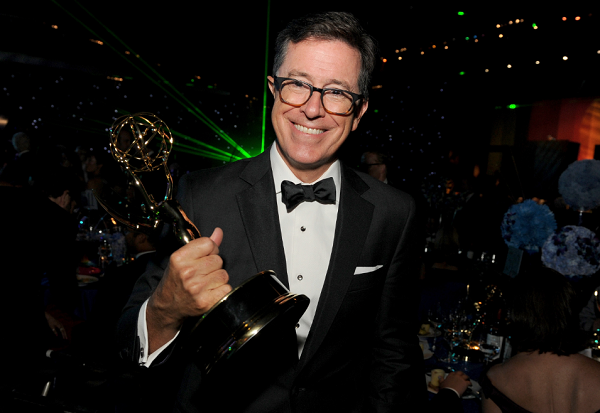 Some of the biggest names in television will gather on Sunday for the 69th Primetime Emmy Awards. The star-studded event, hosted by Stephen Colbert, brings out Hollywood's A-listers as well as a plethora of up-and-coming contenders, which, this year at least, seems to be very representative of the oldie and newbie TV shows and actors who are nominated for awards.
In past years, shows like HBO's Game of Thrones and ABC's Modern Family have reigned supreme not only in award nominations, but actual wins. But with GoT ineligible this year, and a number of fresh and innovative TV series receiving nominations—looking at you Stranger Things and Atlanta—the probability of a new show taking home some of the biggest honors of the night is pretty high.
But enough about who may win at the Emmys—how will fans tune into the extravagant event this year?
With the number of cord-cutters—people ditching cable for streaming services—growing across the northern hemisphere, CBS has finally joined the bandwagon by providing live stream coverage of the 2017 Emmys. However, live stream access is still very limited.
The network will stream the awards show on its CBS All Access platform on the web, which can also be used on mobile and tablet devices. Users will still need to log in to the app with their TV provider information. The network is offering customers a free trial of their direct streaming service if they don't already have the CBS All Access app on their Apple TV, Roku, Chromecast, Fire TV PS4, Xbox or Windows 10. Folks who stream their television content via Sling, unfortunately, won't be able to watch the Emmys with their service since CBS is not included in Sling packages.
Of course, fans who don't have access to a TV, or a TV provider to stream, can always stay tuned into all the Emmys action via social media. Along with the Emmys annual Backstage Live! show airing on the official Emmy Awards Facebook page, People magazine and Entertainment Weekly will stream the People & EW Red Carpet Live pre-show on their respective websites as well as PEOPLETV app, which is free.
Viewers can also stay locked into the conversation by following along with the hashtag #EmmysLive on Twitter, Facebook and Snapchat before and during the award show while IMDb will host an online post-show, IMDb LIVE After the Emmys, in partnership with QVC at 11 p.m. Eastern.
Pre-show coverage will begin online promptly at 6 p.m. Eastern, while the actual awards ceremony, which will be held at the Microsoft Theater in Los Angeles on Sunday, begins at 8 p.m. Eastern.