Where Will Winners Party After the 2017 Emmy Awards? Governors Ball, HBO Reception, Hulu Party and More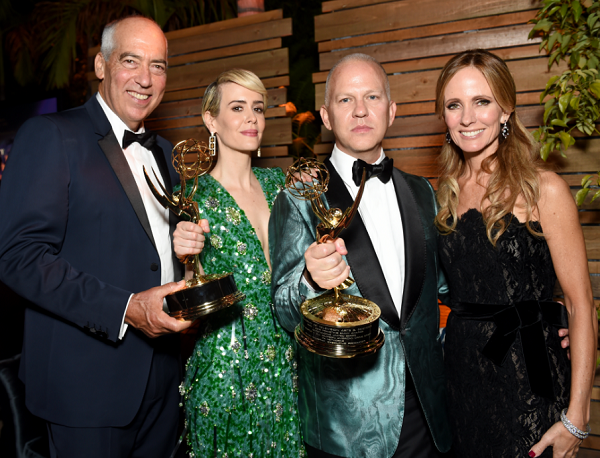 Although the 69th annual Primetime Emmy Awards is a glamorous way to recognize a year of imaginative and incredible TV, the star-studded event isn't just a celebration for nominees and winners, but for everyone in Hollywood. That's why after the last Emmy award is handed out on Sunday, actors, directors, writers, network executives and basically everyone involved in the television industry will come together and party the night away in honor of the creative arts.
The after-party scene following the 2017 Emmy Awards will be just as lavish—if not more—than the ceremony itself. Venues dripping in luxury all across Los Angeles will bring out their finest china for stars to dine on the most exquisite and expensive foods while the booze free-flows throughout the night. And of course, there will be plenty of dancing.
Check out everywhere celebs will be partying after the Emmy Awards on Sunday below:
AMC, BBC America, IFC Emmy After-Party: Just like Emmys of the past, the swanky Sunset Boulevard steakhouse will be flooded with the many talented individuals affiliated with all three networks like the folks behind AMC's multi-nominated Better Call Saul and IFC's Portlandia. The party starts at 8:30 p.m. PT.
Fox Broadcasting, FX, 20th Century Fox TV, Nat Geo After-Party: Held at Vibiana in downtown L.A.'s Historic Core, the grand space will be a spectacle itself—event planning mastermind Yifat Oren is credited for the party's décor and design. Meanwhile, the roster of stars expected to spend their after-Emmys evening at the party is just as extravagant. Talent and producers from past and present Emmy nominees like Fargo, Atlanta, Genius and This is Us will be in the house when doors open at 8 p.m. ET.
HBO Post-Awards Reception: HBO has quite a bit to celebrate after racking up 111 nominations thanks to shows like Veep, The Night Of and made-for-TV movie The Immortal Life of Henrietta Lacks. Tinsel-town A-listers, from Big Little Lies star Nicole Kidman to Westworld's Thandie Newtown—both of whom are nominated for Emmys this year—are expected to show up at the HBO-hosted party, which will be held at The Plaza at the Pacific Design Center in West Hollywood at 8 p.m. PT.
Hulu Post-Awards Reception: With The Handmaid's Tale and lead actress Elisabeth Moss both up for some of the highest awards of the night, it's no surprise that the streaming network would decide to host its first Emmy party ever. Held at L.A. hotspot Otium, the after-Emmys festivities are set to kick off at 8 p.m. ET.
Governors Ball: Considered the biggest formal dinner in North America—and the longest running Emmys after-party—just about everybody who's anybody in Hollywood will likely be showing face at the annual affair, which will be held at the Los Angeles Convention Center. If previous post-Emmys activities are any indication, celebs will probably stop by the event immediately after the awards show at 8 p.m. ET, and dine on culinary creations by Patina Catering and renowned chef Joachim Splichal before heading over to other parties.