Emmy Awards Branded a 'Super Spreader Event' by Infectious Disease Expert
The 73rd Primetime Emmy Awards ceremony has been branded a "super spreader event," after celebrities were seen mingling without masks.
Sunday's soirée was something of a return for the Emmys, which was last year forced to take place remotely as the COVID-19 pandemic wreaked global havoc.
With the pandemic lingering, this year's event was held in a tent on the roof of downtown Los Angeles' L.A. Live venue, with the styling and décor allowing for a glitzy setting.
And while celebrity attendees were required to be vaccinated and produce negative COVID tests taken within 48 hours of the show, California-based infectious disease specialist Dr. Leo Li was far from impressed with what he saw.
"What I watched, it was a super spreader event, as far as I'm concerned," Dr. Li told Fox affiliate KTTV.
"It was not a good idea," he went on. "From an infection standpoint, it was not a good thing to see. Folks are letting their guard down, they're feeling a little more comfortable. Everyone has to realize, we're still seeing a lot of Delta [infections]."
In Los Angeles County, masks are required at indoor venues, except when eating or drinking—though it was clear to see that the stars were forgoing masks as they feted one another at the exclusive event.
KTTV reported that the crew donned face masks throughout the televised proceedings.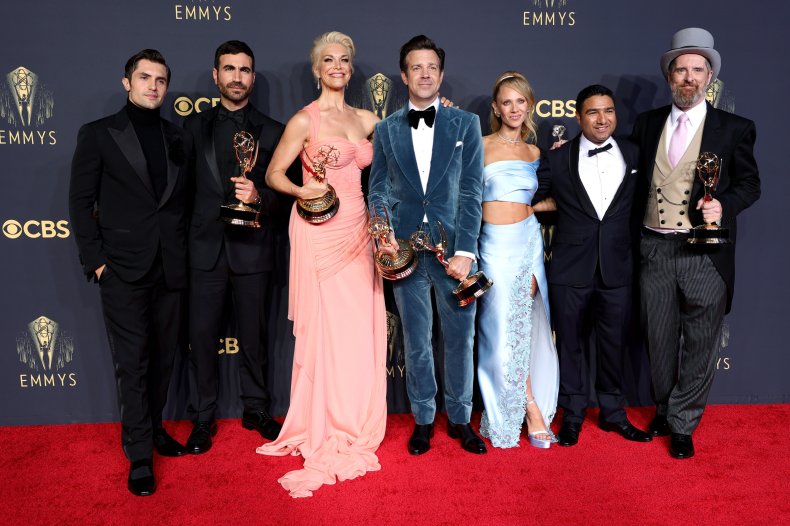 In a statement, the Los Angeles County Department of Public Health told KTTV that "exceptions are made for film, television, and music productions, as additional safety modifications are made for these controlled interactions."
A spokesperson for the department also said that producers of the awards ceremony had shared details of their safety protocols ahead of the telecast.
The statement read: "The Emmys reached out to Public Health in advance to share their safety protocols, which exceeded the baseline requirements for television and film productions.
"Public health will continue to review the protocols of future large television productions events and prescribe additional safety modifications to mitigate risk of COVID-19 transmission."
Responding to suggestions that there could be a double standard at play, KTTV journalist Phil Shuman pointed out that the stars operate in an industry that requires more stringent rules than most of the general public experience.
On film and television sets, vaccinations and stringent regular testing are a requirement, along with limits on who has access to certain areas of sets, for example. It was also pointed out that sports teams interact and play together under such protocols.
During the ceremony, Seth Rogen raised laughs from the star-studded audience when he called out what he perceived to be lax safety measures.
Taking to the stage to present the first award of the night, he said: "Good to be here at the Emmy Awards. Let me start by saying there is way too many of us in this little room.
"What are we doing? They said this was outdoors—it's not. They lied to us! We're in a hermetically sealed tent right now. I would not have come to this!"
"Why is there a roof?" Rogen added. "It's more important that we have three chandeliers than that we make sure we don't kill Eugene Levy tonight! That is what has been decided."
Newsweek has contacted representatives of the Emmy Awards and the Los Angeles County Department of Public Health for comment.