The Emmy Nominations Trivia You Missed: Beyoncé, 'Game of Thrones' and More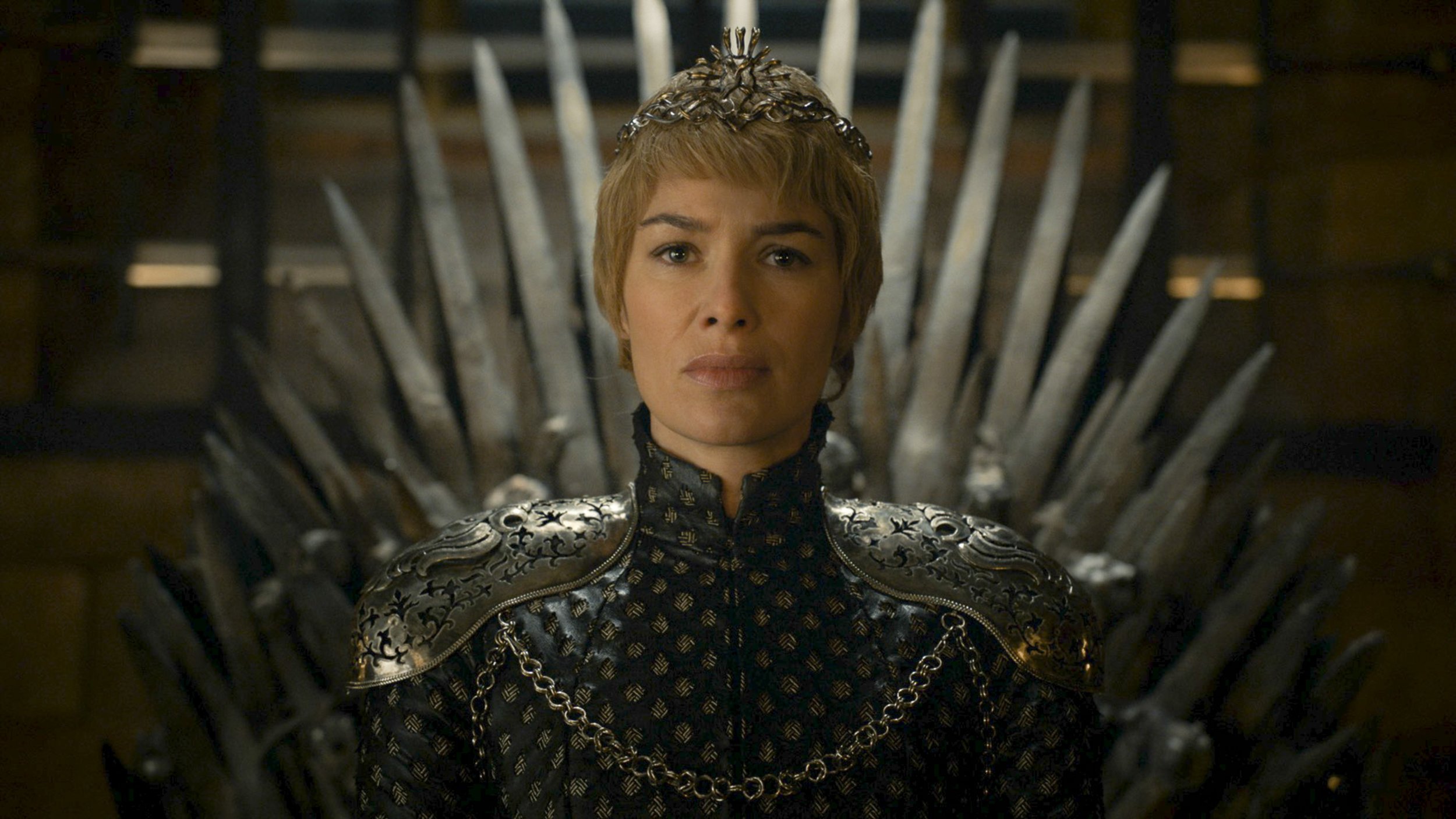 The nominations for the 68th annual Emmy Awards have been announced and have prompted both cheers and jeers.
This year's race is once again led by Game of Thrones , which recently wrapped up its sixth season, with the HBO drama collecting 23 nominations. Thrones will defend its crown in the Outstanding Drama Series category, while actors Emilia Clarke, Lena Headey, Maisie Williams, Peter Dinklage and Kit Harington all earned recognition for their respective roles.
Unsurprisingly, critical favorite The People v. O.J. Simpson: American Crime Story also cleaned up with numerous nominations including an Outstanding Lead Actress nod for the brilliant Sarah Paulson.
But while the key nominations have been widely disseminated, Newsweek took a deeper look and uncovered some additional trivia you may have missed:
Who runs the world? Beyoncé
Serial Grammy Award winner Beyoncé could soon call herself an Emmy Award winner. Her popular Lemonade HBO special is nominated for four awards including Outstanding Variety Special. It is also recognized in the outstanding directing, picture editing and production design in a variety special categories.
It'll be a battle of the pop heavyweights for the Outstanding Variety Special prize, however, as NBC's Adele Live in New York City is also nominated.
Record-setting nominations
Improvisational sketch show Saturday Night Live extends its lead as the most-nominated show in Emmy history. The series, which began in 1975, has now achieved 209 nominations in its long run—including 16 this year. Its closest rival for most nominations is medical drama ER , which ended in 2009.
Sheila Nevins, president of HBO Documentary Films, also becomes the female with the most individual nominations in Emmy history: she has now accrued 74 nominations (four of which came this year), drawing level with camera operator Hector Ramirez, who achieved the feat last year. Nevins is also the individual with the most Emmy wins—31 and counting.
Most nominated shows
With 23 nominations, Game of Thrones is the most-nominated show for a second year in a row (last year, it got 24 nominations). Following on its heels is limited series The People v. O.J. Simpson with 22 nominations, and Fargo with 18.
See the statistics below: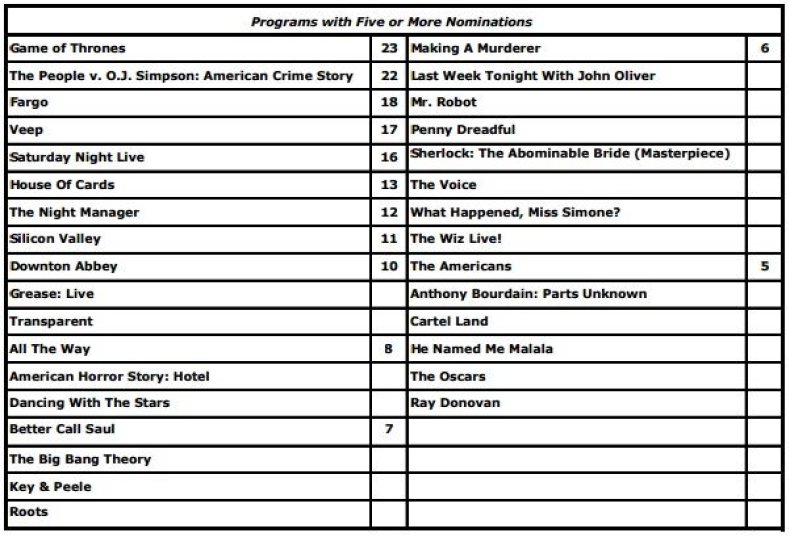 Bonus fact: Thrones ' 23 nominations in 2016 is just three less than it has won in the entirety of its existence. First eligible for the 2011 Emmys, the show has won 26 awards out of 83 nominations in previous years (add this year's nominations and the show has notched up 106 in total).
HBO is still on top
HBO should probably send Jon Snow on a vacation somewhere hot and Beyoncé a nice gift basket of lemons. Once again, the premium cable network has the most nominations of any media outlet, thanks in part to Thrones and Lemonade (as well as Veep , Silicon Valley and John Oliver).
This year it achieved 94 nominations, which is down slightly from last year's 126 nods, yet enough to hold on to this superlative. FX Networks is HBO's closest rival with 56 nods this year.
Emmy voters' loved the "Battle of the Bastards"
In June, Game of Thrones had the world spellbound with its penultimate episode of season six, featuring a cinematic battle scene led by Jon Snow and Ramsay Bolton. It appears the episode is as strongly revered by television industry insiders as it is by fans.
The episode helped Thrones edge its way into the Outstanding Writing for a Drama Series category, which recognizes the single best-scripted hour of television in the last year. Co-creators David Benioff and D.B. Weiss penned the episode and will pick up the Emmy if it wins.
Also nominated is the final episode of Downton Abbey , written by that show's creator Julian Fellowes, the pilot of acclaimed drama Mr. Robot, and the divisive final episode of legal drama The Good Wife, which aired in May.
Arresting television
Could Steven Avery become the first prisoner to sweep the Emmy Awards? OK, he won't necessarily benefit from this but Making a Murderer —Netflix's groundbreaking documentary series that screened in December and sparked public outrage worldwide—picked up six nominations for its filmmakers Moira Demos and Laura Ricciardi, including Outstanding Documentary or Non-fiction Series.
First-timers
You'd think Aziz Ansari would have a dozen Emmys on his mantelpiece by now, but nope—2016 is his first nomination. In fact, he has three nominations in total this year for acting in, writing and directing hit Netflix comedy Master of None .
Other stars who earned nominations for the very first time in 2016 are:
RuPaul (one nomination for RuPaul's Drag Race )
Olivia Colman and Tom Hiddleston (one nomination apiece for The Night Manager )
Kirsten Dunst (one nomination for Fargo )
Cuba Gooding Jr. and John Travolta (one nomination apiece for The People v. O.J. Simpson: American Crime Story )
Kit Harington and Maisie Williams (one nomination apiece for Game of Thrones )
Ellie Kemper (one nomination for Unbreakable Kimmy Schmidt )
The 68th annual Emmy Awards take place on September 18.