Emmys 2016: The Best and Funniest Moments From Jay Z Gag to Sarah Paulson's Win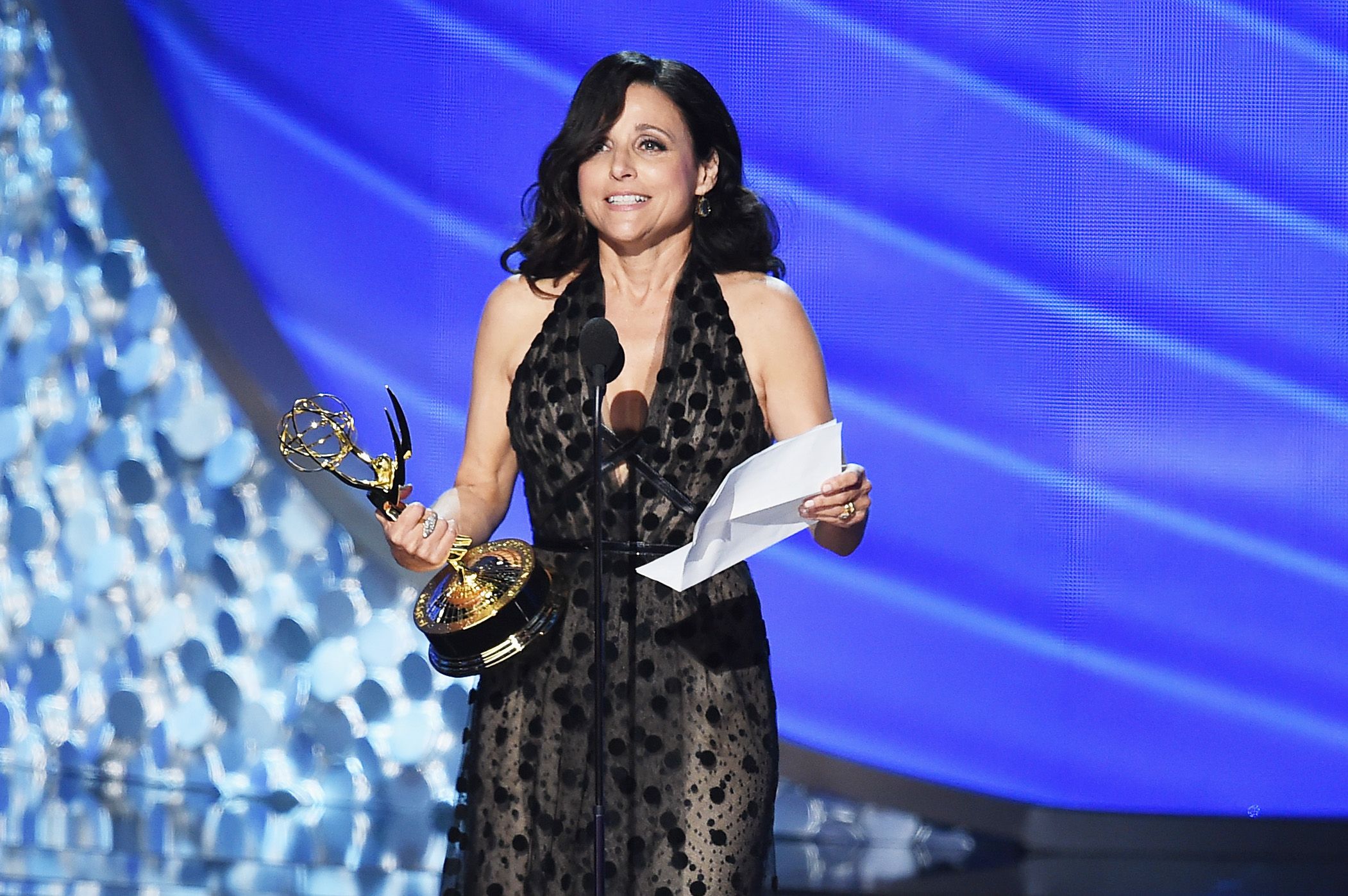 Congratulations are in order for all those who inhabit Westeros and live to tell the tale, as HBO's Game of Thrones made history Sunday night by becoming the most-decorated television show in Emmys history with 38 trophies to its name. (That is one more than previous record-holder, Frasier.)
But amid the television industry glad-handing, there were plenty of funny—and often emotional—moments as the stars of the small screen took the stage at the 68th annual Emmys in Los Angeles. And one star, the immensely gifted Julia Louis-Dreyfus, even managed to garner both laughs and tears in a matter of seconds.
Here are the best moments from Sunday's Emmys ceremony, as selected by Newsweek:
Julia Louis-Dreyfus dings Donald Trump, then makes us bawl
The Veep star made history on Sunday for the most wins in the Outstanding Leading Actress in a Comedy Series category; she won her fifth consecutive award for the HBO comedy (adding to a previous win for The New Adventures of Old Christine).
The comedian, who plays hapless president Selina Meyer in the show, offered a quick-witted take on the current U.S. election race, joking that she felt she had to "apologize for the current political climate." Taking a good-humored dig at Republican candidate Donald Trump, she added: "I think Veep has torn down the wall between comedy and politics. Our show started as a political satire but it now feels like a sobering documentary."
Louis-Dreyfus was also responsible for the Emmys' most tear-jerking moment as she paid tribute to her father, Gerard Louis-Dreyfus, who died on Friday. "I'm so glad he liked Veep because his opinion was the one that really mattered," she said holding back tears.
Stranger Things ' Eleven rides into the Emmys
Netflix's beloved new hit Stranger Things may not have been eligible for this year's Emmys (it aired in July, outside of the eligibility period—but expect it to sweep the boards next year) yet that did not stop the cast from making their presence felt at the awards ceremony.
Host Jimmy Kimmel, wary that his A-list guests may become hungry during the three-hour ceremony, had his mom whip up some peanut butter and jelly sandwiches for the audience. And who better to deliver them than the kids of Stranger Things —Gaten Matarazzo, Millie Bobby Brown and Caleb McLaughlin—on their bikes? Young Brown even wore Eleven's blonde wig from the show.
As a bonus, before the ceremony began broadcasting, the trio performed Mark Ronson's "Uptown Funk"—and it was adorable:
Dear Matt and Ross Duffer, we need a musical episode in season two, please.
By the way, in case you are wondering whether Kimmel's mom really made those sandwiches—see this handwritten note posted by Game of Thrones ' Khaleesi, Emilia Clarke on Instagram:
Tatiana Maslany finally wins gold
This summer's Olympics were not the only platform for heroic stories of unlikely underdogs taking first place. Orphan Black star Tatiana Maslany surprised everyone—including herself—as she bested the likes of Viola Davis and Claire Danes to win Outstanding Lead Actress in a Drama Series.
Any fan of Orphan Black will be keenly aware of the talent Maslany displays in portraying countless characters in the clone drama. What makes this deserving moment all the more heartwarming was that the actor really did not think she would win. "I should have written this down," she said as she began reading her 'thank yous' from her phone.
Sarah Paulson brought the real-life Marcia Clark to the Emmys
If you will indulge my bias for a moment: Sarah Paulson's Emmy victory Sunday night was long overdue. The American Horror Story veteran finally picked up a trophy for her role as prosecutor Marcia Clark in The People v. O.J. Simpson: American Crime Story . The biographical drama chronicled how Clark became the subject of ignoble tabloid headlines criticizing her appearance instead of focusing on her work in the high-profile murder trial. Paulson brought Clark as her date to Sunday's ceremony where she collected Outstanding Lead Actress in a Limited Series/Movie. The actor classily used her speech to say "sorry" to Clark on behalf of the world for being "superficial and careless in my judgement" of the lawyer.
Jimmy Kimmel being Jimmy Kimmel
This year's returning Emmys host Jimmy Kimmel began the show rather presciently, handing Transparent 's Jeffrey Tambor an award ("That saved us 22 minutes!") that he would later win for Outstanding Lead Actor in a Comedy Series. "If your show doesn't have a dragon or a white bronco in it, go home now," he continued, accurately predicting the night's big winners, Game of Thrones and American Crime Story. Kimmel's opening monologue—all seven minutes of it—is worth watching, so just stop reading now and watch:
The acceptance speech bar just got higher
Note to everyone at the Oscars and Grammys next year: you're going to need to get way more creative with your acceptance speeches. Who would have thought we would see a Jay Z lyric so casually dropped in the middle of a winner's speech at the Emmys? Or that it would inspire a running gag for the rest of the night?
It all started when Sterling K. Brown, who won Outstanding Supporting Actor in a Limited Series for his portrayal of Chris Darden in American Crime Story , thanked his wife saying: "I got the hottest chick in the game rockin' my chain." That is a line from Jay Z's "Public Service Announcement," taken from his 2003 album The Black Album (and, yes, it is a reference to Beyoncé).
Brown's co-star Courtney B. Vance, who won Outstanding Lead Actor in a Limited Series for playing Johnny Cochran, kept the reference going, thanking his wife, Hollywood star Angela Bassett, in his speech. "Last but not least, to the woman who rocks my chain -- thank you Angela Bassett, this one's for you girl," he said.
Later both John Oliver and Sherlock boss Steven Moffat tried to get in on the act—with very different results. "I want to thank my wife—the hottest chain, or whatever," joked the Last Week Tonight with John Oliver host. Moffat added in his speech: "I want to thank my wife. Not only does she rock… whatever that was."
Beyoncé or riot
Queen Bey's husband may have had an unexpected influence on the evening, but despite rumors she would attend Sunday's Emmys—where her Lemonade HBO special was nominated for four awards—the singer was not, in fact, present.
John Oliver pretty much summed up our collective disappointment:
By the way, Beyoncé (rather inexplicably) lost in her category—Outstanding Directing for a Variety Special— leading to outcry on Twitter. Note to Emmys: Do not mess with the Beyhive.
Hollywood's longest-running gag hits the Emmys
Host Jimmy Kimmel's longtime "rival" Matt Damon made things very awkward for him after the late-night talk show host lost to John Oliver in the Outstanding Variety Series category. "This is so humiliating. You lost and now you've got to stand out here for the rest of the night in front of everybody," Damon joked.